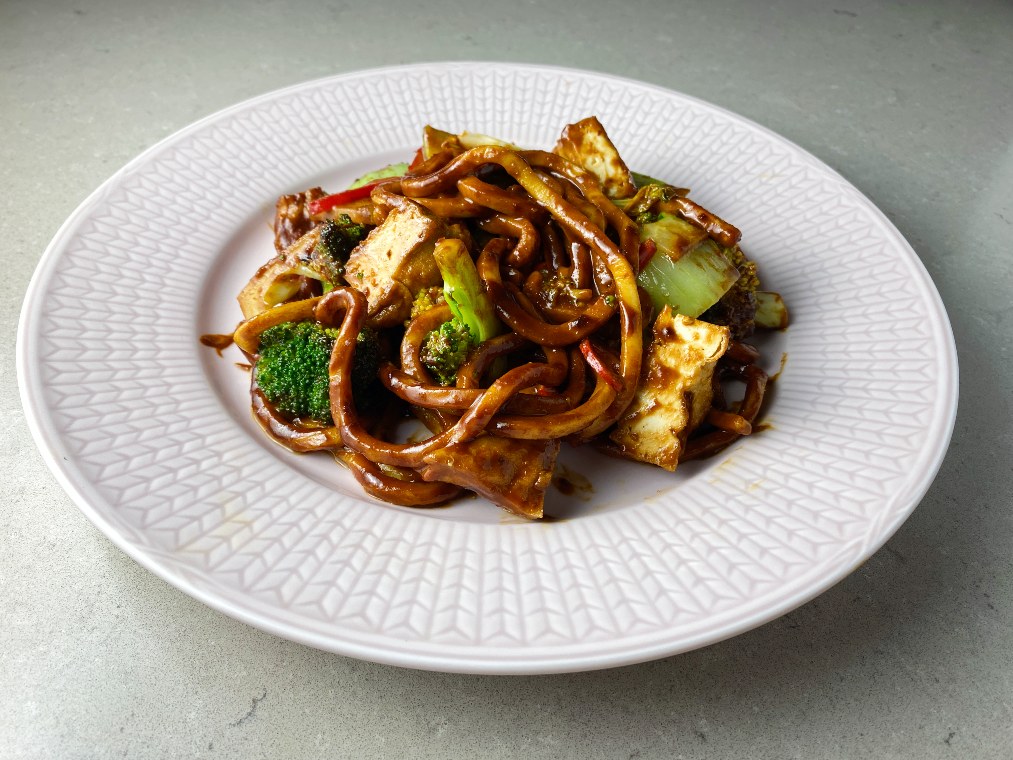 Satay is a peanut sauce served with skewers and rice. It is a common dish in almost all of Southeast Asia, with Indonesia considered the origin of the dish (according to Wikipedia), but Malaysia and Thailand also claim it as theirs.
I was inspired to make something other than skewers but with the same sauce when I was in Bali. The choice fell on wonderfully thick udon noodles soaked in peanut sauce and stir fried together with pak choi, broccoli, bell peppers & fried tofu.
You can of course replace the wok accessories with ingredients your kids like better (Pak choi was not a favourite with the kids, but easy to transfer to my plate). You can also swap udon noodles for other types of noodles.
There are many different variations of how to make satay sauce. In the future, I will try to make new variations and see if it gets even better than this. For example, I have seen where they have used coconut milk, curry, fish sauce, etc.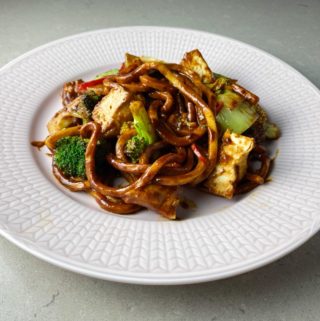 Satay noodles
Ingredients
The sauce
100

g

peanut butter

2

tbsp

soy sauce

1

tbsp

rice vinegar

1

tbsp

brown sugar

1

tbsp

freshly grated ginger

1

garlic clove

3

tbsp

water
Remaining ingredients
250

g

udon noodles

4

tbsp

oil

sesame oil or some neutral oil

250

g

broccoli

1

bok choy

1

red bell pepper

200

g

fried tofu
Instructions
Mix all the ingredients for the sauce with a hand mixer until smooth. Set aside.

Boil salted water in a big pot. Cook the udon noodles according to the packet instructions but remove them 30 seconds before. Drain the water and add a little oil so they don't stick together.

Cut up the broccoli. Rinse and cut up the pak choi and peppers.

Heat a wok pan with the oil. Add the broccoli and stir-fry for 2 minutes.

Add the thicker white part of the pak choi, peppers and pieces of tofu and fry for a further 1 min. Add the rest of the pak choi and fry for a further 2 mins, stirring.

Pour the contents of the wok into a large plate or bowl.

Pour the sauce into the wok and let it bubble up before adding the noodles and stirring. When all the noodles are evenly covered, add the vegetables and tofu and stir.

Serve with chopped peanuts and maybe some coriander if you like that sort of thing.