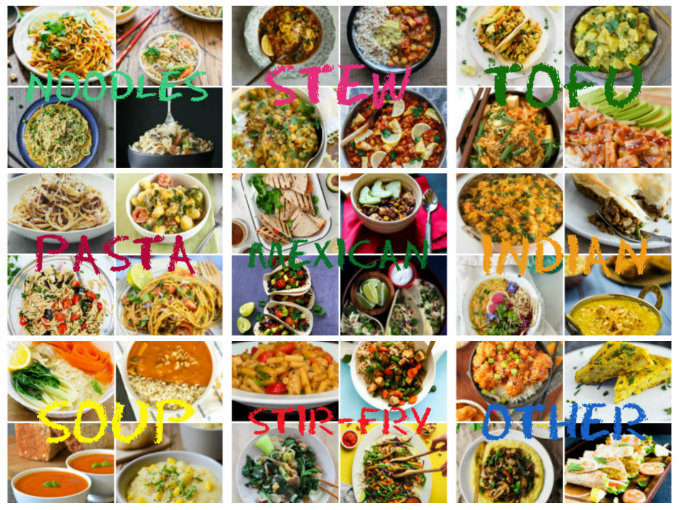 I tried to find good existing lists of all food blogs that are focusing on easy and quick weeknight recipes but could not find any good ones. Decided then to do my own list of such blogs.
Food blogs exist for almost any niche, but the most interesting for me and probably also you as reader is to find new recipes that are quick and easy so that you can find something new for your weeknight dinners. Another factor that is appreciated is if the recipes does not contain rare ingredients that you most likely don't have at home. Another advantage is if the recipes does not yield plenty of dirty pans and pots. That the meals should be yummy is of course a given, but harder to judge since we all have different taste and preferences.
Criteria for getting on this list:
Should be active now
Need a simple and clear design
Need to have good photos
The focus of the blog should be weeknight recipes

or at least have a category of meals that are quick and easy

In English
Some might argue that categories such as freezer friendly, slow cooker meals and meal prep also belongs to the weeknight dinner category and should be included in this list. However, I had to draw the line somewhere and chose to not include those categories that require planning ahead.
The intention is to update this list continuously and also to add picture and link to a recipe from each blog.
Even though I spent quite some time finding and reviewing each site, there are most certainly blogs that I have missed and I would be very grateful if you could write which ones in the comment field so I can update the list.
Food blogs for quick dinner ideas in 2018
Weeknight recipes as main focus of the whole blog:
Bowl of Delicious! | Real food for Busy People
Recipe: Chicken, Sweet Potato, and Black Bean Stew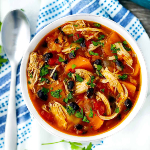 ---
The Gingered Whisk – Easy Weeknight Meals for Foodie Families to Explore
Recipe: Crock pot pork ramen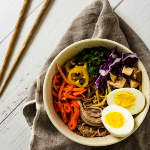 ---
Dinner, Dishes, and Desserts – Quick and Easy recipes that anyone can make any night of the week
Recipe: One pan cheesy sausage pasta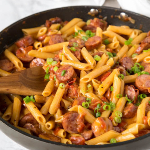 ---
Rachel Cooks – Food, Family, Fun
Recipe: One pan rigatoni with creamy red wine tomato sauce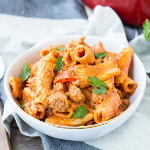 ---
Savory nothings – A food blog with simple, fresh and absolutely delish recipes.
---
Chef Savvy – A food Blog with easy to follow recipes
---
Julias album – Cooking from home: lots of recipes for sweets, desserts, and savories!
---
Creme de la Crumb – A food blog full of simple & tasty recipes
---
Heather likes food – Quick meal ideas | easy to make recipes | one pan meals
---
Salt & Lavender • A food blog with wholesome recipes that are flavorful and made from real ingredients.
---
Framed Cooks – My life. One recipe at a time
---
Cooking LSL – Simple & Inspiring Easy-to-Make Recipes
---
Healthy Delicious – Easy Healthy recipes for Busy weeknights
---
Weeknight recipes in one or more categories:
The Wanderlust Kitchen – Foreign Inspiration. Domestic Preparation.
Recipe: 30-minute Tuscan White Bean Skillet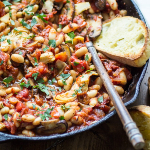 ---
The Dinner-Mom – Serving Easy, Healthy and Fun Recipes
Recipe: Buffalo chicken meatloaf cups (freezer recipe)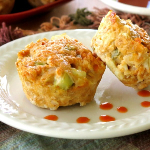 ---
Sarah's Cucina Bella – Quick and easy recipes | Home cooking | Family recipes
Recipe: Shrimp and vegetable soba noodles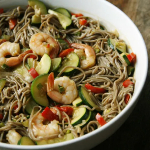 ---
Renee's Kitchen Adventures – Easy family-friendly recipes made with simple ingredients
Recipe: Cheesy chicken enchilada verde (40 min)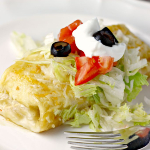 ---
I Can Cook That
Recipe: Salmon with polenta and warm tomato vinaigrette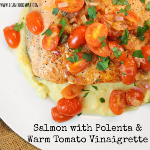 ---
Mel's Kitchen Café – Tried and True Recipes, Baby!
Recipe: Crispy southwest chicken wraps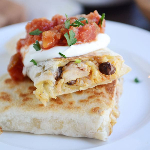 ---
Dinner at the Zoo – Healthy & Kid-Friendly Easy Dinner Recipes made in Minutes
Recipe: Lemon asparagus pasta with chicken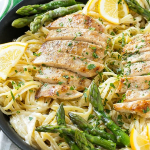 ---
The Blond Cook | Serving Up Cooking Simplicity
Recipe: Cajun shrimp alfredo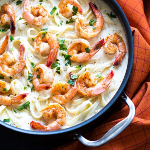 ---
Alexandra's Kitchen – A food blog with mostly simple, sometimes fussy, always seasonal recipes.
Recipe: Bucatini carbonara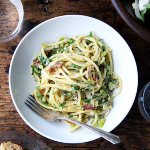 ---
Pinch of Yum – A food blog with simple and tasty recipes.
Recipe: Back pocket stir fry with noodles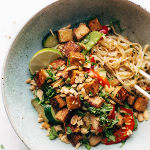 ---
Dashing dish – Nourishing both body and soul
Recipe: Skinny broccoli & cheese twice baked potatoes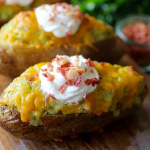 ---
Budget Bytes – My stomach is full and my wallet is too.
Recipe: Creamy tomato and spinach pasta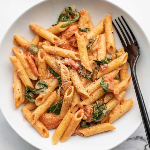 ---
A Simple Pantry – Easy Gourmet
---
Chew Out Loud – Sweet. Savory. One Bite at a Time.
---
Damn Delicious – Simple ingredients. Elegant dishes.
---
---
---
i am a food blog · Celebrating the awesomeness of food.
---
iFOODreal – Delicious Clean Eating Recipes Blog
---
Life Made Sweeter – Delicious Recipes to Sweeten Up Your Life
---
Recipe Tin Eats – Quick and easy recipes that taste amazing
---
Skinnytaste | Delicious Healthy Recipes Made with Real Food
---
Sweet Peas and Saffron | where time is as precious as a good meal
---
The Lean Green Bean – Balanced. Simple. Real.
---
Tasty ever after – All natural real food recipes | Easy recipes | A food blog with hundreds of easy real food recipes using all natural ingredients
---
FoodySchmoodyBlog – Foodie blog – Best recipes – Allergy recipes – Healthy recipes
---
---
Wholesome Yum – Natural, gluten-free, low carb recipes, 10 ingredients or less
---
Vegetarian food blogs with weeknight recipes:
FatFree Vegan Kitchen – Simply delicious oil-free vegan recipes
Recipe: Smoky Refried Bean Soup (30 min)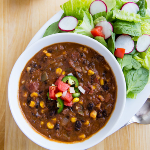 ---
Oh She Glows – Vegan Recipes by Angela Liddon
Recipe: 15 minute creamy avocado pasta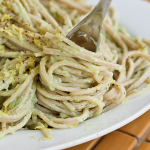 ---
Minimalist Baker | Simple Food, Simply Delicious
---
Cookie and Kate – Whole Foods and Vegetarian Recipe Blog
---
---
What you can do when you have gone through this list of food blogs is to add your favorites to feedly (an rss reader). That way you can make it to a routin to continually see all the new delicious recipes that are published and then visit the recipes that you are interested in.
Missing any? Please let me know in the comments below!