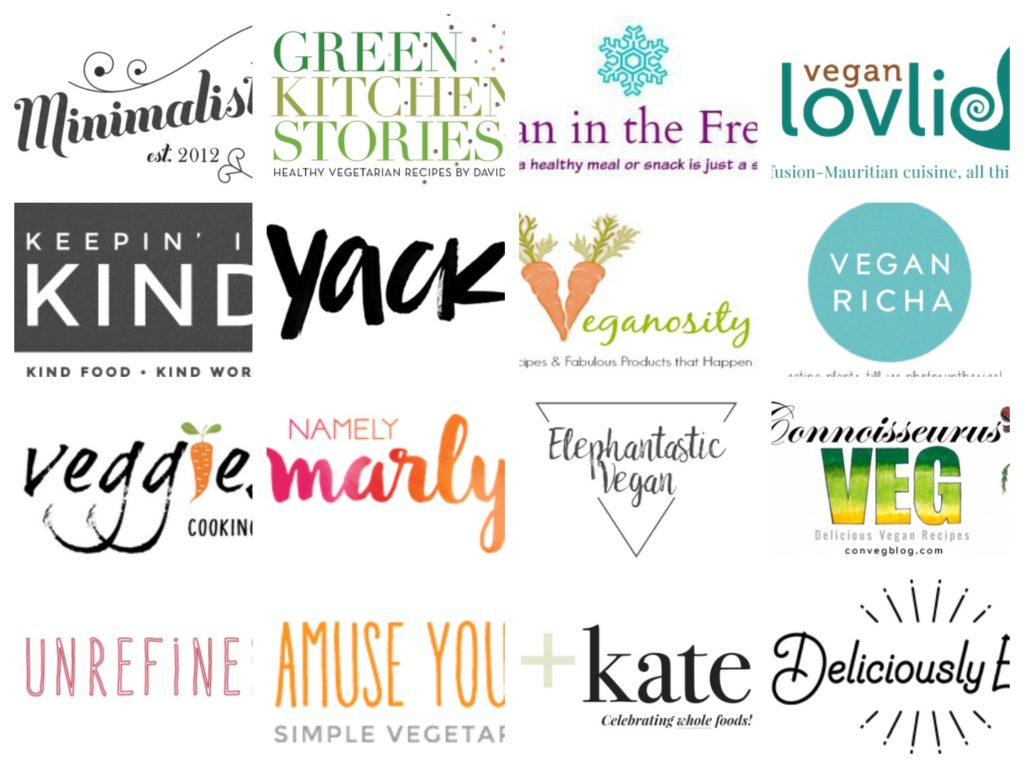 Tried to find good existing lists of all food blogs that are vegetarian or vegan but was surprised to see that a lot of these existing lists included blogs that are no longer active, dead links, etc. Decided to do my own, comprising of only active blogs 2018.
Criteria for getting on this list:
Should be active now
Need a simple and clear design
Need to have good photos
The focus of the blog should be recipes of main meals
In English
The intention is to update this list continuously and also to add picture and link to a recipe from each blog. That recipe representing each blog is the recipe they themselves are most proud over, hence really worth trying 😉
Even though I spent quite some time finding and reviewing each site, there are most certainly blogs that I have missed and I would be very grateful if you could write which ones in the comment field so I can update the list.
Vegan food blogs 2018
Blissful Basil – Healthy Plant-Based Vegan Recipes & Wellness Tips by Ashley Melillo
Recipe: Vegan mediterranean un-tuna salad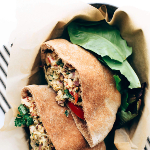 ---
Messy Vegetarian Cook – easy vegan recipes from a kitchen klutz
Recipe: Easy Vegan Sunday Seitan Roast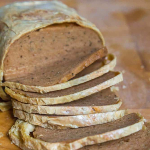 ---
it doesn't taste like chicken – Quick & easy everyday comfort food favourites, veganized
Recipe: Melty stretchy gooey vegan mozzarella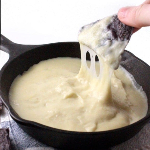 ---
Elephantastic Vegan | Delicious Food to Remember
Recipe: Tofish and chips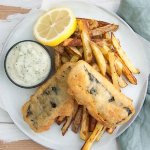 ---
Cadry's Kitchen – A Vegan Adventure
Recipe: Crispy fried pickles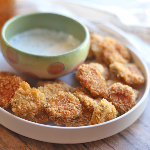 ---
Brand New Vegan
Recipe: Cauliflower tacos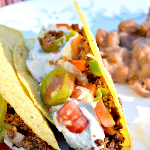 ---
Fried Dandelions – Kid tested, family friendly, allergy safe vegan recipes!
Recipe: Pizza Tofu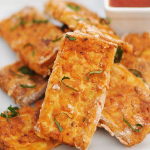 ---
A Virtual Vegan – Wholesome plant-based food cooked with love
Recipe: Easy Vegan Butter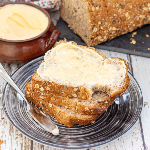 ---
Vegan Huggs – Vegan recipes, lifestyle & cruelty-free beauty.
Recipe: Easy pineapple fried rice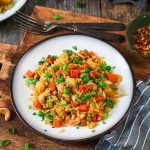 ---
Vegetarian Gastronomy – Vegan Recipes & Gluten-Free Cooking: A 100% Vegetarian Gastronomy Blog
Recipe: Cauliflower tikka masala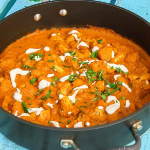 ---
Simple Vegan Blog | A food blog with simple, healthy, vegan recipes
Recipe: Vegan pasta alfredo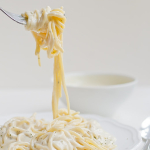 ---
Holy Cow! Vegan – Vegan Food Blog, Healthy & Tasty Vegan Recipes
Recipe: Vegan cassoulet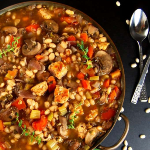 ---
Vegan Richa – Vegan Recipes By Richa Hingle. Indian Vegan Recipes, Vegetarian, Eggless, Dairy-free. Most Gluten-free , Soy-free. Vegan Food Blog , food photography. Eating Plants till we Photosynthesize
Recipe: Vegan kung pao cauliflower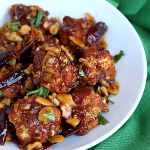 ---
The Viet Vegan – Vegan. Feminist. Nerd.
Recipe: Vegan spicy lemongrass noodle soup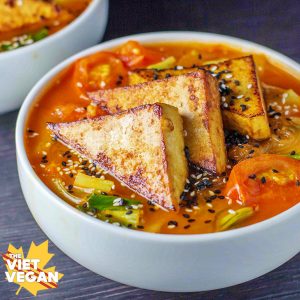 ---
Oh She Glows – Vegan Recipes by Angela Liddon
Recipe: Creamy avocado pasta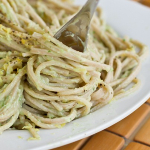 ---
BitterSweet | An Obsession with All Things Handmade and Home-Cooked
Recipe: Sunshine risotto with asparagus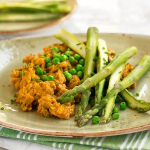 ---
Veggies Save The Day –
Recipe: Buffalo ranch chickpea taco salad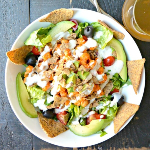 ---
Veggie Inspired – Delicious Healthy Plant-Based Recipes
Recipe: Veggie cream cheese spread (dairy free)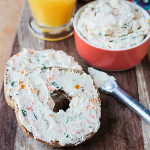 ---
Veggies Don't Bite – Plant-Based, Gluten-Free and Sugar-Free Vegan Recipes
Recipe: Baked vegan buffalo cauliflower dip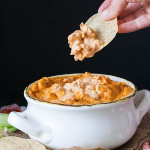 ---
One Ingredient Chef
Recipe: Coconut curried sweet potato and chickpea stew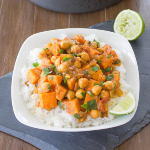 ---
Green Evi
Recipe: Vegan olive and artichoke tart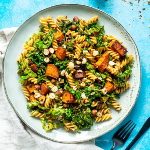 ---
Trinity's Conscious Kitchen – Gluten-free, vegan, conscious cuisine to inspire your soul!
Recipe: Hemp & Lemon Hummus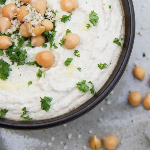 ---
Emilie Eats | Plant-Powered Eats & Treats
Recipe: Loaded vegan sweet potato nachos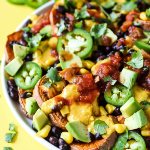 ---
Jessica In The Kitchen – A whole foods vegetarian recipe food blog. Pulled from the earth. Hot from the oven. Straight from the heart.
Recipe: Creamy Vegan Coconut Chickpea Curry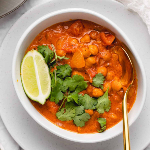 ---
Healthy Slow Cooking
Recipe: Vegan instant pot lentils and rice with rutabaga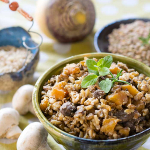 ---
Pass the Plants | plant-based food everyone will eat
---
an unrefined vegan • unbleached, unprocessed, unrefined…and cruelty-free
---
---
The First Mess // Plant-Based Recipes + Photography by Laura Wright » A healthy food blog with delicious, plant-based recipes.
---
The Veg Space – easy vegan comfort food recipes
---
VegKitchen.com – Vegan Recipes
---
Cilantro and Citronella – Vegan Recipes – Recetas Veganas
---
Mouthwatering Vegan Recipes™ – Delicious, nutritious, cholesterol-free vegan food for Compassionate Eating
---
The Full Helping | Vegan Recipes | Made to Nourish
---
Pickles & Honey | a plant-based recipe blog
---
FatFree Vegan Kitchen | Simply delicious oil-free vegan recipes
---
Vegan Yack Attack – A vegan food blog run by Jackie Sobon that covers everything from indulgent desserts, to healthy dinners, and even raw recipes. There's something for everyone here!
---
Healthy. Happy. Life. | Vegan Recipes by Kathy Patalsky | Best Vegan Blog
---
Olives for Dinner | Recipes for the Ethical Vegan
---
The Vegan 8 All recipes 8 ingredients, vegan and gluten-free
---
Namely Marly – Vegan Recipes, Food, and Inspired Living Blog
---
The Colorful Kitchen – Vegan & Gluten-Free Recipe Blog
---
spabettie – Vibrant Vegan Food in Portland
---
Connoisseurus Veg – Delicious vegan recipes.
---
mywholefoodlife.com – healthy food can be delicious!
---
Vegan in the Freezer | healthy food recipes at your fingertips
---
Veganosity – Healthy Vegan Food That Tastes Good
---
Veganlovlie – Vegan recipes, fusion Mauritian recipes, all things crafty & lovely.
---
My Goodness Kitchen | Vegan Food. Tested on Carnivores.
---
Zucker&Jagdwurst | We are hungry.
---
Minimalist Baker | Simple Food, Simply Delicious
---
Plant Tribe – A Vegan Food Blog Sharing Delicious and Beautiful Vegan Recipes
---
Deliciously Ella | Love Your *Life*, Love Your *Food*, Love Your *Self*
---
Robin Robertson's Global Kitchen
---
---
---
Dreena Burton – Trusted whole foods vegan recipes
---
---
---
---
---
---
---
---
---
---
---
Yup, it's Vegan | A Vegan Recipe Blog
---
Golubka Kitchen – Plant-Based Recipes for Health and Vibrance
---
Where You Get Your Protein | Vegan Recipes | real food made from plants
---
---
---
Contentedness Cooking – Vegan Recipes in Easy Steps
---
Stacey Homemaker – I Make a House a Home
---
---
Vegetarian food blogs 2018
Vegetarian Mamma – Vegetarian Mamma shares recipes that are all vegetarian and often times vegan. All recipes are simple, easy to make and are always gluten-free and nut-free!
Recipe: Vegetarian Bolognese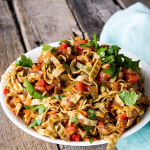 ---
kiipfit.com – Healthy Food Recipes, Fitness tools and health articles for healthy living
Recipe: Turmeric Tofu Oatmeal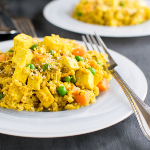 ---
TheVegLife – Healthy vegetarian & vegan recipes
Recipe: Veggie nuggets with vegan honey mustard dipping sauce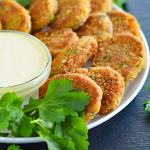 ---
Letty's Kitchen – A vegetarian and healthy dessert blog
Recipe: Hot and sour Miso soup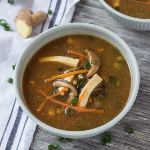 ---
My New Roots – Delicious vegetarian recipes – How to make healthy choices every day
Recipe: The life changing loaf of bread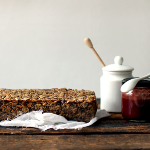 ---
Thinly Spread – A Vegetarian Family Life on Land and at Sea
Recipe: Carrot and coriander fritters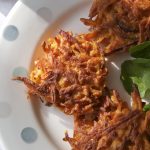 ---
Lisa's Kitchen | Vegetarian Recipes | Cooking Hints | Food & Nutrition Articles
Recipe: Saag aloo (spinach and potato curry)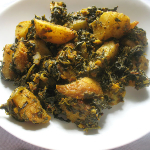 ---
Danielle's Kitchen
Recipe: Black bean tofu scramble with roasted potatoes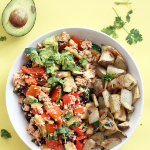 ---
Veggie Runners
Recipe: Grilled Aubergines with Miso and Chia Seed Glaze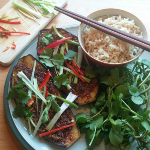 ---
A new green leaf – Tales from a (mostly) veggie kitchen
Recipe: Super simple falafel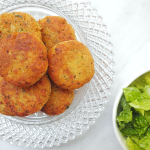 ---
---
Tin and Thyme – vegetarian whole food blog including baking and chocolate
---
Yummy Mummy Kitchen | A Vibrant Vegetarian Blog
---
Kitchen Treaty – A food blog with options
---
Cookie and Kate – Whole Foods and Vegetarian Recipe Blog
---
Oh My Veggies | A Vegetarian Food Blog
---
Love and Lemons – Healthy, Seasonal, Whole Food Recipes Blog
---
Amuse Your Bouche – Simple vegetarian recipes
---
101 Cookbooks – Healthy Recipe Journal
---
Green Kitchen Stories » The healthy vegetarian recipe blog
---
Delicious from scratch • fine vegetarian recipes
---
Happy Herbivore – LEAF: Low Fat, Everyday, Affordable & Fast Recipes
---
Monsoon Spice | Unveil the Magic of Spices…
---
My Diverse Kitchen – A Vegetarian Blog – Food . Stories . Photography
---
---
---
---
---
---
Our Food Stories – Foodstyling & Photography
---
---
Apples for CJ | Food and Fitness done by Stephanie Sain
---
meatless makeovers – Welcome to our little vegetarian kitchen
---
Making Thyme for Health – Simple and seasonal vegetarian recipes.
---
Gourmandelle | Vegetarian Blog | Vegetarian Recipes
---
Hurry the food up – Vegan and vegetarian recipes for busy people
---
Love is in my tummy – Food. Love. Life
---
Trial and Eater – Easy vegetarian recipes
---
Umami nom – Salty, sweet, bitter, sour – and Umami. Nom!
---
Shivani loves food – Easy vegan recipes
Missing any? Please let me know in the comments below!