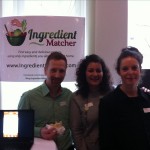 Yesterday, we were lucky to attend the Venture Cup final event where amazing start-ups were competing to win 125,000 SEK.
Venture Cup is the largest competition for entrepreneurs with genius business ideas. Since the start of the competition in 1998, close to 27 000 entrepreneurs have competed with over 13 000 business ideas.
The competition consists of three phases and you choose whether you want to attend all or just the phase that suits you.
We competed for the pitch phase. And we won!
Congratulations to Precisely who won the 125,000 SEK!
We were asked to go on stage and present the next steps of IngredientMatcher. That's us, on stage!