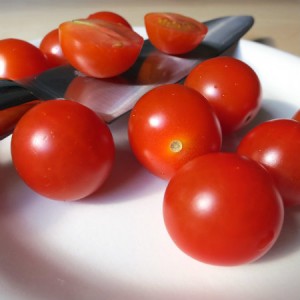 How to cut cherry tomatoes faster in half
I came across this kitchen tip earlier this year and thought it was really smart and time saving! However, there are a few things to keep in mind (that I have learned!):
Have a really sharp knife (serrated knives work best)
Over ripe cherry tomatoes are more difficult to cut
Find the right plate or lid that, once placed on the cherry tomatoes with a light pressure, will allow the knife to slice them right in the middle.
Instructions:
Gather all the cherry tomatoes on your cutting board.
Place a lid or a plate over them.
Holding the plate, slice the cherry tomatoes all at once using a really sharp knife. You'll get perfectly sliced cherry tomatoes.
To obtain additional support you can use two plates. When you put them together, make sure there's a small gap in between to allow space for the knife blade. Be careful not to cut your fingers!
Here are some more smart kitchen tips & tricks from IngredientMatcher >>>