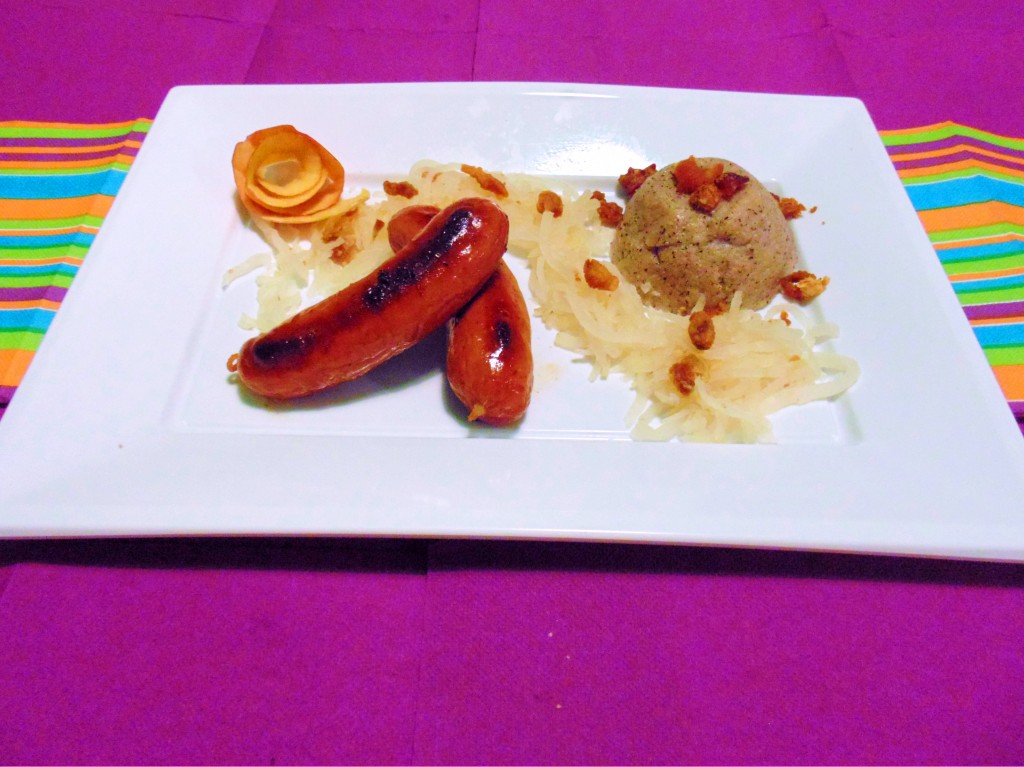 On the 25th of June, the Slovenians are celebrating their National Day. On this occasion, many are going to prepare some Ajdovi Žganci Pečenica, the Slovenian national dish, which consists of soured turnips and sausages.
The name žganci comes from the word žgati which means "to burn" or "to roast". There are many different variations of žganci throughout Slovenia. Žganci is a typical homemade winter meal. Žganci may not be the best-looking dish but it is certainly the ultimate comfort food.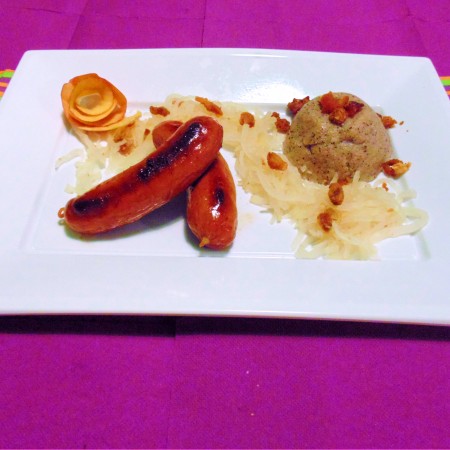 Recipe: The national dish of Slovenia - Ajdovi Žganci Pečenica
Ingredients
Žganci (Buckwheat porridge)
120

g

buckwheat flour

700

ml

water

1

pinch

salt

1

tbsp

oil
Soured turnips
250

g

sour turnips

500

ml

water

100

ml

pork rind

cut into small pieces
For serving
4-8

pečenica sausages

pork rind
Instructions
Ajdovi Žganci (Buckwheat porridge):
In a deep pot, bring the water to boil, then add salt and oil.

Slowly add the buckwheat flour and stir.

Once the flour has absorbed the water, reduce the heat and make a hole in the middle of the mash to let the steam out.

Cover the pot and cook on low heat for 10-15 minutes (make sure to check regularly and reduce heat if it start turning brown at the bottom).

Cut into big pieces to serve.
Soured turnips
Boil soured turnips in water to reduce the sourness.

At boiling point add pork rind, mix and simmer on low heat for 5 minutes or until the pork rind is soft.

Serve with or without the broth from the turnips.
Pečenica
If you are making homemade sausages, cook them on a barbeque, electric grill or frying pan without adding oil. Cook for 15 minutes on low heat until cooked.
About the country chef:
Mojca Kastelic is a working mom. She is very passionate about cooking her home country's cuisine. For Mojca, cooking homemade dishes with love is a priority. Her greatest wish is to travel the world's kitchens!
Read more about IngredientMatcher's Country Chefs in the Foodie section
Read more about national dishes >>>
Read more about other national dish recipes published on this blog >>>