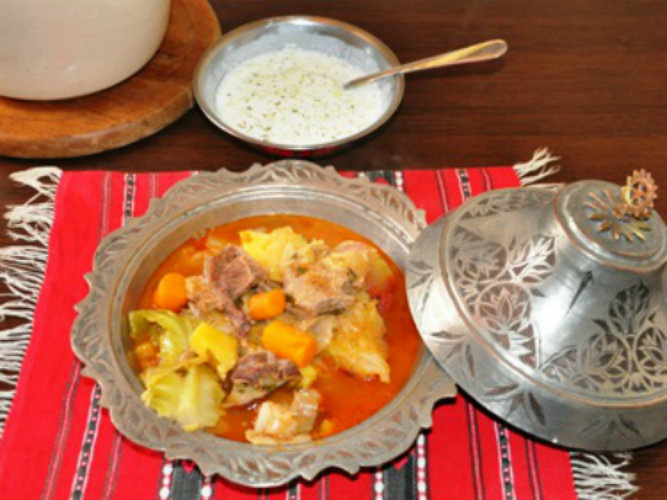 March 1 is the national day of Bosnia and Herzegovina and our country chef Jasna is presenting her recipe for the national dish of Bosnia and Herzegovina – Bosanski Lonac.
The Bosnian stew is an authentic Bosnian culinary speciality, appreciated for its rich taste and flexibility. It is impossible to define the recipe for Bosanski lonac, as there are many variations, but the main ingredients are mostly the same: meat and various vegetables.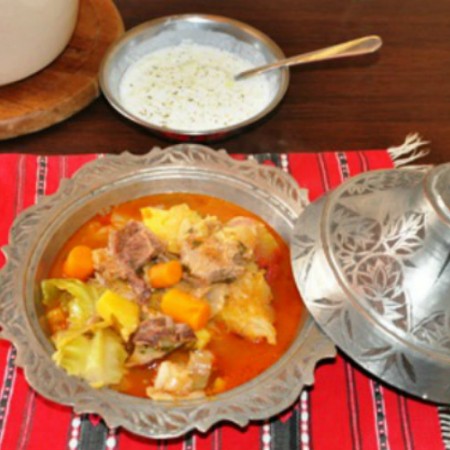 Recipe: The national dish of Bosnia and Herzegovina - Bosanski Lonac
Ingredients
Stew
350

g

lamb

350

g

beef

4

carrots

4

potatoes

2

onions

1

garlic clove

2

tomatoes

½

cabbage

salt

black pepper

paprika powder

2

tbsp

tomato purée

water

3

tbsp

oil

parsley

½

kale
Leek yoghurt salad
1

small

leek

100

ml

yoghurt

1

tbsp

sour cream
Instructions
Chop all ingredients into smaller pieces.

Rub the meat with salt and pepper.

In a clay oven pot, arrange the ingredients in the following order: vegetables, meat, and vegetables. Add salt, pepper, paprika and tomato concentrate. Pour enough water to cover everything. Bake in the oven at the highest temperature for two hours.

After two hours, remove the clay pot from the oven and transfer it onto the stove to continue cooking.

In a smaller pot, heat the oil and mix with flour. Stir continuously while cooking on high temperature. Add three ladles of fluid from the Bosnian pot and bring to a boil.

Pour the sauce in the Bosnian pot and boil for about 10 minutes. Do not stir, just shake the container if necessary.
For the leek yoghurt salad:
Chop the leek into small pieces, add a bit of salt and blend to soften. Add the sour cream and yoghurt and mix all together.

Serve the Bosnian stew in deep plates with the leek salad separately.
About the Country Chef
Jasna Erlenmaier is from Sarajevo, Bosnia and Herzegovina. She likes the traditional and healthy way of cooking, using organic fruits and vegetables from local Bosnian markets. Jasna inherited her passion and love for cooking from both her grandmother and mother. She says that the cuisine of Bosnia and Herzegovina is quite a demanding task, because a lot of different cultures have left their marks on the country over a long period of time. The cuisine has also been strongly influenced by Oriental tastes and traditions. Even though some of the old traditions are changing, she thinks all Bosnians still have one thing in common and that is the love for homemade dishes with an authentic taste – like your grandmother has cooked it.
Read more about IngredientMatcher's Country Chefs in the Foodie section
Read more about national dishes and the ebook "National Dishes From Around The World"
Read more about other national dish recipes published on this blog