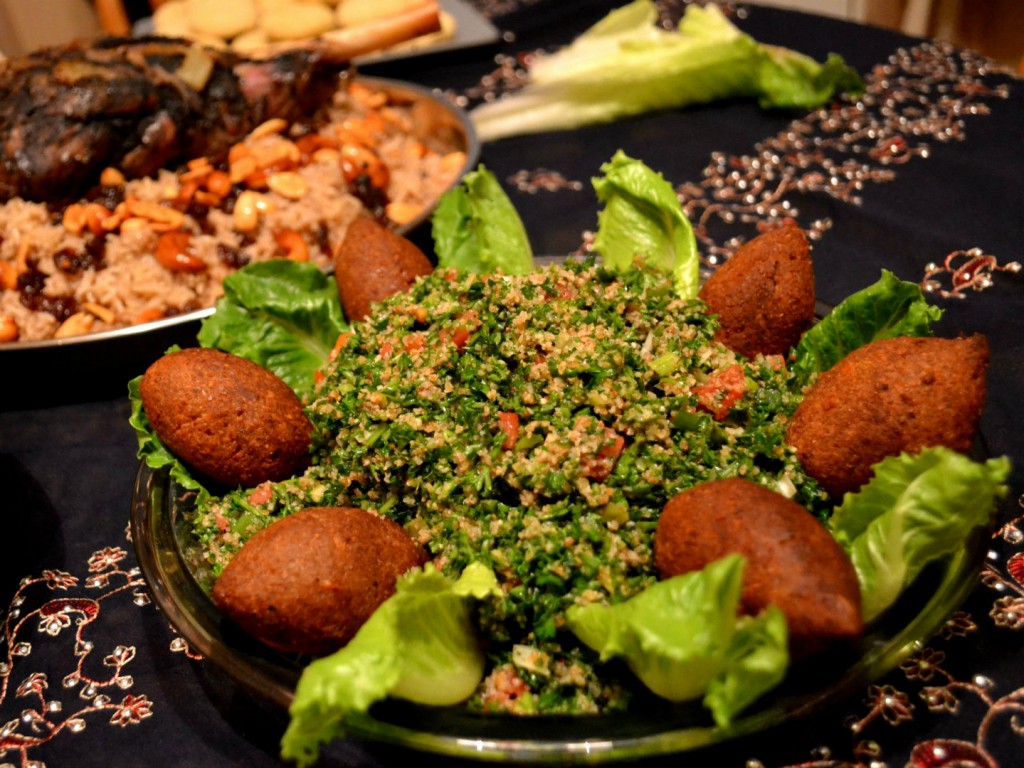 The national day of Syria is March 8 and is it something closer to a national dish of Syria than Tabbouleh or Kibbe? Since Tabbouleh usually is a starter or side dish we added Kibbe (or Kibbeh) so you could enjoy it as a whole meal. Kibbe is a dish made of bulghur (cracked wheat), minced onions and finely ground lean beef, lamb, goat or camel meat.
Enjoy the recipe made by Asma, our country chef from Syria. Alternative spellings of Tabbouleh: Tabouleh, Tabouli, Tabbouli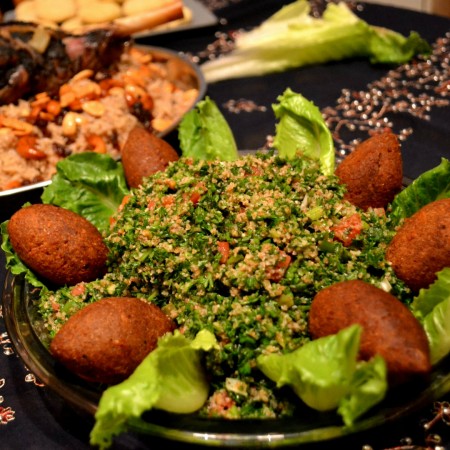 Recipe: The national dish of Syria - Kibbe with Tabouleh
Ingredients
Kibbe
500

g

bulgur

1

kg

minced beef

1

onion

1

tbsp

pine nuts

optional

3

tbsp

walnuts

optional

1

tsp

sweet chili paste

2

tsp

cumin

2

tsp

coriander

salt

black pepper

oil
Tabouleh
100

g

bulgur

2

bunches fresh parsley

½

bunch

fresh mint leaves

4

onions

2

tomatoes

120

ml

olive oil

60

ml

lemon juice

60

ml

pomegranate juice

¼

tsp

black pepper

salt

1

romaine lettuce
Instructions
Making the dough:
Wash the bulgur. Keep wet and set aside for half an hour

In food processor, put half of minced beef, bulgur, salt, pepper, cumin, coriander, chili paste.

Mix well to make a paste. Add a few spoons of water if required. Dough should be stiff but manageable.
Making the stuffing:
Fry 500g of minced beef in a small amount of oil. Add salt and pepper.

Chop the onion and fry it lightly. Then fry the pine seeds and walnuts. Mix all ingredients to make the stuffing.

Form kibbe dough into hollows balls (like cups), fill with stuffing, close and form into shape. In a deep frying pan, heat oil well. Drop each ball at a time. Fry them until golden and crispy.

Serve hot with Tabouleh.
Tabbouleh
Put bulgur in a small bowl. Add lemon juice and pomegranate juice

Strip leaves of parsley from stems by running your thumb and forefinger up the stem. Thoroughly wash 3-4 times to be sure to remove all dirt

Cut the parsley and the mint as fine as possible. Place the romaine lettuce at the bottom of a bowl

Finely chop the green onions and dice the tomatoes finely

Mix parsley, fresh mint, onions and tomatoes with all other ingredients and pour over the lettuce.
About the Country Chef
Asma is a Canadian of Syrian origin. She started cooking at a very young age, helping her working mother in the kitchen. With her mother's inspirational instructions she learnt to cook the many dishes Syria has to offer. As a mother, Asma started to explore on more food which her children liked and looked to improve her cooking, making sure to provide them with healthy, tasty and good meals. https://www.facebook.com/CookingWithAsma
Read more about IngredientMatcher's Country Chefs in the Foodie section
Read more about national dishes and the ebook "National Dishes From Around The World"
Read more about other national dish recipes published on this blog