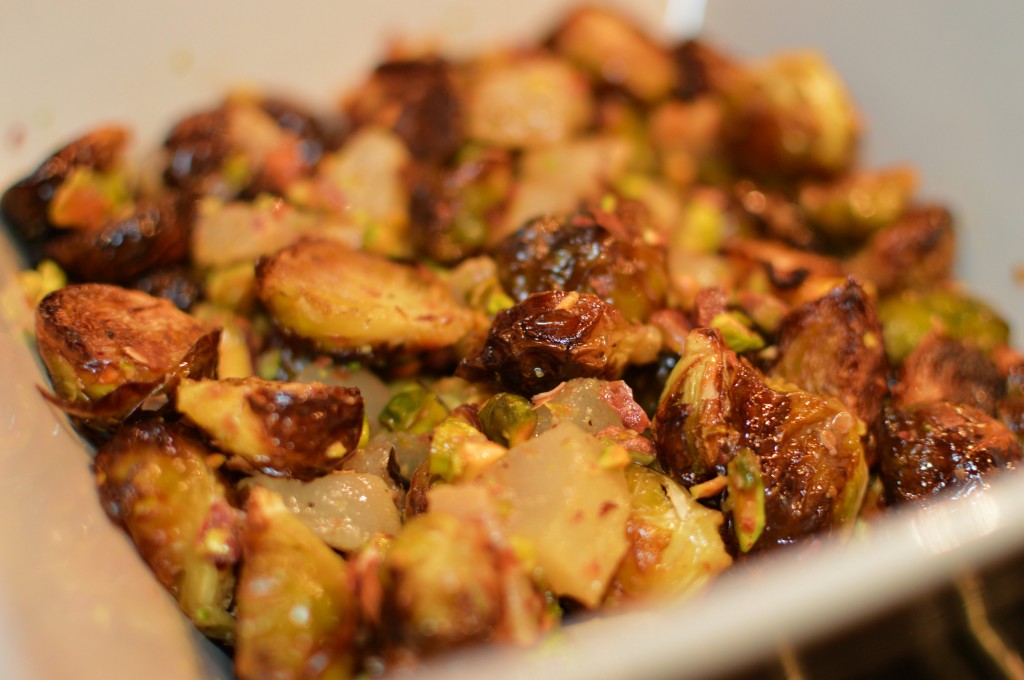 Brussels sprouts are part of a typical Christmas table but not really my favorite. Last year I roasted them in balsamic vinegar & honey and added dried cranberries. That was definitely much better than the standard boiled brussels sprouts. But now I have a recipe to trump that: Roasted brussels sprouts with pears and pistachios drenched in lemon juice, yummy!
Here you can find this recipe in swedish.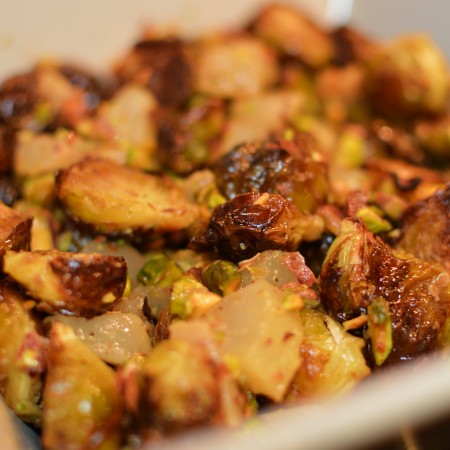 Recipe: Roasted brussels sprouts with pears and pistachios
Ingredients
500

g

brussels sprouts

50

ml

olive oil

½

tsp

salt

½

tsp

black pepper

1

large

pear

50-100

ml

pistachios

without shells

1

small

lemon
Instructions
Prepare the brussels sprouts by removing the outer layer and cut away any excess root before cutting them in half across the root

Peel the pear, cut it in half and remove the core. Coat in olive oil and place on one side of a baking sheet

Place the brussels sprouts on the baking sheet and toss with salt, pepper and the remaining oil. If you want it cooked even then a tip is to place them all on the same side so you easily know which to turn after half the time in the oven.

Roast in the oven at 200°C (400°F) for 15 min, then turn the brussels sprouts and the pear

During their time in the oven you can remove the shell of the pistachios and chop them coarsely

Roast the brussels sprout and the pear for another 15 min, while at the same time toast the pistachios in a separate pan (only need a few minutes on medium-high heat)

Cut the pear halves into smaller chunks. Easiest is to place them on the flat side and then use a knife to cut lengthwise and then perpendicular to those cuts

Place all ingredients in a bowl and squeeze the lemon juice over it. Toss and serve while still hot!
Adapted from Food 52
Bon appétit and Merry Christmas!
See all Christmas recipes here >>>
More recipes from IngredientMatcher here >>>