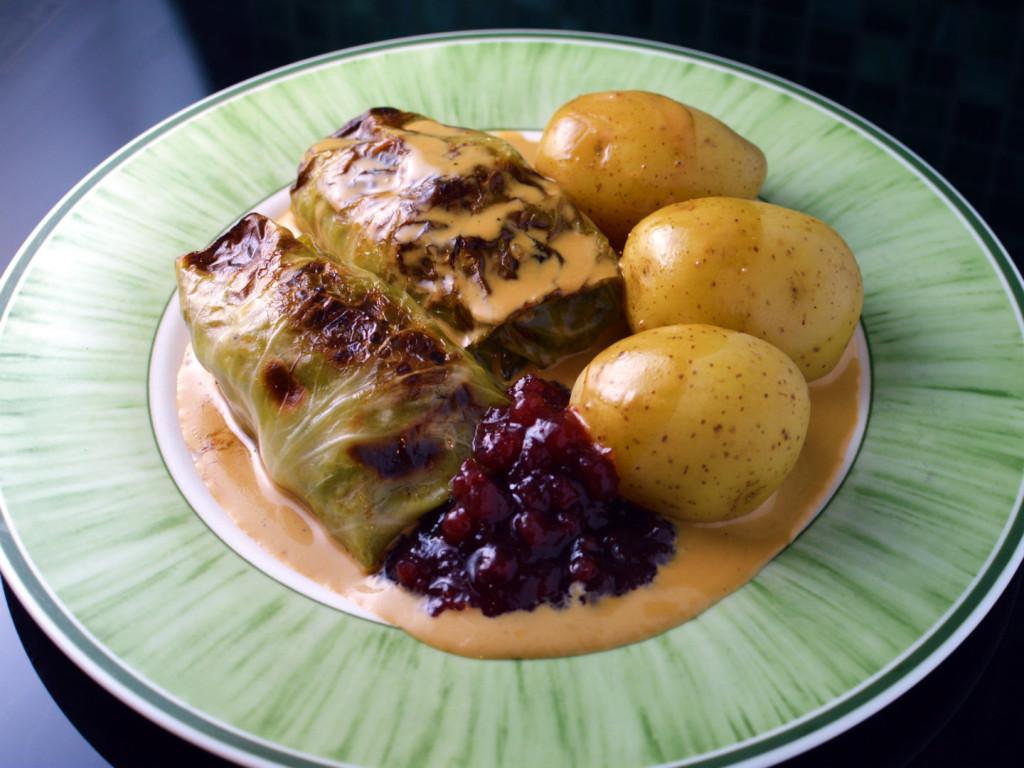 Here's another traditional Swedish dish (husmanskost) with lingongberry jam! Kåldolmar (Swedish cabbage rolls) are said to origin from Turkey and were brought to Sweden after king Karl XII have stayed there for 5 years in exile. However there are no proofs that this is actually the case, the first evidence of kåldolmar is from 1765 in a cook book from Cajsa Warg. Regardless of the history it is one of the oldest Swedish recipes that is still popular.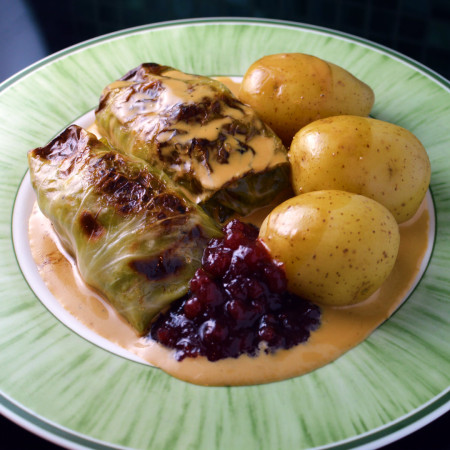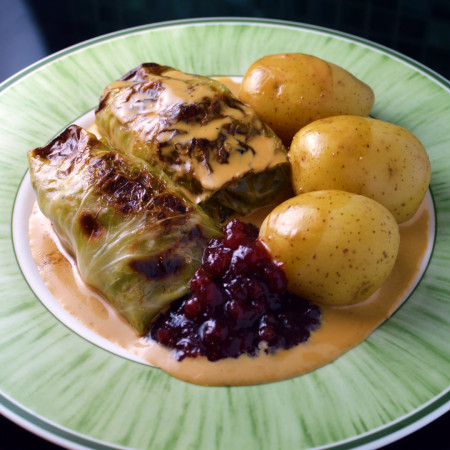 Recipe: Swedish cabbage rolls with cream sauce and lingonberry jam (kåldolmar med gräddsås och lingon)
Ingredients
1

small

cabbage head

around 500 g

2

tbsp

butter

for frying

2

tbsp

syrup
Filling
50

ml

rice

200

ml

milk

200

g

ground beef

200

g

ground pork

1

egg

1

tsp

salt

½

tsp

white pepper

½

tsp

allspice

200

ml

cream
Cream sauce
1

onion

½

carrot

1

tbsp

butter

200

ml

beef broth

350

ml

cream

soy sauce

salt

black pepper
Instructions
Boil the rice with the milk for around 20 min

Cut away the outer part of the stem on the cabbage head and place in boiling water, allow to cook for a few minutes until the leaves easily can be plucked one by one. You need around 12 leaves

Heat the oven to 225°C (437°F)

Mix the ground meat with egg and salt, then stir in rice, spices and the cream.

Place the leaves flat and put a dollop of the meat mixture on each leaf. Fold the edges and then roll it

Heat up a pan on medium heat with some butter and fry the rolls

After removing the rolls then add some hot water to the pan and deglaze it but save the liquid for later

Grease an oven pan and place the rolls with the folding edge down. Drizzle the syrup over and bake in the oven for 30 min while pouring over the liquid from the pan a few times. Cover with aluminium foil if the rolls start to get too much color.
Cream sauce
Chop the onion and carrot

Fry in some butter until golden.

Add buillon and cream.

Let it simmer until it is thick enough (you can add some flour or starch of you like it thicker)

Strain the sauce and flavour with soy sauce, salt and pepper
Bon appétit! More
Swedish recipes from IngredientMatcher here