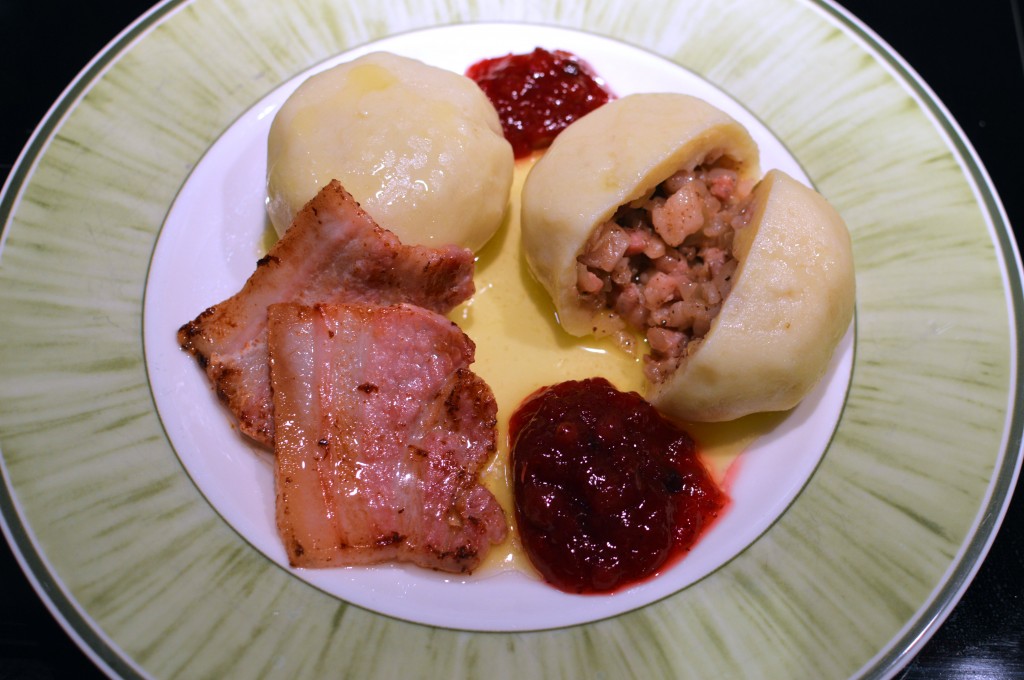 The direct translation of this traditional Swedish dish "kroppkakor" is "Body cakes" but a better way to describe them is: potato dumplings with pork and onion. There are some regional differences of kroppkakor; "öländska kroppkakor", "småländska kroppkakor" and "pitepalt".
This recipe is closest to småländska kroppkakor but uses some extra spices (traditionally it is only salt and allspice). I got inspiration from Ludvig Brydolf in the Swedish MasterChef where he uses Angostura bitters, but I thought it is more common for people to have clove, cardamom and nutmeg at home so why not use those spices that makes up the flavours of Angostura bitters.
Tip 1: Remember that the type of potato and the size of the eggs determines how much flour you need to add.
Tip 2: Once you have closed the dumpling, be sure to put it on a greased surface or add more flour to prevent it from sticking to the surface.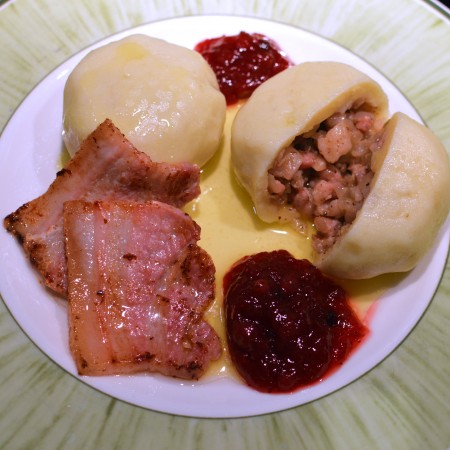 Recipe: Swedish Kroppkakor (potato dumplings with pork)
Ingredients
Dumplings
800

g

floury potatoes

around 8 medium sized King Edward

1

tsp

salt

2

eggs

50

g

potato flour

100 ml

50

g

wheat flour

100 ml
Filling
400

g

pork belly

or bacon

2

onions

butter

½

tsp

whole allspice

½

tsp

clove

½

tsp

cardamom

½

tsp

nutmeg
For serving
butter

lingonberry jam

or raw-stirred

slices

fried pork belly
Instructions
Peel the potatoes, cut them in big chunks and boil them.

While waiting for the potatoes you can cut the onion and pork belly in tiny cubes.

Fry the pork and onion while at the same time grind the spices (better flavor if you use whole allspices, clove and cardamom)

Add the spices to the filling and stir it together, keep on low heat

When the potatoes are boiled, let them cool a bit and then mash them. Wait until you can work the mash with you hands before adding the rest of the ingredients (otherwise the eggs might coagulate)

Add the eggs, salt, flour and potato flour and stir it to an even mix. Here you'll probably need to adjust the amount of flour to ensure the dough is not too sticky nor too dense.

Put flour on your working space and on your hands and start scooping out and forming round balls the size of a golfball. Here you'll notice if the dough is too sticky to work with, then just add more flour. Note that the ball will stick to the surface if you don't have flour between

Next step is to flatten the ball to a disc then place around 2 tablespoons of filling in the middle, fold the dough around and pinch it together so the filling is fully encircled and the doughball is round again

Use a big pot to boil up water then carefully place the dumplings in the boiling water. They are ready once they float up to the surface

Serve with some slices of fried pork belly (or bacon), hot butter and raw-stirred lingonberries (just add half the volume of sugar to the fresh lingonberries and stir until the sugar has dissolved)
Bon appétit!
More traditional Swedish recipes from IngredientMatcher here