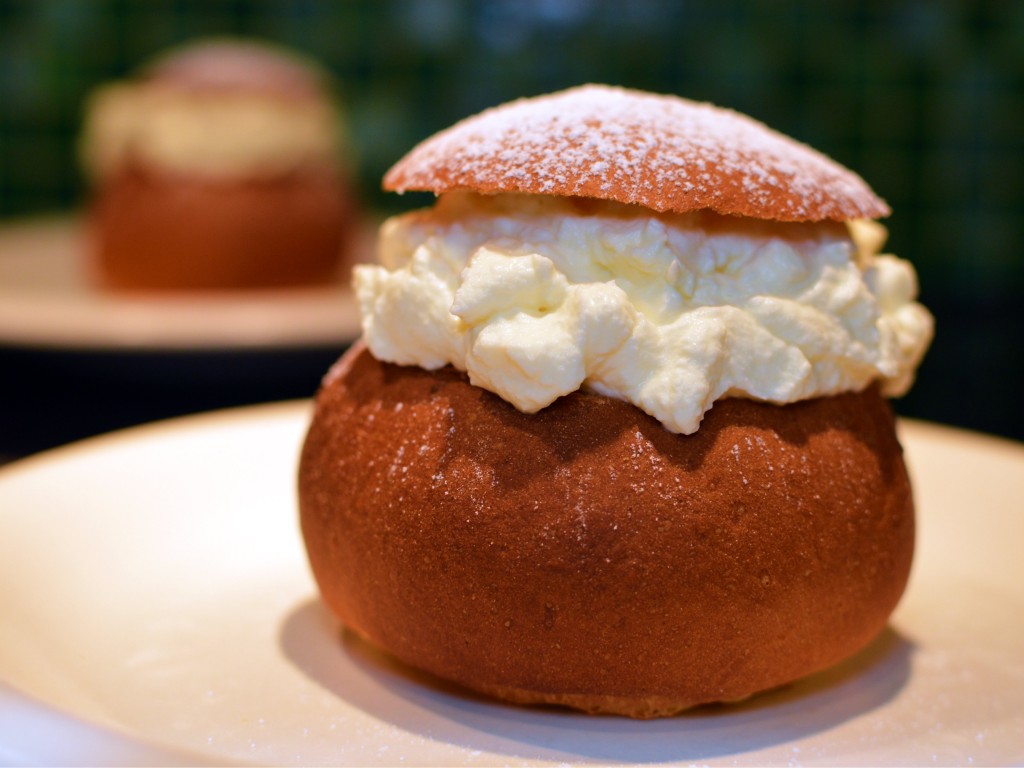 In Sweden the Swedish semlor it is most commonly known as just "Semlor" (plural of "Semla"). In the southern parts of Sweden it is also called "Fastlagsbullar" (plural of "Fastlagsbulle"). And to confuse our international readers even more there's another name for a semla served in a bowl of hot milk: "Hetvägg".
In English a Semla can be described as Sweet wheat bun, Lent bun, Sweet cream bun or Swedish cream bun. The tradition is to eat Semlor at "Fettisdagen" – in other countries the equivalent of Mardi Gras, Fat Tuesday, Shrove Tuesday, Pancake day or Lent. However, semlor is now eaten from January to March in Sweden.
The recipe in this post is the traditional regular semla, in last couple of years there has been a number of variations of the recipe. Mostly experimenting with the filling and the cream, but also in the shapes; Semmelwrap, Semmelkorv (hot dog semla), Bagel-Semla, Semle-tortilla, Semle cupcakes, and Semmeltårta are the latest additions.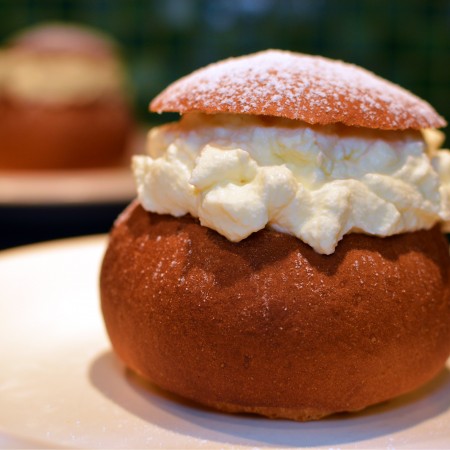 Recipe: Swedish Semlor (fastlagsbullar or hetvägg) - sweet cream bun eaten during Mardi gras
Ingredients
The buns
12

g

fresh yeast

100

ml

milk

1

egg

40

g

sugar

½

tsp

baking powder

1

pinch

salt

1

tsp

cardamom

400

ml

wheat flour

50

g

butter
The filling
125

g

almond paste

30

ml

milk

175

ml

cream

The part of the bun that is scoped out
Instructions
The buns
Make the butter turn to room temperature.

Heat up the milk so it is luke warm (just below 37°C (99°F) then mix in the yeast. Whisk in the egg.

Mix all the dry ingredients in your food processor and then add the milk mixture and the butter.

Knead for a couple of minutes (5 minutes should do the trick)

Cover dough with a towel and let it rest for 1 hour

Split the dough into 6 equal parts and form them into round balls

Place them on a parchment paper on a baking sheet (leave some space in between since they will expand)

Cover with towel and let it rest for at least another 30 min

Heat up the oven to 225°C (437°F)

Brush the buns with the egg and place the baking sheet on the bottom part of the oven for around 7-8 min

Let it cool under a towel

Take a sharp knife and cut off the top lid, scoop out around half of the inside of the bun.
The filling
Grate the almond paste, then mix it with the bun crumbles and the milk to a smooth mixture

Fill the buns with the filling

Whip the cream so it turns fluffy but not too hard

Distribute the cream before placing the lid back on

Finally sprinkle with powdered sugar and if you dare to try, serve it in a bowl with hot milk. Either way it is quite difficult to eat a semla without getting the whipped cream in places it should not be 🙂
Check out some of our other sweet recipes