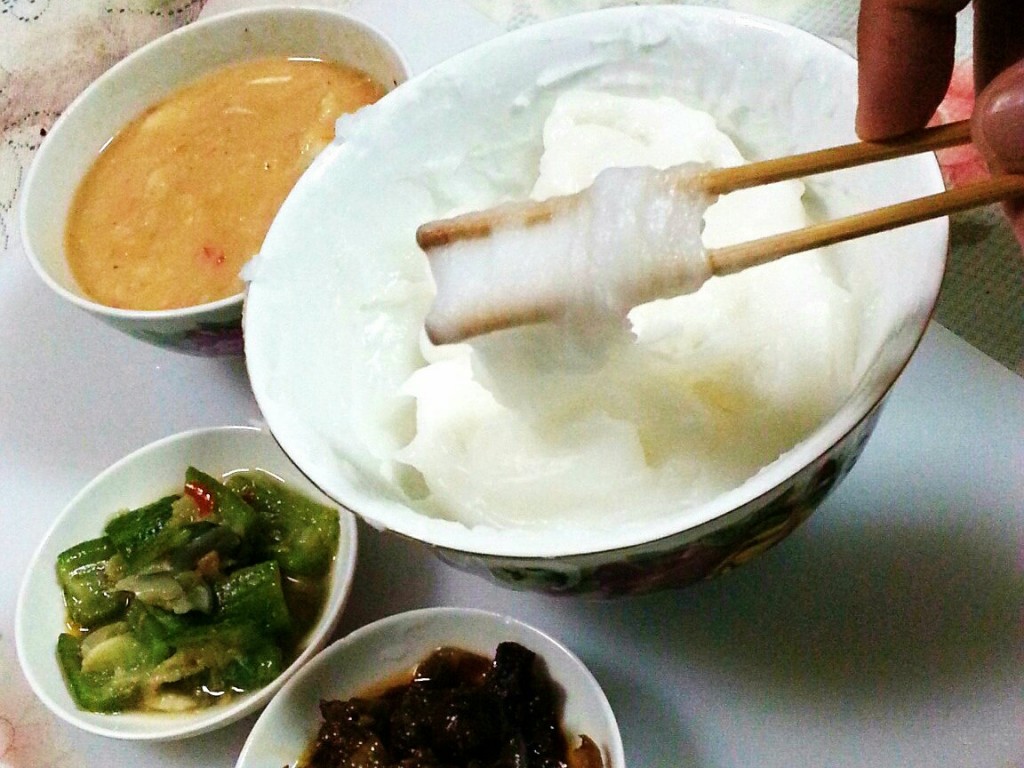 Today is the national day of Brunei and from our cookbook National Dishes From Around The World, we have the recipe for Ambuyat Tempoyak – the national dish of Brunei.
Ambuyat comes from within the trunk of a sago palm. It is eaten using a bamboo fork or better known as 'chandas' and dipped in different varieties of local sauces, such as Tempoyak sauce.
Ambuyat and its tropical sauce dip is usually served with other local dishes such as fried fish, grilled prawns, fried belutak (mixed beef), lalap (fried dried beef) and local vegetables.
Since this recipe uses region specific ingredients such as Sago starch and Durian fruit, your best choice for creating your own authentic recipe is to visit your local asian supermarket. Sago starch can otherwise be substituted with potato starch or tapioca.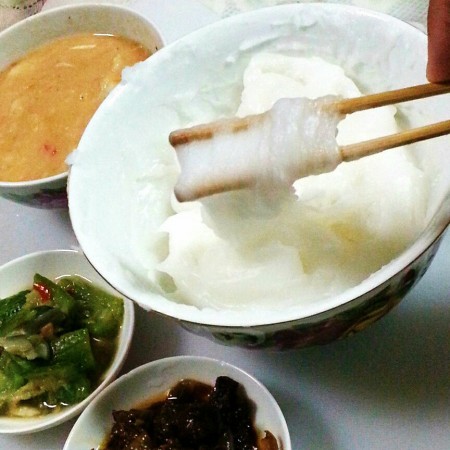 Recipe: The national dish of Brunei - Ambuyat Tempoyak
Ingredients
500

g

sago starch

can replace with tapioca or potato starch

600

ml

water

1

chili pepper

salt

1

tsp

shrimp paste

1

tbsp

dried shrimps

2

tbsp

durian

tempoyak
Instructions
Boil the water in a kettle.

In the meantime, mix the starch with a bit of water in a bowl and put aside.

Put the dried prawns and thai chili in a stone bowl (also called lasung) and blend until the ingredients are well combined.

Add the shrimp paste and mix until well combined. Then add some salt according to taste. Put in a small bowl.

Pour a little hot water on the sauce mixture and add the durian. Mix well.

Once the water is boiled, pour it slowly onto the starch until it looks a bit sticky then whisk with a wooden spoon until firm and starchy.

Serve while hot.
About the Country Chef
Wana Darwish is from Brunei and works as an online baker. She has been cooking and baking since the age of 6. Read more about her food business here: http://wanaskitchen.wix.com/wanas-kitchen
Read more about IngredientMatcher's Country Chefs in the Foodie section
Read more about national dishes and the ebook "National Dishes From Around The World"
Read more about other national dish recipes published on this blog