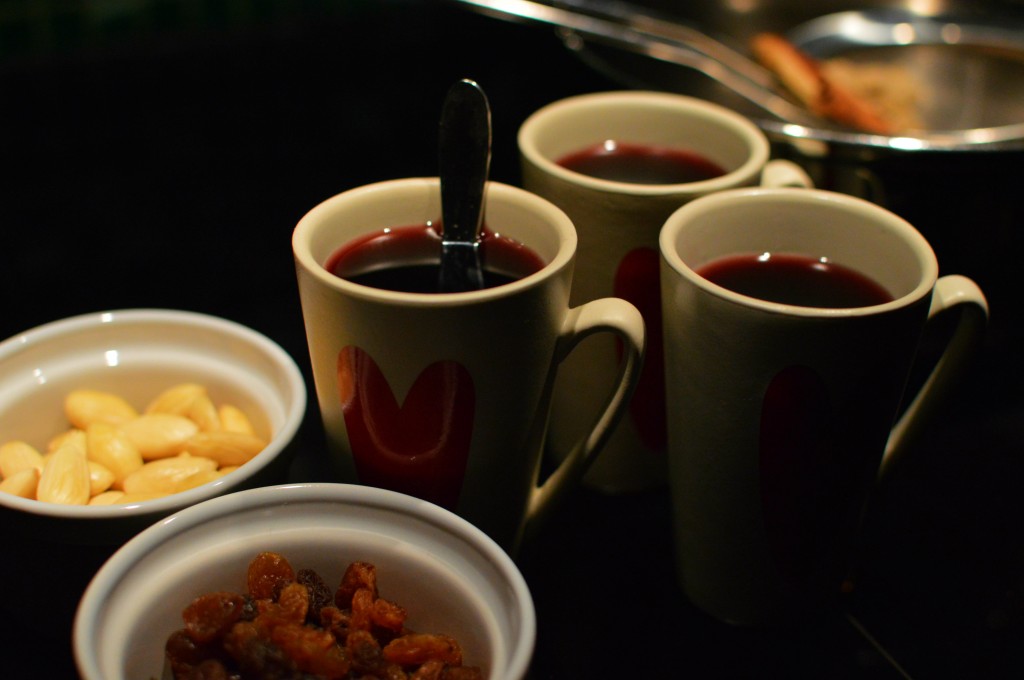 December is the month of "glögg" in Sweden. It is a warm spicy drink based on sweetened red wine, similar to mulled wine or glühwein. It is very common during the weekends in December to have "glöggfika" where you invite family and friends for some glögg and pepparkakor (ginger bread). Sometimes also with lussekatter (saffron buns).
Most people just buy ready made glögg in a bottle and heat it up, but it is not at all hard to make your own even though it could be hard finding some of the spices and it is probably more expensive.
Lately all kinds of flavours have emerged and are available  in stores from November. You could experiment with adding flavours such as: chocolate, chili, orange, blueberry, lingonberry, cloudberry, apple, coffee or if you like, why not even try with saffron.
Here you can find this recipe in swedish.
Below is our recipe for a basic traditional glögg: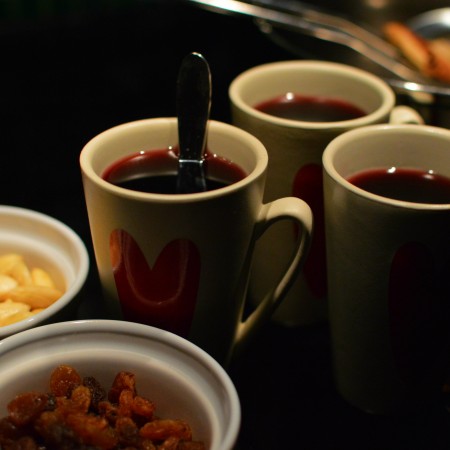 Recipe: Traditional glögg (mulled wine)
Ingredients
1

tsp

cardamom seeds

2

cinnamon sticks

1

piece

dried bitter orange peel

20

cloves

1

piece

dried ginger

can use fresh ginger also

100

ml

vodka

1

tsp

vanilla sugar

250

g

sugar

50-100

g

almonds

50-100

g

raisins

750

ml

red wine

you can go with a cheap wine since all the flavour will come from the spice mix
Instructions
Start by crushing the cardamom seeds with pestle and mortar

Break the cinnamon sticks, the ginger and the dried peel of bitter orange in to smaller pieces

Put the spices in a glass jar and pour the vodka in it. Seal with a lid and let it soak until the next day (or longer)

If your almonds come with the peel, then get the peel off by boiling the almonds for 1 minute and then pour cold water over them for a couple of seconds. Now it is easy to pull off the peel by pulling away from the sharper end to break the peel and then the slippery almond quickly comes out (sometimes too quick..)

Chop the peeled almonds in bigger chunks

Take a pot and a sieve to remove the spices

Whisk down the vanilla sugar, the wine and then the sugar. At this point you can save the mixture for later when it is time to heat it up (it will be ok for around 2 weeks)

Once it is time to serve, just put the chopped almonds and the raisins in the liquid and heat it up on middle heat while stirring. Take it from the heat just before it starts to boil.

Enjoy with some gingerbread and "lussekatt" (Swedish saffron bun)
Bon appétit!