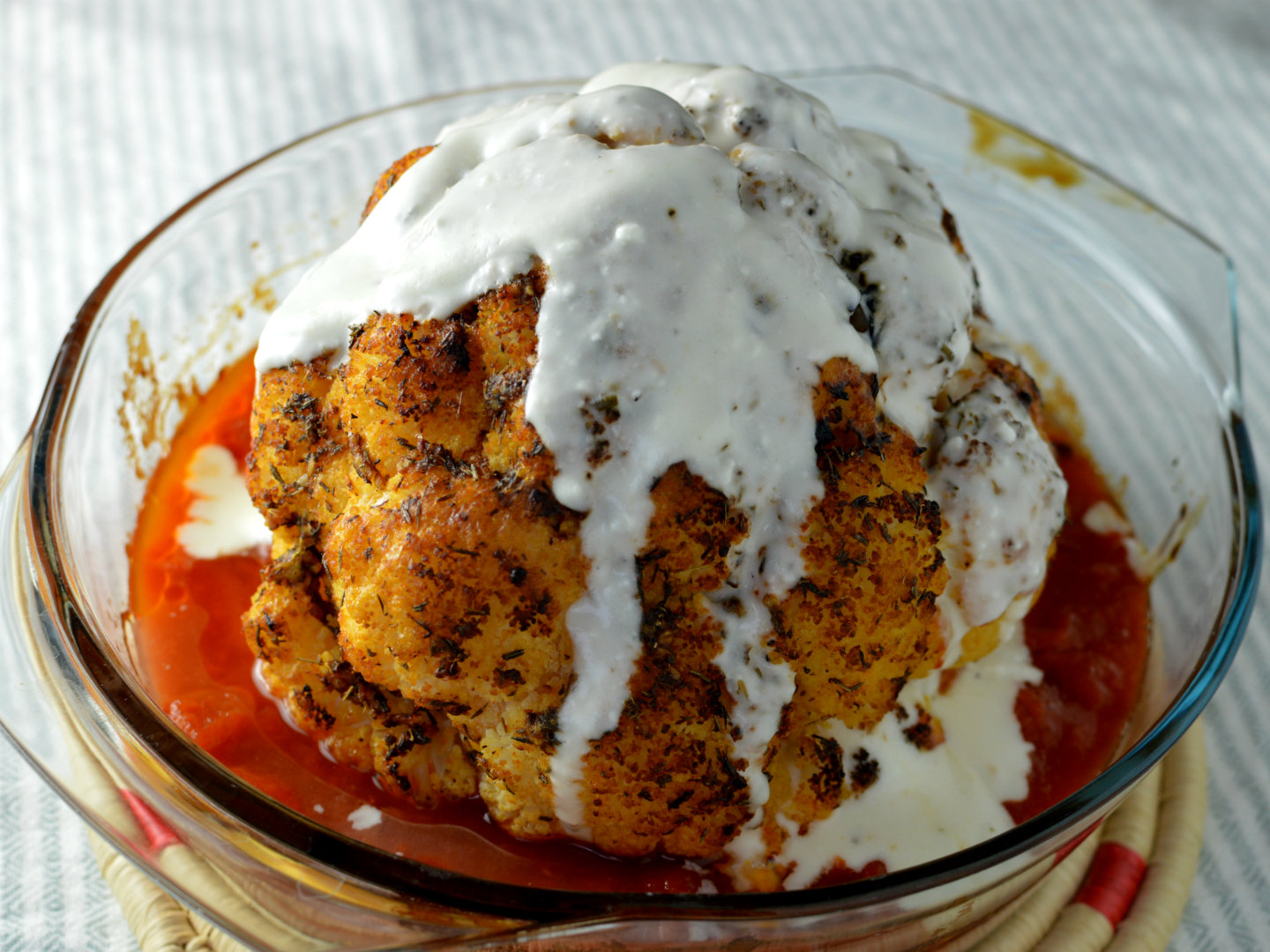 If you are looking for a vegetarian alternative for a centerpiece roast, then this is a very good option! I looked around for a good recipe for a whole oven roasted cauliflower but couldn't find a recipe I believed would be great. But a combination of the recipe from Jamie Oliver where I got the idea for the spices and tomato and then the recipe from heartbeat kitchen where I got the idea for boiling it first and of course the feta cheese sauce. I really think this recipe is superior! I only wish it would be faster to prepare so I could make it more often 🙂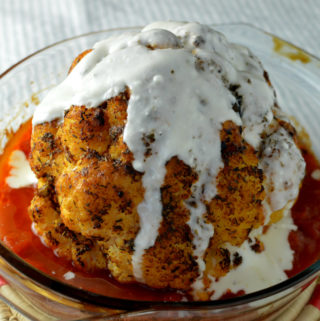 Recipe: Whole roasted cauliflower with feta cheese sauce
Ingredients
Boiled cauliflower
1

head

cauliflower

around 1000 g

salt

2

tsp

black peppercorns

1

garlic head

½

lemon

1

bay leaf

2

tbsp

olive oil
Cauliflower in the oven
2

garlic cloves

1

tsp

smoked paprika

1

tsp

thyme

2

tbsp

olive oil

½

lemon

400

g

crushed tomatoes
Feta cheese sauce
30

g

butter

2 tbsp

2

tbsp

flour

250

ml

cream

500

ml

milk

150

g

feta cheese

1/4

tsp

salt

1

tsp

rosemary

1

pinch

nutmeg
Instructions
Boiling cauliflower
Bring a large pot of water to a boil (the cauliflower should fit to float upside down in it)

Remove the leaves and cut away the bottom core of the cauliflower (important to make it flat so it can stand on its own in the oven)

Add the remaining ingredients to the pot and place the cauliflower with the core facing up and boil for around 15 min then drain it.
Prepare cauliflower for the oven
Place the cauliflower in an oven form that fits rather snugly around (we want just enough room for pouring in the tomatoes later on)

Mince garlic and mix with smoked paprika, thyme and oil. Brush it evenly all over the cauliflower then squeeze the remaining ½ of the lemon over it

Bake for 30 min then add the crushed tomatoes in the oven form and bake another 10 min
Feta cheese sauce
While the cauliflower is in the oven you can prepare the feta sauce. Start by melting the butter in a saucepan then whisk in the flour and let it heat up another minute while stirring

To save some time I usually heat up the milk and cream in the microwave before adding it to the pan. Add salt and rosemary, whisk until smooth and bring to a boil, then turn down the heat and let it simmer for 10 min.

Add the feta cheese in crumbles and whisk until melted. Cook until melted then finish with a pinch of nutmeg.

Serve the cauliflower hot and pour over feta cheese sauce!