Hello and welcome to our blog! 
We're super excited to start this blog and share with the world Ingredient Matcher's recipes, tips & tricks videos, fun facts about ingredients and ways to prepare them and of course, competitions and the likes.
For those who don't know Ingredient Matcher yet, this is an app that will suggest you recipes based on what you've got at home. The app stores and updates your list of ingredients, so you'll always know what's in your fridge, pantry & fridge and what can be made.
If you're interested in becoming a contributor and share your best recipes with the world, register yourself for an early access to Ingredient Matcher: www.IngredientMatcher.com.
Ingredient Matcher in a nutshell:
Read more about IngredientMatcher in the About us page
Behind this blog:
Kalle
I'm a Swede who is a sucker of smart tricks and how-to guides that help me become better in the kitchen. The environment is very important to me and I hate throwing food away so any tips that will help me reduce my food waste as well as helping me prepare delicious vegetarian (you do know that cutting down on meat is the best you as an individual can do to help the environment?) recipes are welcome!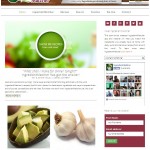 Here's a taste of what this blog has to offer: