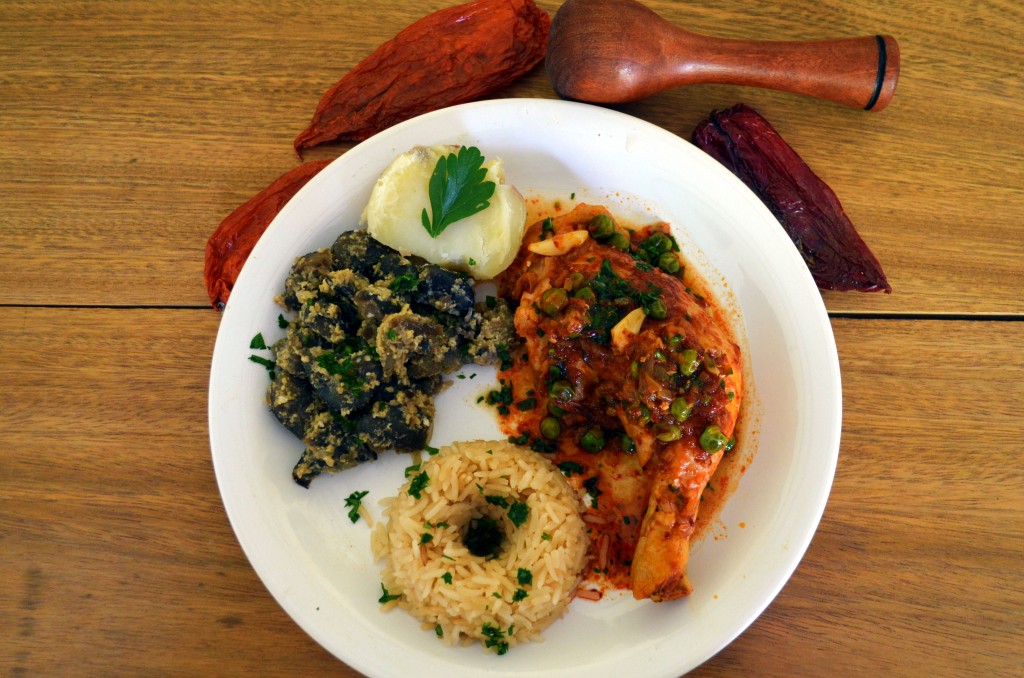 Take the opportunity to celebrate the National Day of Bolivia today. This recipe of Picante de Pollo (Spicy Bolivian Chicken) will awaken your tastebuds, that's for sure! Enjoy!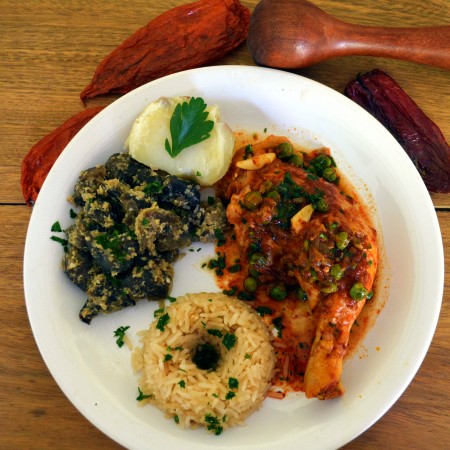 Recipe: The national dish of Bolivia – Picante de Pollo
Picante de Pollo, one of many creole recipes, is originated from western Bolivia and is characterised by its aroma, spicy taste of choky flavour of chuño (dehydrates potatoes). The spiciness of this recipe depends on the quality of "aji" – cayenne peppers, you use.
Ingredients
1

chicken

250

g

green peas

fresh, peeled or frozen

4

potatoes

250

g

rice

4

cayenne peppers

fresh or dehydrated

3

onions

4

garlic cloves

150

g

parsley

finely chopped

3

tbsp

vegetable oil

salt

pepper

ground cumin
Chuño phuti (can be replaced with more potatoes or made with the ingredients below if you can't buy it in the store)
250

g

potato starch

water

3

tsp

salt

50

ml

oil

1

small

onion

½

tomato

3

eggs

shredded cheese
Instructions
Debone the chicken and put it in boiling water.

Add the potatoes, a pinch of salt and cook on medium heat.

After 20 minutes, add the peas and bring to a boil until the chicken and potatoes are soft - about 40 minutes. Stir occasionally.

Fry the rice in 1 tablespoon of oil, continuously stirring for about 5 minutes. When the rice is golden brown, add enough water to cover the rice and let it boil on low heat, without stirring, until it becomes soft – about 25 minutes. Add more water if necessary.

Remove the seeds from the cayenne peppers and blend with 150 ml water to make a thick sauce. If you have cayenne powder, you can make the same sauce by adding water.

Finely chop the onions and garlic

In a large pan, fry the onions and the garlic in 2 tablespoons of oil until they become golden brown. Add some little water to avoid burning if needed. Set aside ¾ in a bowl. To the remaining ¼, add the red pepper sauce and season. Stir all the time.

By now, the chicken should be ready, so incorporate it and the peas in the chili sauce. Add about 5 tablespoons of broth and cook for another 15 minutes.

Serve the chicken with some chili sauce on top, adding 1 potato on the plate and the same amount of chuño and rice. Sprinkle the chopped parsley over and you are ready to serve a Bolivian spicy dish.
Chuño phuti
One night before preparing, put the potato starch to soak in warm water

The next day, sort through the soaked potato flour, removing any undesirable bits of peel. Split into four parts and knead repeatedly until the bitter taste disappears.

Bring to boil with enough water and two teaspoons of salt. Once cooked, drain in a colander.

Chop the onion and the tomato and shred some cheese

In another pot put the oil over medium heat. Once hot, add the onion and fry until it is golden brown.

Add tomatoes, stir and cook for about five minutes.

Add the eggs and mix again.

Add the cooked and drained potato flour and cook for about five minutes.

Finally, before serving, add cheese and stir over low heat.
About the Country Chef
In 2013, Daiana Radulescu and Omar Subieta, both ambassadors of the Jamie Oliver's brand, founded DaiDai, a "passion salon" around their common passion: the culinary art. They like to try new recipes, mix them together and eventually eat!  
Read more about IngredientMatcher's Country Chefs in the Foodie section
Read more about national dishes
Read more about other national dish recipes published on this blog