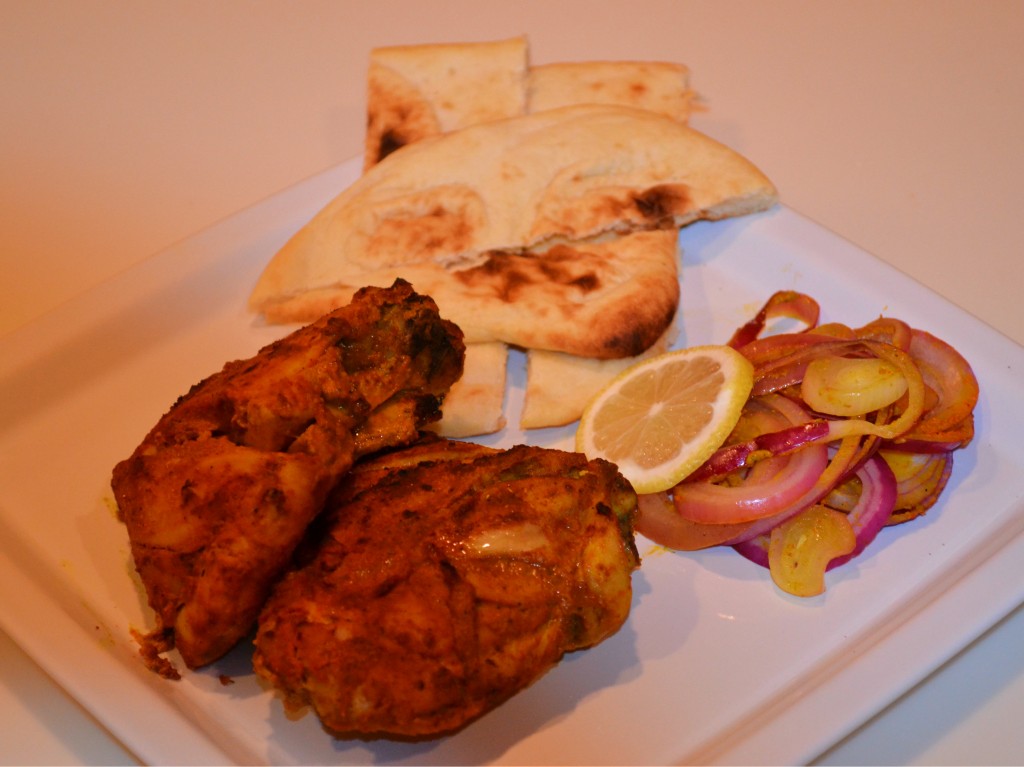 Tandoori Chicken is a popular Indian dish, originating from the northern parts of India. Even though India is a large country with vastly different cuisines, the dish Tandoori chicken is the closest contender to be called the national dish of India. It consists of roasted chicken prepared with yoghurt and spices and served as an appetizer before the meal. Traditionally it is made in a clay oven (or so called "tandoor") at high temperature; hence its name Tandoori chicken. This recipe is adapted to the modern day conventional oven but still retains its authentic taste.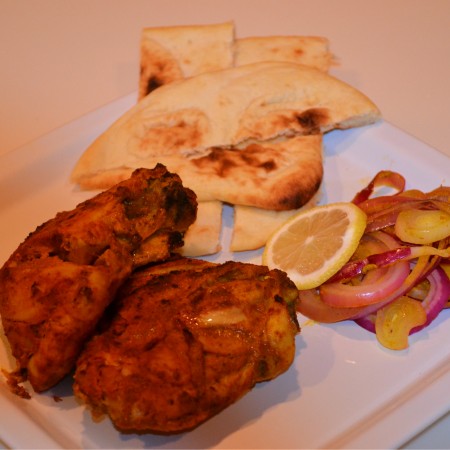 Recipe: The national dish of India - Tandoori Chicken
Note the additional time for marinating the chicken; 4 hours.
Ingredients
6

chicken legs or thighs

1

tbsp

sunflower oil

1

tbsp

apple cider vinegar

100

ml

yoghurt
First marinade
1

tsp

red chili powder

1

tsp

turmeric powder

1

tbsp

lemon juice
Tandoori paste
1

tsp

coriander powder

1

tsp

cumin powder

1

tsp

garam masala powder

1

tsp

ginger-garlic paste

1

tsp

black pepper

1

tsp

salt

1

tsp

dry fenugreek leaves

1

tsp

red chili powder
Instructions
Tandoori paste
Grind together coriander powder, cumin powder, garam masala powder, ginger-garlic paste, black pepper, salt, dry fenugreek leaves and red chili powder to a fine paste. Put the paste aside.
Chicken
Remove skin from the chicken. Make deep cuts on both sides of the chicken.
First marinade
Mix together red chili powder, turmeric powder, and lemon juice. Apply this mixture to chicken pieces rubbing it into the deep cuts of the chicken. Cover the chicken and put aside to marinade for 15 minutes.
Second marinade
Mix the Tandoori paste with yoghurt into a smooth sauce.

Pour the mixture onto the chicken covering each piece on both sides, allowing mixture to get into the deep cuts of the chicken. Mix together apple cider vinegar and oil and sprinkle onto the chicken pieces. Cover and refrigerate for 4 hours.

Pre-heat oven to 225°C (437°F). Remove the chicken pieces from refrigerator and lay them on an aluminum tray/foil. Put them uncovered on the middle rack of the oven for 25 minutes. After 25 minutes in the oven, put them in a broiler and broil each side for 3 minutes.

Garnish this tandoori chicken with thinly sliced raw onion and lemon or lime, cut into wedges, and serve with Naan bread.
About the Country Chef
Nirupama Rajadhyaksha was born in India, but currently lives in the USA. She loves and cherishes the authentic culinary taste of her home country in her cooking. Besides doing the dual role of a working professional and homemaker, Nirupama is also a proponent of the science of Ayurveda and loves to use its basis for making fresh, "taste good to the soul" cooking. Soon, you will be able to see more Indian recipes on Nirupama's forthcoming blog.  
Read more about IngredientMatcher's Country Chefs in the Foodie section
Read more about national dishes
Read more about other national dish recipes published on this blog