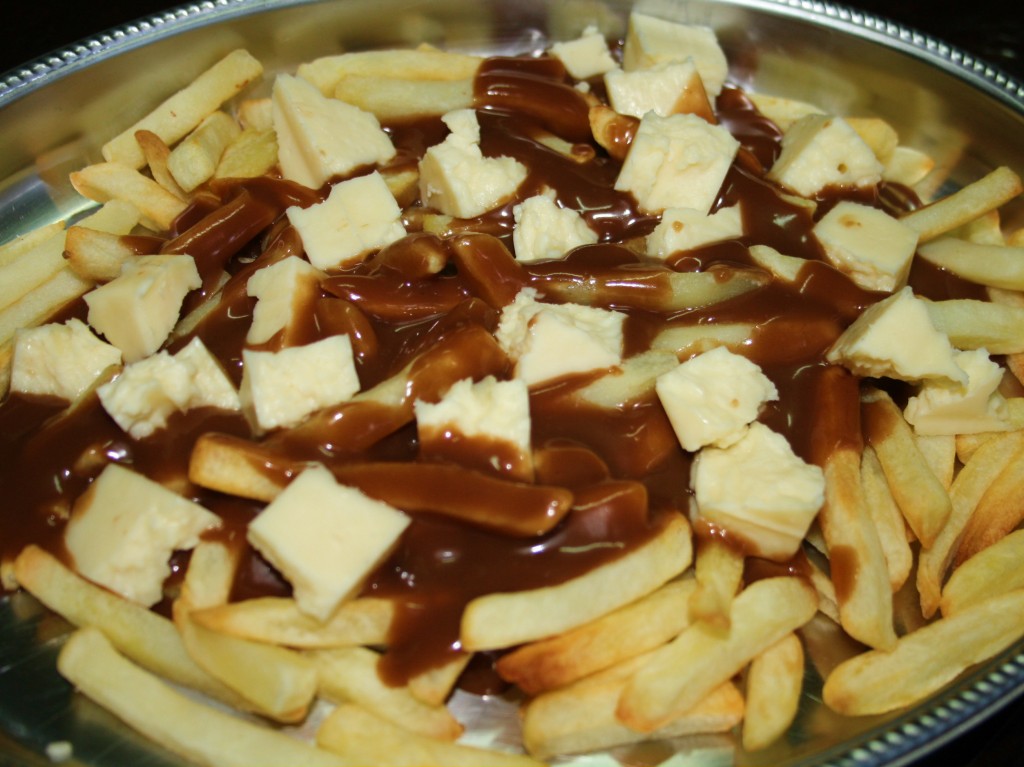 The 1st of July is the national day of Canada (Canada Day) and we would like to celebrate it by sharing the recipe of the Canadian  national dish, Poutine, prepared by our Country Chef for Canada, Bruna Parra Depole Clark.
A true Canadian delight, Poutine is originally from Quebec and is made with French fries, topped with gravy and cheese curds. If you want to know more about Poutine, check out this article by Linnea Covington.
If you want a vegetarian version, just replace the beef and chicken stock with a vegetarian alternative.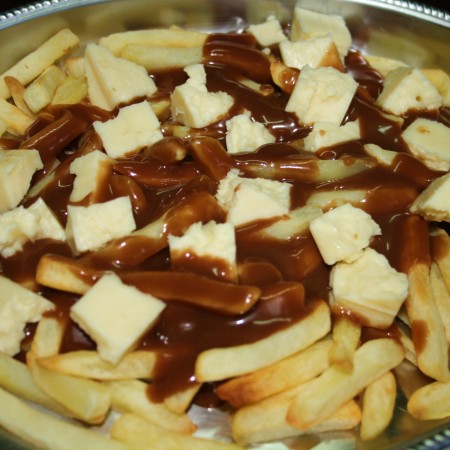 Recipe: The national dish of Canada – Poutine
Ingredients
Gravy
50

g

butter

4

tbsp

flour

½

cube

beef stock

½

cube

chicken stock

500

ml

water

pepper

garlic

optional

shallots

optional

vinegar

optional
French fries
900

g

potatoes

cut for French fries (or use frozen French fries)

oil

to fry the potatoes in (not needed if you go for the frozen fries and make them in the oven)
Cheese curd
250

g

mozzarella

cut in cubes (cheese curd is the real thing but could be difficult to get hold of)
Instructions
Dissolve the stock in boiling hot water

Heat a pan on medium while melting the butter. Add the flour and whisk until the the mixture turns golden brown (around 5 min)

Pour the broth and freshly ground pepper into the flour mixture, whisking constantly, until smooth and well blended. Allow to cook several minutes until reduced and thickened. Keep warm or heat up once the fries are ready.

You can cut the potatoes during the time the gravy boils (or even better is to do it before and keep the fries in a bowl of cold water in the fridge for an hour to make them extra crisp)

Heat oil in a deep pan or skillet to 185°C (365°F)

Place the fries into hot oil and cook them for about 4-6 minutes until golden brown

Place fries into a paper towel lined plate

For a healthier version instead of frying, preheat oven at 230°C (445°F), place them in a greased baking sheet and bake for about 30-40 minutes until golden brown

Place the fries into a serving plate, top with cheese and pour gravy over it

Serve immediately!
About the Country Chef
Originally from Brazil, Bruna Parra Depole Clark married a Canadian and has since fallen in love with its culture and adopted Canada as her second home. Poutine was the first Canadian dish she tried and it warmed her heart.   Read more about IngredientMatcher's Country Chefs in the Foodie section Read more about national dishes Read more about other national dish recipes published on this blog