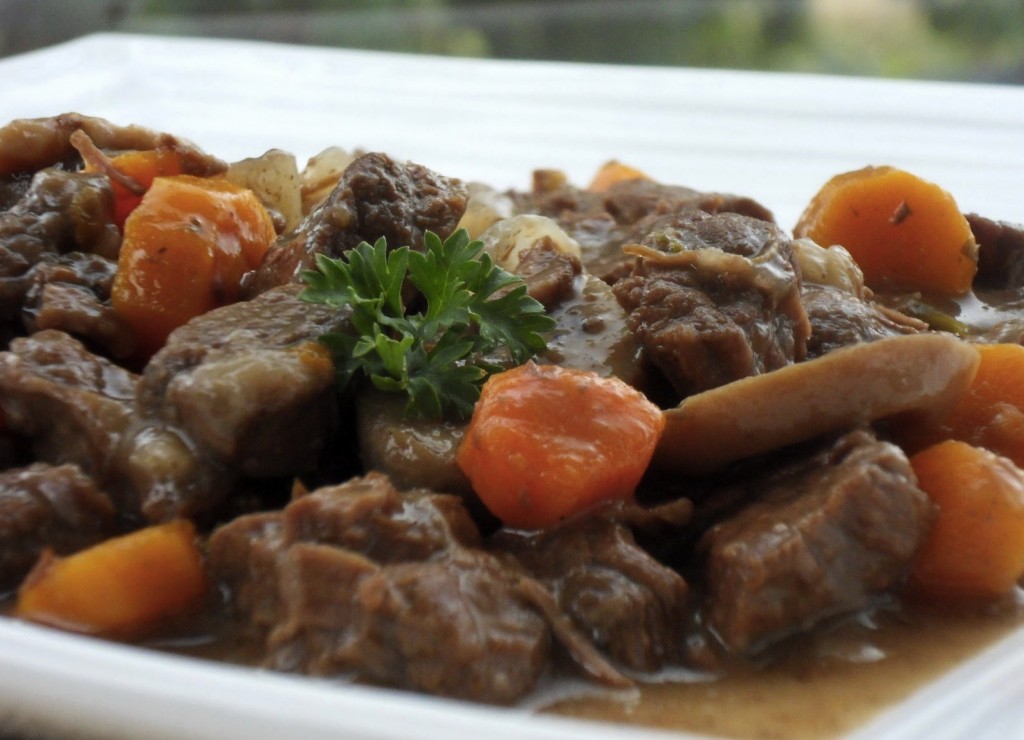 Today, the 14th of July, the French are celebrating their National Day. For this occasion, Julie, our French team member, has made some Boeuf Bourguignon (one of the closest to be the national dish of France, the other choice would be Quiche Lorraine) and is sharing the recipe with us. Beef Bourguignon is a stew prepared with beef braised in red wine, traditionally red Burgundy, and beef broth, generally flavoured with garlic, onions and a bouquet garni, with pearl onions and mushrooms added towards the end of cooking. The stew reheats well and is one of those dishes that tastes even better the second or third day. Bon appétit!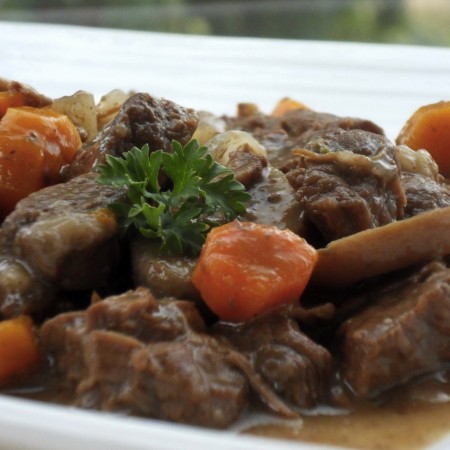 Recipe: The national dish of France - Boeuf Bourguignon
Ingredients
1

kg

beef

cut in large cubes

2

carrots

1

onion

30

g

flour

1

"bouquet garni"

=bundle of herbs, see details further down

2

garlic cloves

40

cl

red wine

40

cl

beef stock

vegetable oil

salt

black pepper

150

g

mushrooms

150

g

pearl onions

250

g

pork belly or bacon

optional if you don't eat pork
For the "bouquet garni"
2

sprigs

fresh thyme

2

dried bay leaves

2

stalks

leafy greens from the celery stalks

6

sprigs

fresh parsley
Instructions
Pre-heat oven to 180°C (350°F)

Start with the vegetables: chop the carrots in 1 cm pieces and the onion finely

Dry the beef cubes with paper towel and sprinkle with salt and pepper

In a pan, heat some oil and add the beef pieces. Braise meat for 5 minutes and add the chopped vegetables

Stir for a few minutes, while you prepare the "bouquet garni" by arranging the herbs in a neat stack, one on top of the other, and then tie the ingredients into a tight bundle with string.

Add the flour and continue to stir

Transfer to a Dutch oven (casserole dish)

Add the wine, the beef stock.the finely chopped garlic and the "bouquet garni"

Cook in the oven for around 2 hours

In the meantime, cook the pearl onions (until golden but still firm) and mushrooms separately

Add the pearl onions and mushrooms to the beef stew once it is cooked. Remove the "bouquet garni"

Best served with egg pasta (tagliatelle), mashed or boiled potatoes
  Read more about IngredientMatcher's Country Chefs in the 
Foodie section
Read more about 
national dishes
Read more about 
other national dish recipes published on this blog