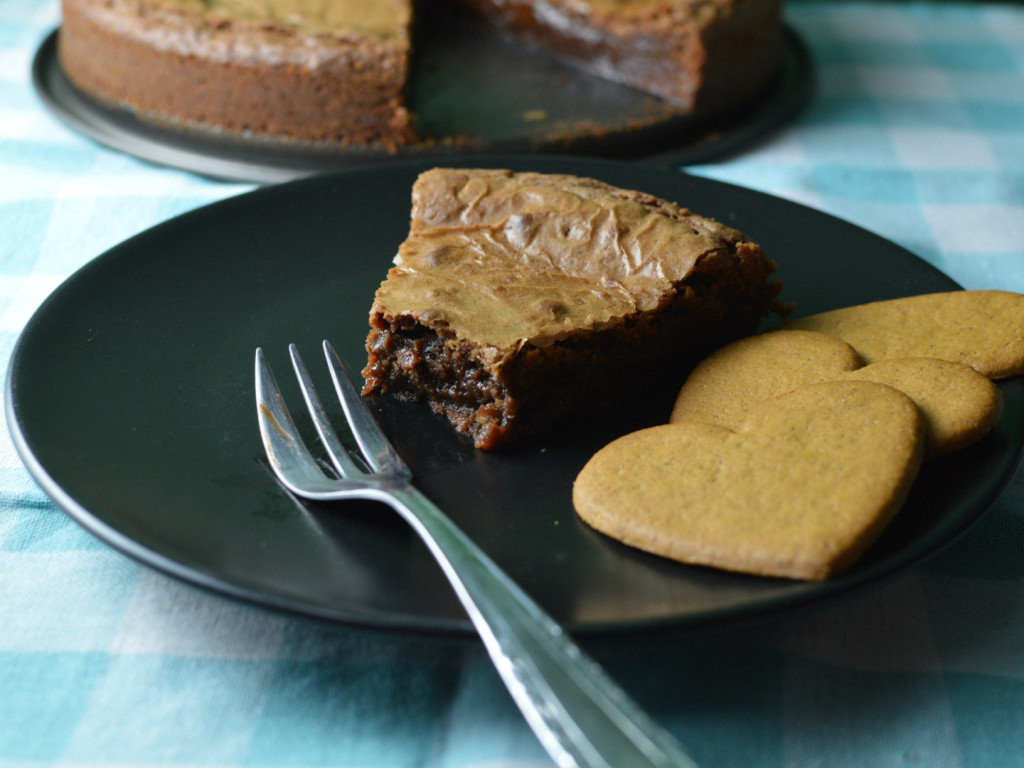 I have previously written a post about the fantastic cake from Sweden called "kladdkaka" (chocolate mud cake or sticky cake).
It is a dense sticky chocolate cake similar to a brownie but with a soft and viscous centre. No wonder this gooey chocolate cake is so appreciated with that delicious taste and texture in combination with these benefits:
Simple and fast to bake
Ordinary ingredients
Easy to vary with additional ingredients and different things to serve it with
Works really well to store in fridge or even freezer
Now when winter is coming I wanted to try combining another favorite of the season; gingerbread! I basically used the standard recipe for kladdkaka and added 100 g crushed gingerbread. I also removed 1 tbsp of cocoa powder to further enhance the gingerbread. Finally I used crushed gingerbread for the pan instead of flour or coconut flakes. I tried it in two different varieties, one where I included a chocolote bar and one without. With the chocolate bar the cake became as gooey as you can see in the picture, while the alternative without chocolate bar was still sticky but not as gooey. So now you choose based on what you prefer!
Here you can find this recipe in swedish.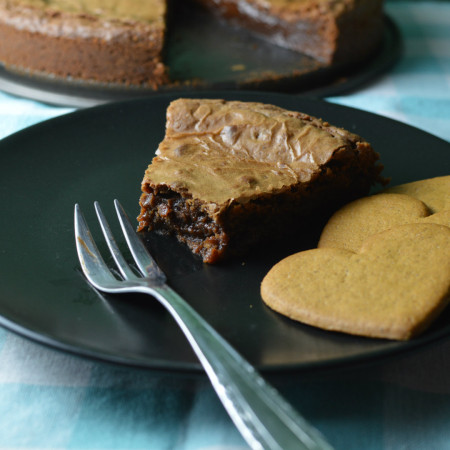 Recipe: Kladdpepparkaka - Swedish chocolate gingerbread mud cake
Ingredients
150

g

butter

100

g

chocolate bar

optional

175

g

sugar

around 200-250 ml

1

tsp

vanilla sugar

2

eggs

2

tbsp

cocoa powder

100

g

flour

100

g

gingerbread
Instructions
Heat the oven to 175 C (350 F)

Melt the butter in a big pot (that can later contain all the ingredients)

If you choose to include a chocolate bar then melt it together with the butter

Remove the pot from the heat and stir in the sugar and vanilla sugar until dissolved

Add the eggs while whisking gently (you don't want a lot of air trapped in the mixture)

Mix in the flour and cocoa powder which you add it a little at a time to avoid lumps (best is to use a sieve/sifter)

Crush the gingerbread and fold it into the mixture

Take a 24 cm cake pan with removable bottom and grease it. Then add some crushed gingerbread so it sticks to the greased surface

Pour in the cake batter and bake for 17 min. If you use a smaller / larger pan you will need to adjust the time. The cake should be crisp on the edges and sticky in the middle

Let the cake cool, this version was especially good when served with vanilla icecream!
Bon appétit and Merry Christmas!
Don't miss the recipe for Swedish chocolate mud cake, or the Swedish saffron sticky cake, or the Swedish lemon sticky cake
Check out some of our other sweet recipes and Christmas recipes Spara