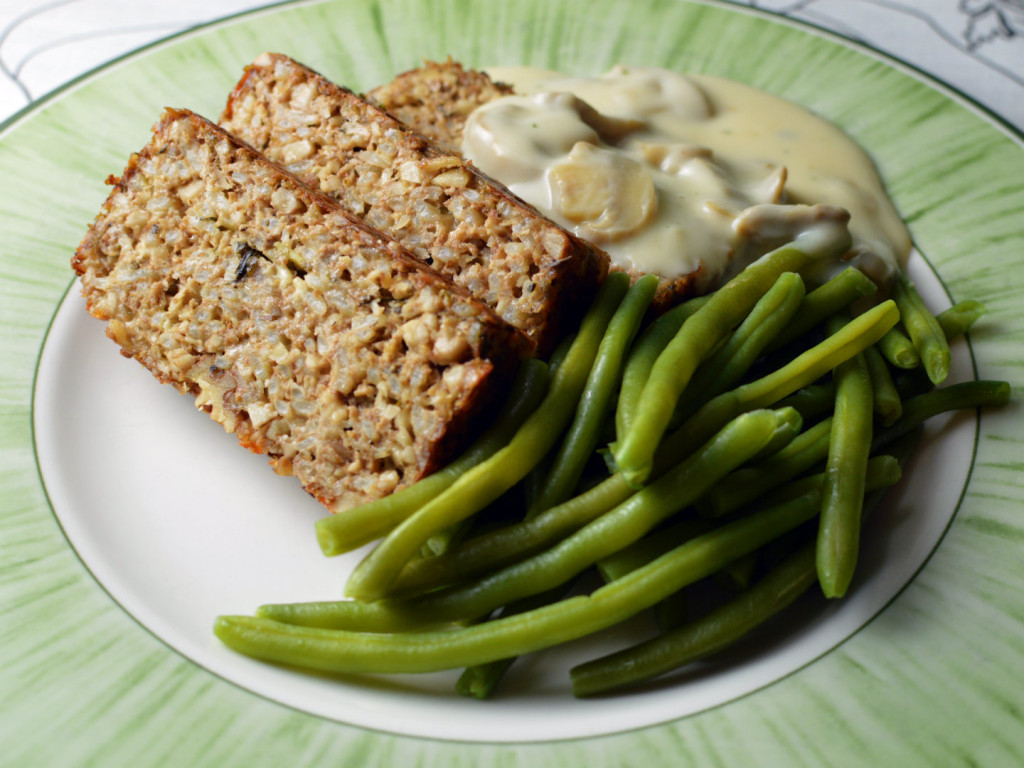 I must say that I really love meatloaf, but when you want to cut down on meat or serve a vegetarian then you need a meatless meatloaf! Meat the Nut Loaf!
This recipe is based on the Classic Vegetarian Nut Loaf from the Kitchn. I only made some smaller adjustments and made it clearer with the quantity as well as the instructions. I also added a mushroom sauce and Haricot verts to make it a complete meal.
The nut roast seems like the perfect vegetarian dish for occassions like Thanksgiving, Christmas, etc.
We will introduce it to our Christmas meal, why don't you also give it a try? Sure it takes a little too long to cook for a weeknight dinner but the taste and texture was perfect!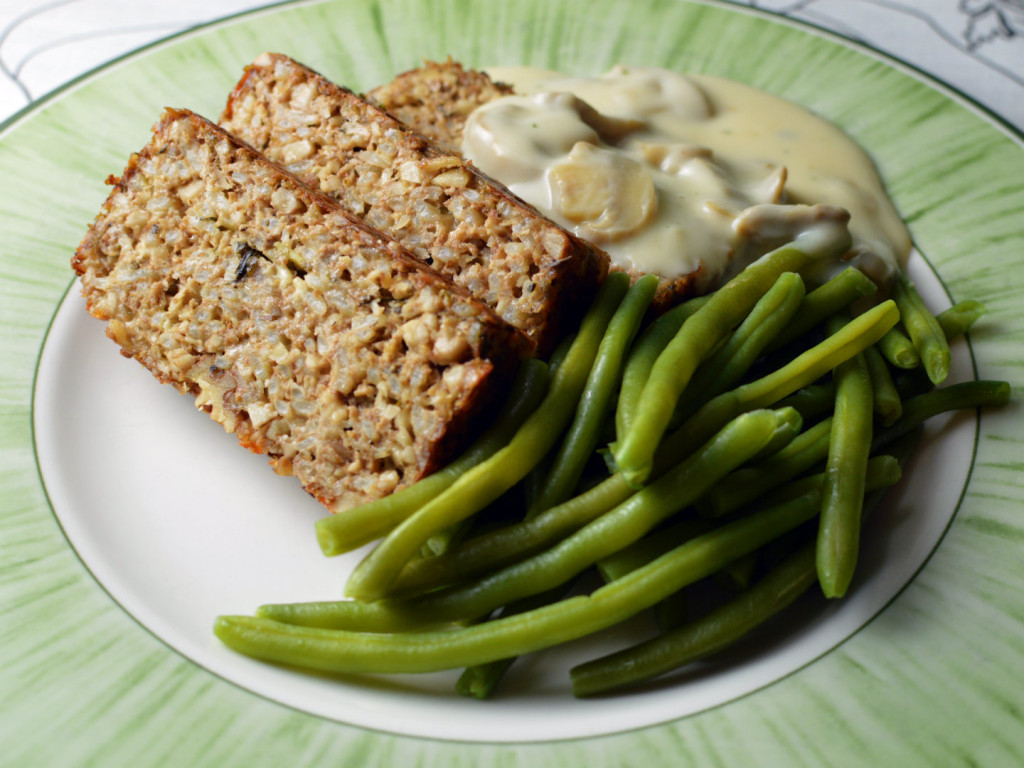 | | |
| --- | --- |
| | |
Preheat oven to 175°C (350°F)
Start by cooking the brown rice according to instructions on package (but use the specified ingredients in this recipe)
Use a food processor to chop the mushrooms to small pieces

Chop the onion and fry in oil until translucent

Add the mushrooms and a pinch of salt and pepper. Fry for a few minutes so that the mushrooms releases the excess liquid

Add minced garlic, the dried herbs and the wine

Let it cook a few minutes so that the liquid is reduced but mixture is still moist

Remove from heat and let it cool while you fix the rest
Take a large bowl and add the brown rice

Chop the nuts in the food processor and it too

Use a separate bowl to beat the eggs with cottage cheese before adding it to the large bowl

Add grated cheese, chopped fresh herbs and the mushroom mixture the the large bowl and stir it together (here you can keep the mixture in the fridge until the next day).

Line 2 loaf pans with parchment paper and add the mixture.

Let it bake in the oven for 50 min.
When it is 10 min left for the loaf then start preparing the sauce.

Melt the butter in a pan, then whisk in the flour. Add worchestershire sauce and the bouillon.

Add the milk while whisking and let it heat up so that it thickens

During the same time you can fry the mushrooms and then add it to the sauce
Place haricot verts in a pan and cover with water and some salt

Bring it to a boil and then boil for 3 min

Remove from heat and add 100 ml cold water. Let it stand for 5 min then drain.
Also check out some of our other Christmas recipes or Vegetarian recipes