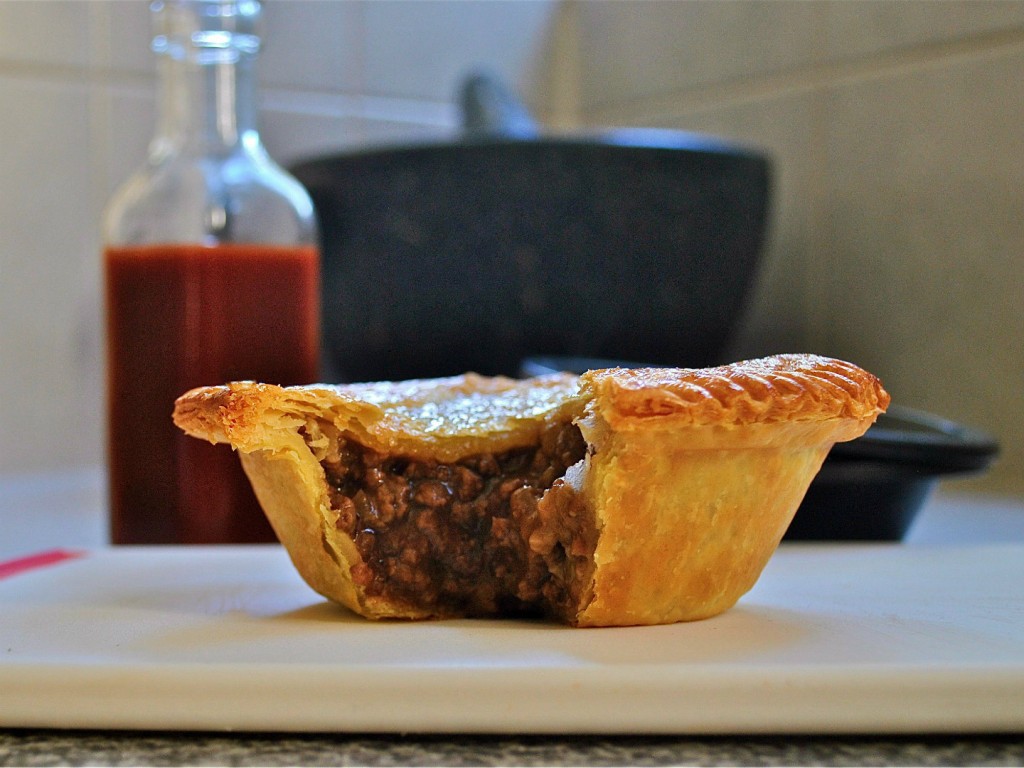 Meat Pies are a classic favourite in Australia, even called the national dish of Australia. A single serve pie filled with minced beef and gravy in a shortcrust pastry base with a puff pastry pie top.
Everyone has their own recipe so feel free to add other ingredients like bacon, mushrooms, cheese, herbs, chilli or whatever takes your fancy. Any filling you have left over is great reheated and eaten on toast. Not only do pie fillings change to pretty much everything imaginable, but the way we like to eat them differs too. Plain, with tomato sauce, covered in mashed potato and gravy, the list goes on. The pie fillings are inspired by all the different nationalities that came to settle in Australia. They have been tweaked and adapted to local tastes.
Here's the recipe for the national dish of Australia – Meat pie, created by our country chef Harley Slatter. Why not make one on Australia day the 26th of January!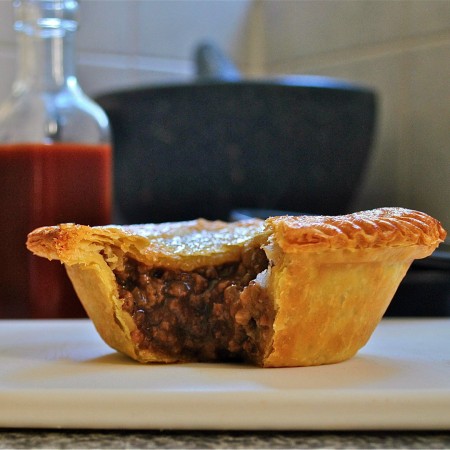 Recipe: The national dish of Australia - Meat pie
Ingredients
3

tbsp

olive oil

1

large

onion

1

garlic clove

500

g

minced beef

2

tbsp

flour

1

tomato

2

tbsp

worcestershire sauce

250

ml

beef stock

1

egg

2

sheets

shortcrust pastry

2

sheets

puff pastry
Instructions
Finely dice the onion and mince the garlic

Take a large frying pan and over medium heat cook onion and garlic in 1 tablespoon of olive oil, until onion is softened.

Remove from the pan and brown half the beef mince in 1 tablespoon of olive oil. Remove and repeat with the other half of the mince.

Return onion, garlic and mince to the frying pan and add the flour, stir for 2 minutes until flour is cooked.

Peel and chop the tomato, discard the seeds (or eat it)

Add tomato, Worcestershire sauce and beef stock. Stir until well mixed

Cook until the liquid thickens, approximately 10 minutes. Remove beef mixture from heat, put in a bowl and chill in the fridge for 2 hours.

Pre-heat oven to 190°C (375°F)

Cut circles of shortcrust pastry and line 4 small or 1 large non-stick pie tins.

Cut 4 circles of puff pastry to use as pie tops.

Fill the pastry cases with the cooled beef mixture.

Put pie tops on and seal by crimping the edges or using a fork to seal the 2 pastries together.

Beat the egg and brush pie tops with it, then place in the oven.

Cook until golden brown and hot through (20-30 minutes).

Serve with tomato sauce and salad.
About the Country Chef
Harley Slatter has been working with the food industry for more than a decade and a half. Born and raised in Australia, meat pies have been part of his diet from a young age.
Read more about IngredientMatcher's Country Chefs in the Foodie section
Read more about national dishes and the ebook "National Dishes From Around The World"
Read more about other national dish recipes published on this blog