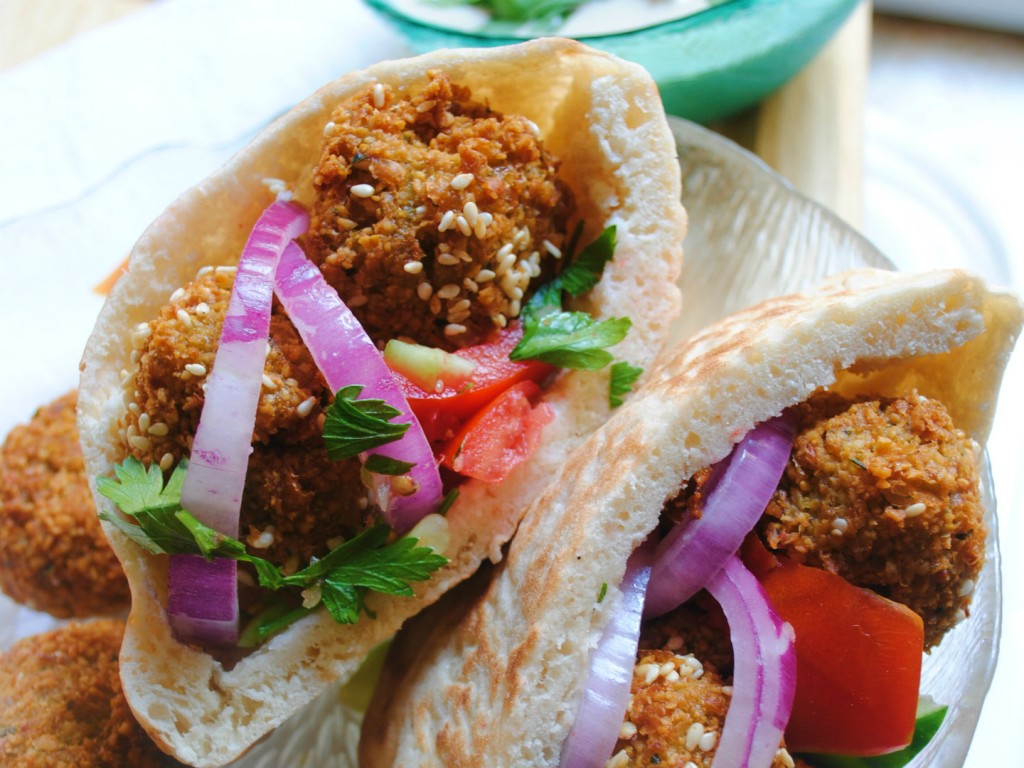 In Israel, every neighbourhood has its falafel stand. You might see several on the same block, especially in downtown streets. Every vendor has his own, jealously guarded recipe, and everyone knows who sells the best falafel in town. It's a food that never goes out of style. Is it the national dish of Israel? Israeli cuisine is still evolving, still absorbing influences from the kitchens of myriad ethnic streams that compose the country's population. But somehow, when you picture Israeli street food, it is falafel. You can also make excellent falafel at home. With a food processor, it's easy.
Here's the recipe for the national dish of Israel – Falafel, created by our country chef Miriam who runs the food blog Israeli Kitchen.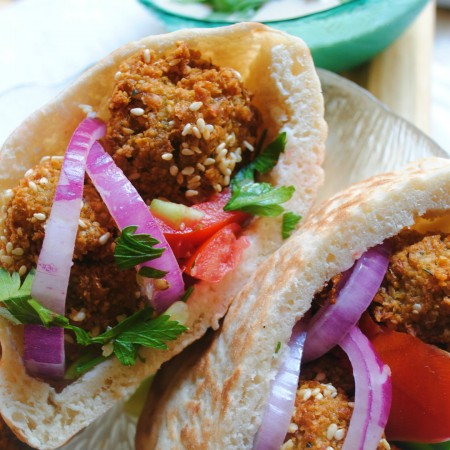 Recipe: The national dish of Israel - Falafel
Ingredients
500

g

chickpeas

soaked, rinsed and drained (use half the weight if you use dried chickpeas and soak them yourself)

½

onion

2

garlic cloves

1½

tbsp

fresh parsley

can also be replaced with more coriander leaves

1½

tbsp

fresh coriander

can also be replaced with more parsley

black pepper

1

tsp

salt

¼

tsp

red chili flakes

1

tsp

cumin

½

tsp

coriander

½

tsp

baking powder

4

tbsp

water

180

g

flour

750

ml

oil

neutral-flavored

75

g

sesame seeds
Instructions
Soak the chickpeas in plenty of cold water overnight. Check them after several hours to make sure that they remain covered with water as they swell.

Drain the chickpeas and put them in the food processor. Add the onion, garlic and fresh herbs. Whizz them to a manageable consistency, a mass that sticks to itself, but is not yet mushy or pasty. You will need to stop the food processor and scrape the sides down a few times.

Add the spices, flour, baking powder and salt. Add 3 tablespoons of water. Run the food processor again to blend. Add the final tablespoon of water if it seems necessary to hold the mass together.

Turn the chickpea mass out into a bowl for convenience. Heat the oil in a heavy pan until it shimmers.

Wet your hands and form a round ball about the size of a walnut in its shell. It might be a little loose; don't be afraid to compact it. Fry this first falafel ball. Taste it and adjust seasoning in the raw mass if needed. Don't be tempted to make bigger balls with an ice cream scoop or otherwise: the outside will cook before the inside is edible. You may place the balls on top of a small plateful of sesame seeds before deep-frying; the seeds will stick to the bottoms decoratively.

Fry until the outside of the falafel balls are brown and crisp, and the inside is cooked through. The first experimental ball will tell you how long to keep them in the oil, although as you proceed, they will fry more quickly. Don't crowd the falafel balls while frying. When they are ready to remove from the oil, drain them on crumpled paper and serve right away.
Cooking tips!
Frying the falafel balls goes quickly, so have your vegetables chopped and your pita breads ready. The less time spent between the fryer and the mouth, the tastier.

Adjust the seasonings to your taste. Some like their falafel a bit saltier, a bit garlickier, or with more, or less green herbs and spices. The way to do it is to make up the recipe and fry one ball. This also helps you determine if the oil is hot enough.

Or you might find that you like the original recipe just fine, and won't need to change anything.

There's no law saying that falafel must be served in pita. Another traditional way to serve it simply as it is, piled up next to a plate of humus. Have plenty of chopped salad (cucumbers, tomatoes, parsley, and a little onion, seasoned with lemon juice, olive oil and salt) on the side. Keep a stack of fresh bread nearby and if possible pita.
About the Country Chef
Originally American, Miriam have lived in Israel for close to 40 years. In her blog, www.israelikitchen.com, She write about the food and the people of Israel, with a specially loving eye towards our colorful open-air markets. She lives in a small apartment in central Israel with her husband, two children, and an enormous grey and white cat.
Read more about IngredientMatcher's Country Chefs in the Foodie section
Read more about national dishes
Read more about other national dish recipes published on this blog