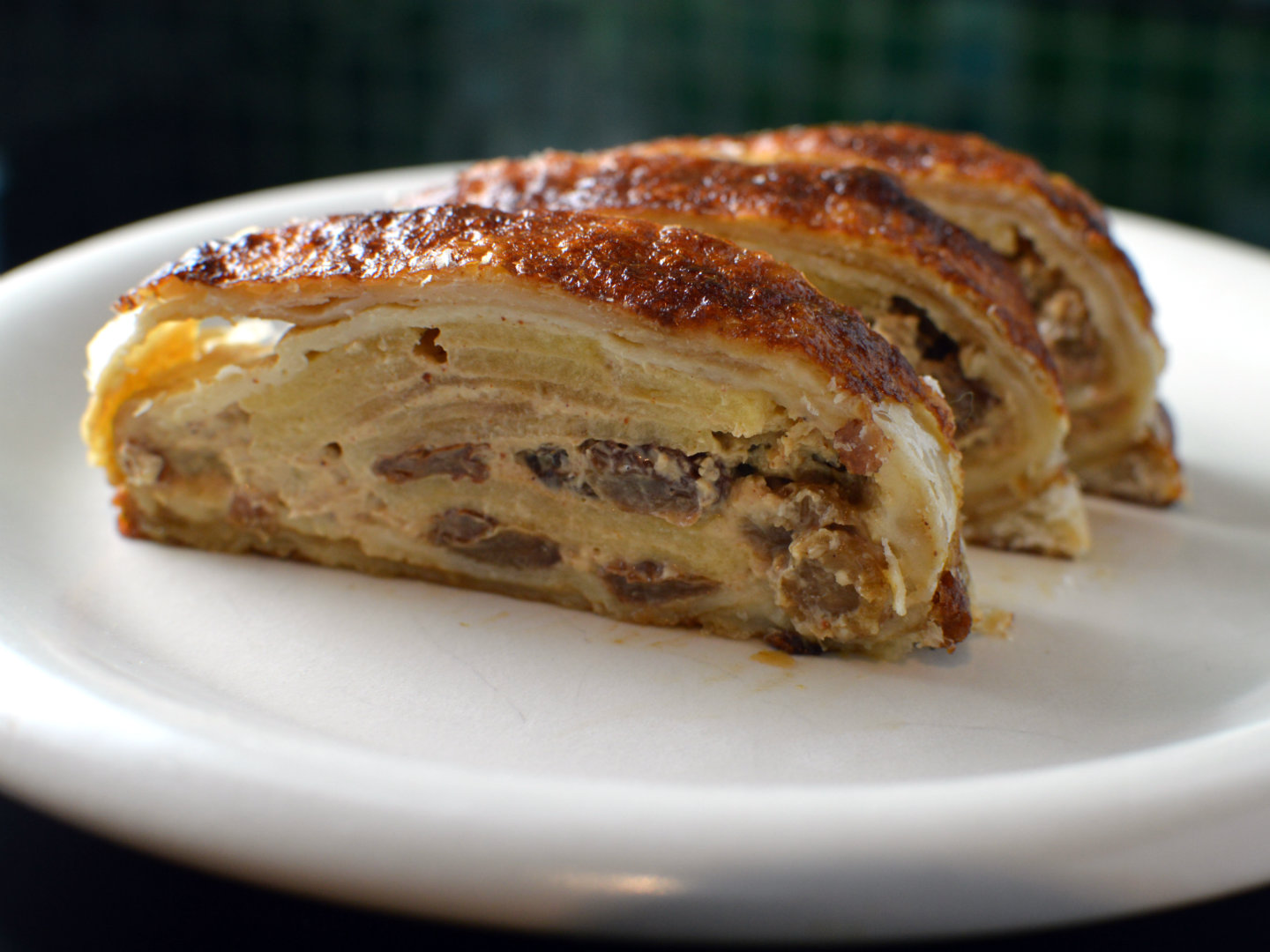 This Swedish variation of an apfelstrudel was my first encounter with an apple strudel. My mom made it and I liked it so much I wanted it on my birthday every year when I grew up. And when I later have tried apfelstrudel the way it traditionally should be made, I just don't like it as much as this version.
The most important ingredients that an apple strudel consist of is also present in my recipe: apples, raisins, sugar, cinnamon and a dough. So I think I can still call it an apple strudel 🙂
The Swedish äppelstrudel (this version) is much denser, not as flaky as a normal appel strudel, a fresher taste with the creme fraiche
Another difference (and advantage) with this recipe over a traditional apfelstrudel is that it can be baked in advanced since it is even tastier served fridge cold. Perfect for those festive occasions where you have so much else to prepare the same day. Maybe you could try it as a replacement for an apple pie this Christmas?
Since it is more moist it also does not need to be served with cream or ice cream.
Here you can find this recipe in swedish.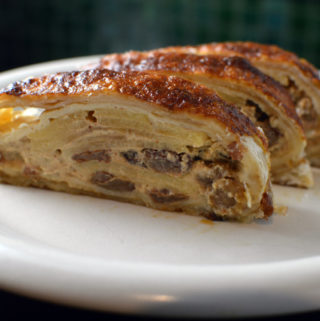 Recipe: Swedish apple strudel - to serve cold
Ingredients
425

g

puff pastry

frozen (fresh can also be used but then the instructions are not the same)

3

apples

160

g

brown sugar

divided, half to roll out with the puff pastry and half for the filling

150

ml

crème fraiche

50

ml

curd cheese

2

tsp

cinnamon

125

g

raisins

125 g = 200 ml

1

egg
Instructions
Thaw the puff pastry. Prepare an oven sheet pan by lining it with parchment paper then sprinkle it with half the brown sugar

Place the puff pastry plates next to each other on the pan. Prepare to join them by first roughen up the edges with a fork then add just a little water. Join the edges in a 1 cm overlap then press them together with the fork.

Roll out the dough so that all joints are smooth and the puff pastry is slightly thinner

Slice the apples as thin as you can

Mix all the other ingredients (except the egg) then add the apple slices

Spread the filling on half the puff pastry before folding in the edges. Then roll it to one long strudel and finish by brushing it with the egg

Bake in the oven at 225°C (437°F) for 15-20 min

Let it cool and store it wrapped in the fridge. It is best when served fridge cold
If you like to compare with a traditional recipe, you can check out this apple strudel recipe from serious eats