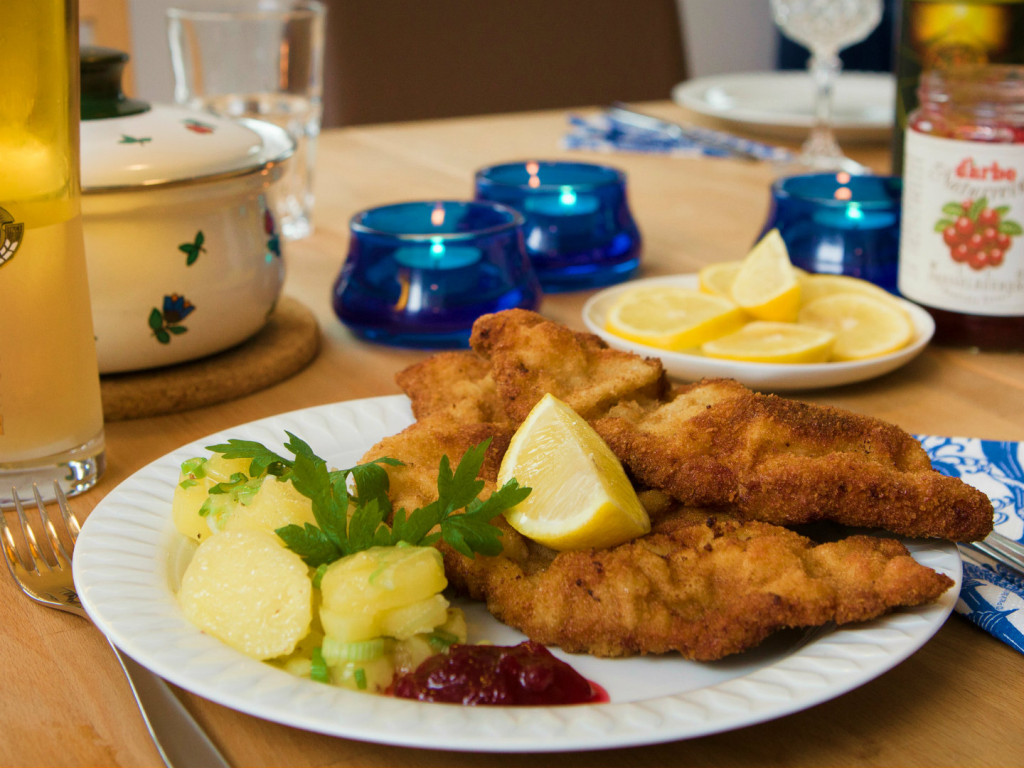 The national dish of Austria is Wiener schnitzel (Veal escalope coated in flour, egg and breadcrumbs). Why not make it on October 26 when Austria celebrates their national day. Here's what our country chef Maria says about the national dish of Austria:
Traditionally, Austrian schnitzels are served with a warm potato salad and cranberry sauce. Kids usually prefer it served with fries and ketchup! The recipe is quite simple to make and constitute a typical and friendly "Sunday dish". In Austria, everyone loves it. There are vegetarian versions of the schnitzel including, for instance, pumpkin.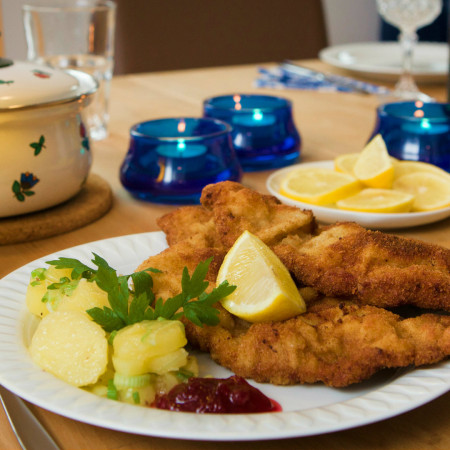 Recipe: The national dish of Austria - Wiener schnitzel
Ingredients
600

g

veal cutlets

pork cutlets can also be used if you don't have the traditional veal, 4 cutlets

2

eggs

salt

200

g

flour

200

g

breadcrumbs

500

ml

oil

the more fat you use, the less the schnitzel will absorb

1

lemon

potatoes

for a warm potato salad

cranberry sauce
Instructions
Cut the veal in ½ cm thin fillets and pound them (softly) with a mallet or hammer on each side. This makes the meat soft and tender, the edges can be cut in if the meat is thicker.

In the meantime, heat the oil (at least 1 cm deep) in a frying pan.

Salt the schnitzels on both sides.

Beat the eggs lightly with a fork

Coat the schnitzels in flour until it is fully covered, then in the beaten eggs and then gently in breadcrumbs.

Shake the Schnitzel (again softly) to remove excess of breadcrumbs.

Place the schnitzels in the pan. The schnitzels must be sizzling.

Turn the schnitzels over when the first side is golden brown. This takes approximately 3 minutes per side, depending on how thick the meat is.

Take the schnitzels out off the frying pan and lay them on a plate covered with paper towel to absorb excess of oil or fat.

Serve hot and crispy with slices of fresh lemon.
About the Country Chef
Maria Crepaz loves food and likes cooking, especially with fresh vegetables, fruits from the market and tasty meat from the local butcher. Austria is well known for its authentic and organic products, its Viennese sweet cakes and tasty vine from the Wachau and Burgenland. And of course its delicious Schnitzel. If you want to eat food cooked by Maria, then head over to http://www.eatwith.com/#!/host/567
Read more about IngredientMatcher's Country Chefs in the Foodie section
Read more about national dishes and the ebook "National Dishes From Around The World"
Read more about other national dish recipes published on this blog