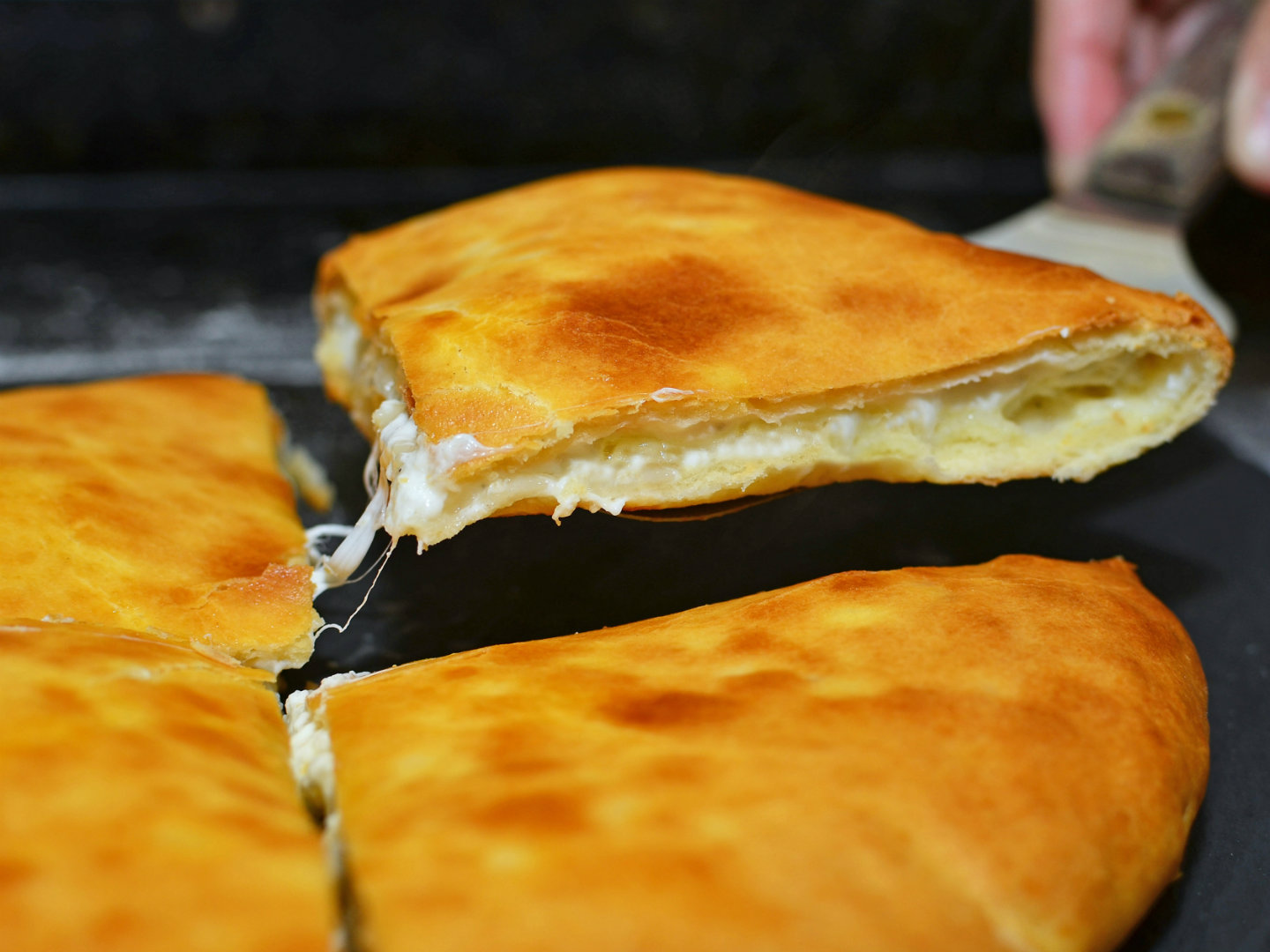 Wherever you go in Georgia, you can be sure to eat khachapuri at least once a day. These national cheese breads come in various shapes. The Imeretian khachapuri is a round pie filled with cheese and by far the most common. If you like excess, try the Mingrelian version, which is similar, but topped with even more cheese.
Traditionally the cheese is homemade and the dough made with yeast, but this recipe can be prepared quickly using baking powder and cheese from the market. The mixture of mozzarella and feta is commonly used outside of Georgia. With a little bit of practice, you can have a delicious cheese bread made from scratch in about an hour!
The national day of Georgia is on May 26th and as a foodie you should of course celebrate by making this recipe for the national dish of Georgia!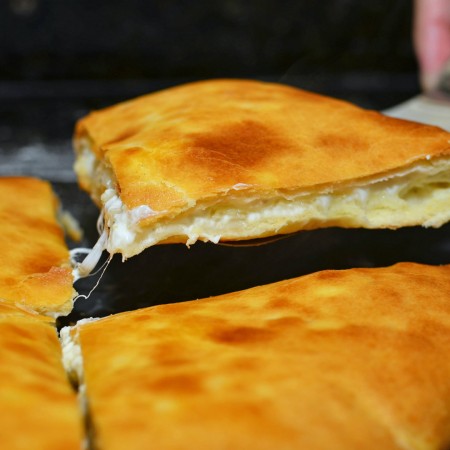 Recipe: The national dish of Georgia - Khachapuri
Ingredients
Dough
100

ml

yoghurt

1

egg

220

g

flour

⅓

tsp

salt

1+⅓

tsp

baking powder

50

g

butter
Filling
230

g

mozzarella

170

g

feta cheese

black pepper

salt

1

egg yolk

water
Instructions
Place the yoghurt and egg in the bowl of an electric mixer fit with the paddle attachment. Add about 2/3 of the flour with the salt and baking powder, and mix on medium speed until homogeneous.

Add the butter and the rest of the flour, and mix again. Remove the bowl from the mixer, and knead the dough by hand for about one minute. Cover with plastic wrap, and refrigerate for 30 minutes.

Divide the dough into two.

Preheat oven to 225°C (437°F), and place a dish full of water on the bottom rack.

Slice the mozzarella and feta. In a bowl, crumble both cheeses between your fingers. Season with black pepper, and adjust the salt level if necessary — the mixture should taste quite salty, but still be edible!

On a floured surface, roll each ball of dough into a 20 cm large disc (it is not necessary to make a perfect round shape). Place the cheese mixture in the center, then wrap the dough around it, like you would wrap something in a handkerchief. Flip the dough over, and gently roll each khachapuri back into a 20 cm large disc.

Transfer the khachapuri to a baking sheet lined with a parchment paper. Brush the dough with a mix of egg yolk.

Bake in the oven for 18-20 minutes, until the top is golden brown. Let cool 5 minutes, then slice and serve.
About the Country Chef
Florian Pinel was born in France and now lives in New York. He works as a computer science researcher during the week (IBM Chef Watson), and cooks in his spare time. He's been traveling to Eastern Europe and the former Soviet Union regularly since his early teens. His blog, foodperestroika.com, gathers recipes, travel stories, and other food writings about the Eastern Bloc.
Read more about IngredientMatcher's Country Chefs in the Foodie section
Read more about national dishes and the ebook "National Dishes From Around The World"
Read more about other national dish recipes published on this blog