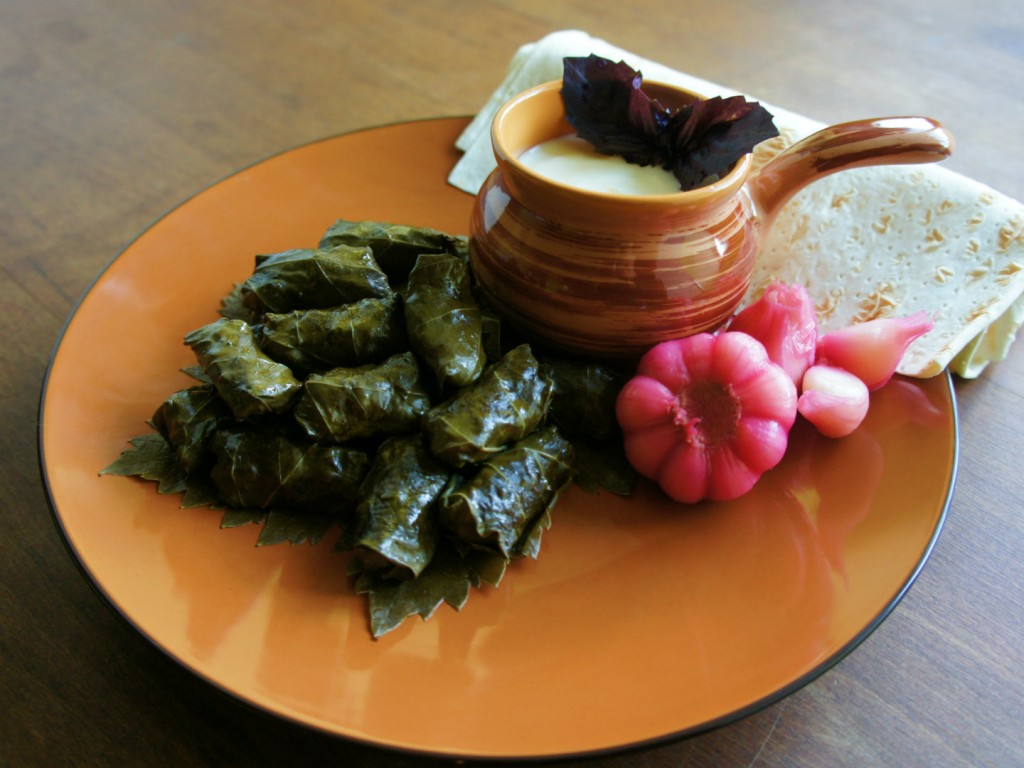 In Azerbaijan, they usually use lamb for this dish but you can also use other types of meat. As well you can choose fresh herbs to your own taste. May 28th is the national day of Azerbaijan and what better way to celabrate than to make the national dish of Azerbaijan!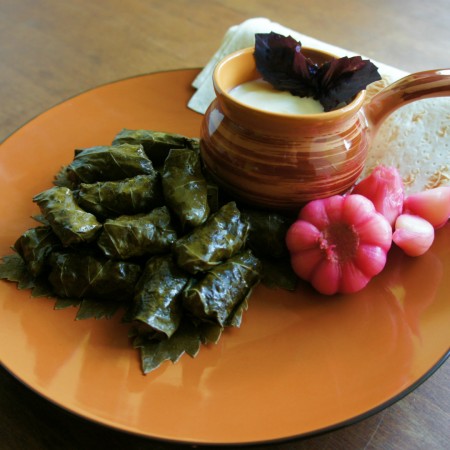 Recipe: The national dish of Azerbaijan - Yarpag Dolmasi
Ingredients
450

g

minced lamb meat

3

tbsp

rice

short grain rice washed and drained

1

onion

1

tbsp

coriander

1

tbsp

basil

1

tbsp

dill

80

small grape leaves

fresh or pickled (fresh grapemust be blanched for 1-2 minutes)

50

g

butter

melted, 3 tbsp

125

ml

water

½ cup

1

tsp

salt

¼

tsp

black pepper
Yogurt sauce
2

cloves

garlic

250

ml

yogurt

1 cup
Instructions
Finely chop the onion and the herbs
For the filling:
In a medium sized bowl combine minced lamb meat, rice, onion and herbs. Add salt, pepper to taste (add less salt if you are using pickled grape leaves) and mix well.

Place one teaspoon of filling on the backside of a grape leaf and wrap it. Put stuffed grape leaves close together seam side down in a medium sized pan, making several layers. Sprinkle a little salt between each layer.

Add melted butter and water. Place small ovenproof plate on top to keep dolmas tight and prevent them from opening. Cover with a lid and cook on medium heat for 45 minutes.
For the sauce:
Mix plain yogurt with grated garlic.
About the Country Chef
Tamila Sadigova lives in Baku, the capital of Azerbaijan. She has a great interest in cooking and is especially skilled in the many various dishes from her home country, knowing a lot about every special ingredient. She chose dolma as Azerbaijan's national dish because it is very popular and comes in many varieties, using different leaves or vegetables and fillings.
Read more about IngredientMatcher's Country Chefs in the Foodie section
Read more about national dishes and the ebook "National Dishes From Around The World"
Read more about other national dish recipes published on this blog