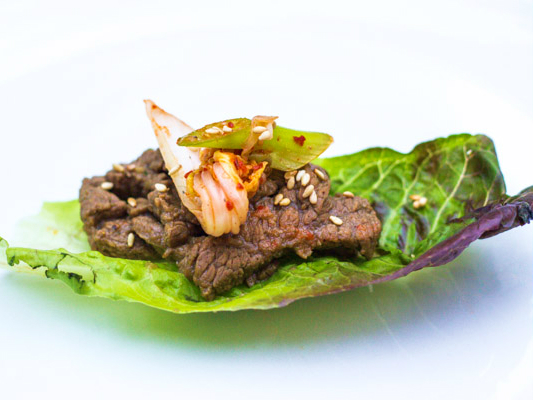 The national dish of Korea / South Korea is Bulgogi with kimchi (Marinated beef with fermented vegetables). Why not make it on August 15 when South Korea celebrates their independence day. Here's what our country chef Sonja says about the national dish of Korea:
Kimchi is fermented vegetable, often made with napa cabbage and ground red chili flakes that are quite spicy. It can take days, weeks and even months to ferment kimchi. With this quick pickled kimchi recipe you can have tasty kimchi within minutes. Bulgogi is a perfect balance of sweet, salty and savory. Bulgogi literally means "fire meat" and is a favourite dish among Koreans, especially on special occasions. Together, wrapped in a lettuce wrap, enjoy the balance of flavours and a delicious introduction into Korean cuisine.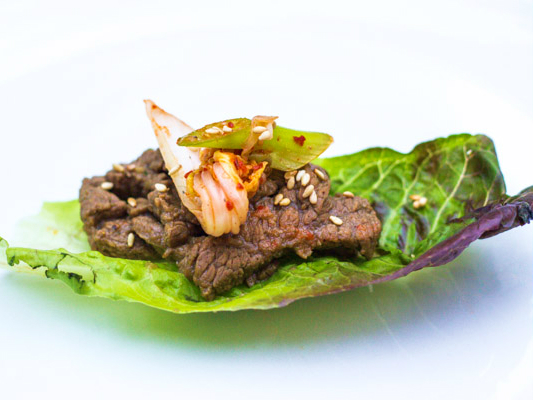 Recipe: The national dish of Korea - Bulgogi with kimchi
Ingredients
Bulgogi
450

g

beef sirloin

1

small

onion

1/4

tsp

black pepper

1½

cm

fresh ginger

½ inch

3

garlic cloves

1

tbsp

red wine

3

tbsp

soy sauce

2

tbsp

brown sugar

2

tbsp

toasted sesame oil

3

tbsp

toasted sesame seeds
Kimchi
1

kg

napa cabbage

can be replaced with other soft cabbage

4

garlic cloves

2

tbsp

fish sauce

4

tbsp

red chili flakes

preferably the Korean called gochugaru

1

tbsp

apple cider vinegar

3

scallions

100

g

salt

~1/3 cup

1,2

l

water

5 cups

2

tbsp

sugar
Instructions
Bulgogi
Slice the sirloin thinly across the grain, cutting it about 3 mm thick. To make slicing it easier, you can put the meat in the freezer for 15 minutes so it will become firmer.

Blend the rest of the ingredients minus one tablespoon of the sesame oil in a blender until pureed evenly.

Pour the marinade over the sliced meat and mix until each slice is evenly coated.

Let the meat marinade for about 20-30 minutes.

Heat a large frying pan on medium heat with the remaining tablespoon of sesame oil.

Removing as much of the marinade from the meat as possible, stir fry the meat until mostly cooked through.

If you prefer a lot of juice with your bulgogi, keep it on medium heat allowing for some liquid to be left in the pan (some people like to mix this into their rice). Alternatively, turn up the heat to high for a few minutes until slightly browned and all the liquid is evaporated.

Garnish with sesame seeds and serve with lettuce leaves, kimchi and steamed sticky rice.
Kimchi
Boil the water and add the salt and stir until dissolved. Turn off the heat and let it cool for about five minutes.

Remove the core of the cabbage and slice each leaf in half vertically and then into 5-8 cm pieces. Pour the salted water over the cabbage, mix well and let it sit for 10 minutes. Mix again and let it sit for five more minutes.

Drain the water and rinse the cabbage two or three times under cool water. Let it sit in a colander to drain.

In a large mixing bowl, combine all the remaining ingredients.

Shake off the excess water off the cabbage and add to the spice mixture. Mix well until all pieces of cabbage are evenly coated.

Taste and check for seasonings. Add more fish sauce to make it saltier, more chili flakes for heat or vinegar/sugar to tone down the heat. Serve with bulgogi and rice, or other mildly flavored Korean dishes.
About the Country Chef
Sonja Bradfield is half Korean and has lived in Korea for the past five years, so she has eaten Korean food her whole life. She is also blogging at Ginger & Toasted Sesame. Korean food is known internationally for its fiery red and pungent kimchi and grilled, marinated meat dishes, but Korean food features a diverse array of carefully prepared vegetable dishes, both fermented and freshly seasoned, as well as seafood, as the country is surrounded by the ocean on three sides. Read more about IngredientMatcher's Country Chefs in the Foodie section Read more about national dishes and the ebook "National Dishes From Around The World" Read more about other national dish recipes published on this blog