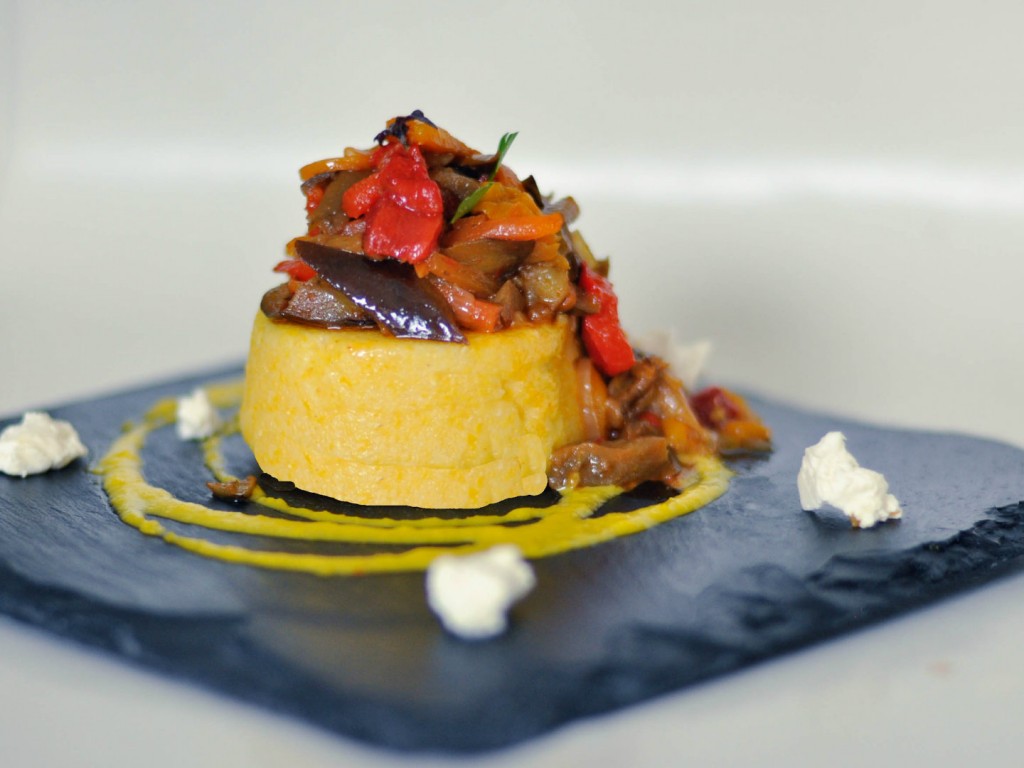 The national dish of Moldova is Mamaliga (Mămăligă). Why not make this Polenta with vegetable stew on August 27 when Moldova celebrates their independence day. Here's what our country chef Anastasia says about the national dish of Moldova:
Mamaliga is a traditional Moldavian dish, which serves as a base for many side dishes. In this recipe Guvech – Ratatouille – serves as a vegetable dish. Mamaliga has not been a very popular dish in Moldova for a long time. The dish has however made a comeback 5 years ago. It is well worth the effort.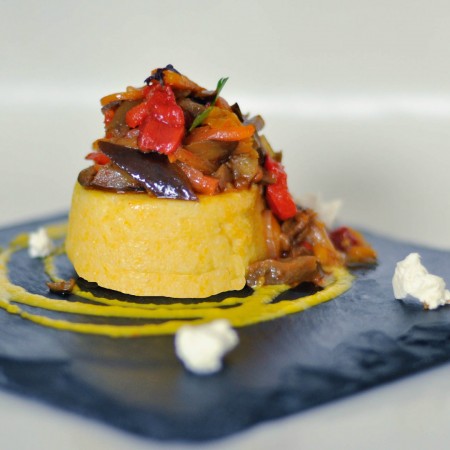 Recipe: The national dish of Moldova - Mamaliga
Ingredients
Guvech
2

carrots

1

onion

2

eggplants

3

red bell pepper

100

ml

oil

150

ml

tomato sauce

extract the tomato juice from it

salt

black pepper
Mamaliga
100

g

polenta

corn grits

300

ml

water

50

g

butter
Garlic emulsion
1

onion

5

garlic cloves

100

g

butter

2

tsp

lemon juice

salt
Instructions
Guvech
Cut the peppers into halves and remove the seeds.

Bake the peppers in the oven, 180⁰C for 40 minutes, until the skin is burned black.

Put the peppers in a bowl, cover with film and let them cool before peeling off the skin.

Cut the carrots in thin stripes. Dice the aubergines and onion.

Sauté the onion in oil, then add the carrots, aubergines, salt and pepper. Cook on low heat until the vegetables are soft.

Add the pepper to the stew and cook for a few minutes.

Add the tomato juice and turn off the heat.
Mamaliga
Bring the water to a boil then add the polenta flour little by little. Stir constantly for about 10-15 minutes. Add the butter, stir well and leave on the stove.
Garlic sauce
Chop the onion and finely chop or mince the garlic

Sauté the onion in butter until soft. Add the garlic and let cool

Put the fried onions into a blender and mix until smooth in texture

Serve the Mamaliga with Guvech, garlic sauce and bites of feta cheese.
About the Country Chef
Born in Kyrgyzstan, Anastasia calls herself a "food passionista". Her multicultural cooking abilities have been influenced by her many international friends and relatives. She uses food as a language to tell stories, dig into culture, history and connect people while sharing a meal. Discover more about Anastasia and her recipes on her blog: anastasty   Read more about IngredientMatcher's Country Chefs in the Foodie section Read more about national dishes and the ebook "National Dishes From Around The World" Read more about other national dish recipes published on this blog