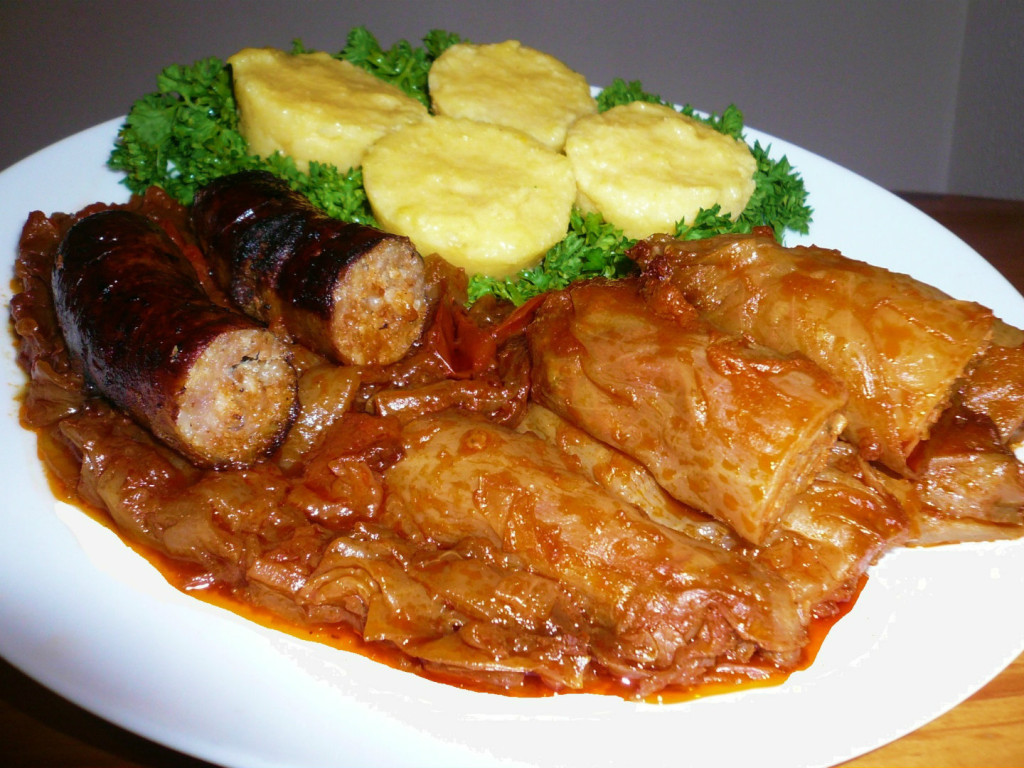 The national dish of Romania is Sarmale (stuffed cabbage). Why not make it on December 1 when Romania celebrates their Great union day. Here's what our country chef Simona says about the national dish of Romania:
"Sarmale cu mamaliga si carnati" is very representative of Romanian cuisine for using pork and cereals like corn and wheat. This dish has been present at all the religious feasts throughout the country's history to present date. "Mamaliga" (polenta), used to be a staple amongst poor people, because of its simplicity and reflected Romania's agricultural identity. "Sarmale" (stuffed cabbage) is based on a Turkish dish and reflects the influence of the Ottoman Empire on the Romanian culture.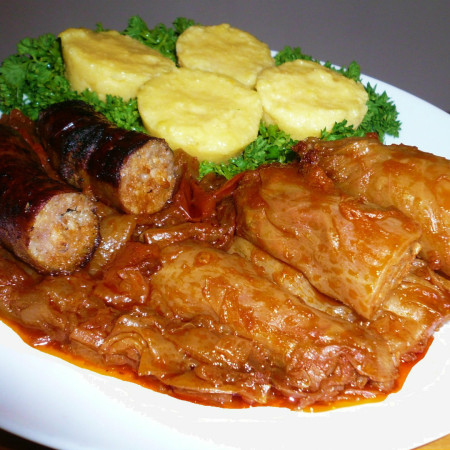 Recipe: The national dish of Romania - Sarmale cu mamaliga si carnati
Ingredients
Stuffed cabbage
500

g

minced pork

100

g

bacon

4

smoked pork sausages

100

g

rice

2

cabbage heads

6

large

wine leaves

4

onions

150

ml

sunflower oil

½

tsp

paprika

½

tsp

black pepper

salt

2

tbsp

chopped dill

2

tbsp

chopped parsley

1

tbsp

thyme

250

g

tomato sauce
Polenta
300

g

polenta

1

tbsp

salt

1

liter

water

butter

optional

parmesan

optional
Instructions
Boil the rice

In a large pot bring water to a boil, just enough to cover the cabbage. Boil until the leaves become tender. Make sure to remove to outer leaves before putting in the water. Also boil the grape leaves until tender.

In a frying pan, over medium heat, sauté the onions until golden brown, and remove from heat.

Then prepare the pork filling: mix the minced pork with the bacon, boiled rice, salt, pepper, paprika, parsley, dill, thyme and the onions. Cut the sausages into small pieces.

Remove the leaves from the first cabbage and put a tablespoon of the pork filling, a piece of sausage and another layer of pork filling in each. Roll the leaf to cover to the filling and tuck in each side. Repeat the filling process with the vine leaves.

Cut the second cabbage in two and put half of it at the bottom of a deep oven dish. Arrange the cabbage rolls in layers. Add the other half of the second cabbage on top with tomato sauce. Add just enough water to cover the rolls. Cover (with foil if your oven dish doesn't have a lid) and bake in the oven at 85 °C to 100 °C, depending on your oven's setting, for about three hours.

When the rolls are about to be ready, prepare the polenta: bring the water to a boil, add some salt and gradually stir in the polenta. Continue to stir as you pour the polenta, for about five minutes, until it thickens. Optional: add a click of butter and some grated parmesan to the polenta at the end.

Serve hot with sour cream on the side.
About the Country Chef
As a child Simona-Andreea Croitoru used to spend her time in her father's hostel in Romania, learning the culinary art from his chefs and confectioners. Read more about IngredientMatcher's Country Chefs in the Foodie section Read more about national dishes and the ebook "National Dishes From Around The World" Read more about other national dish recipes published on this blog