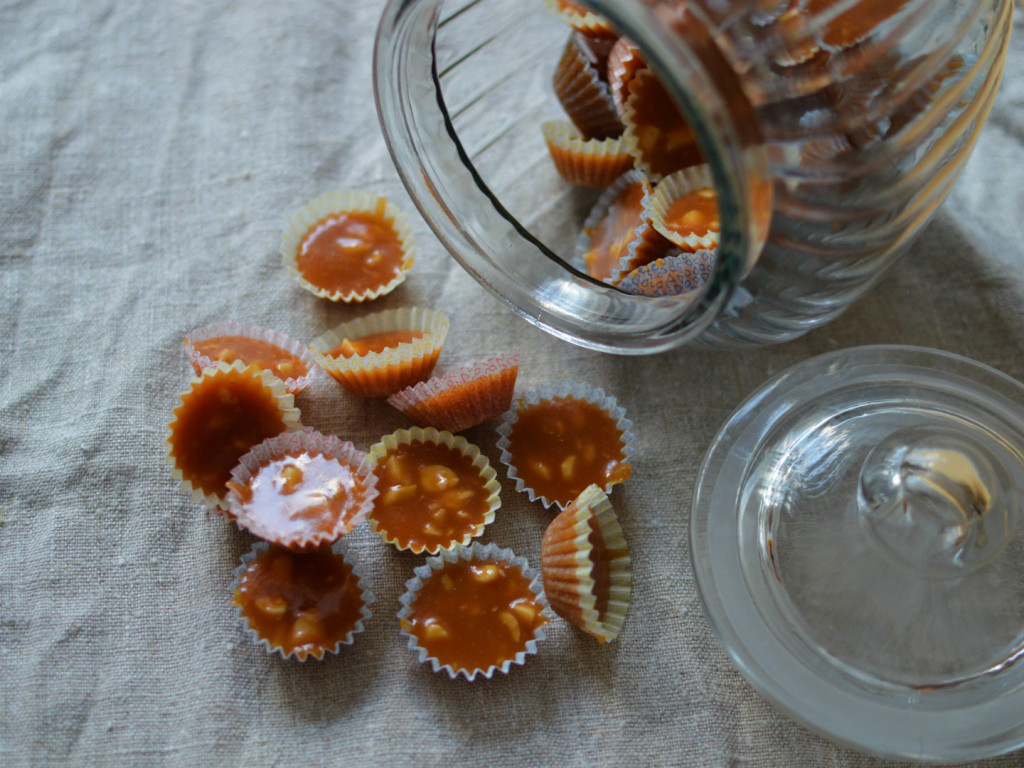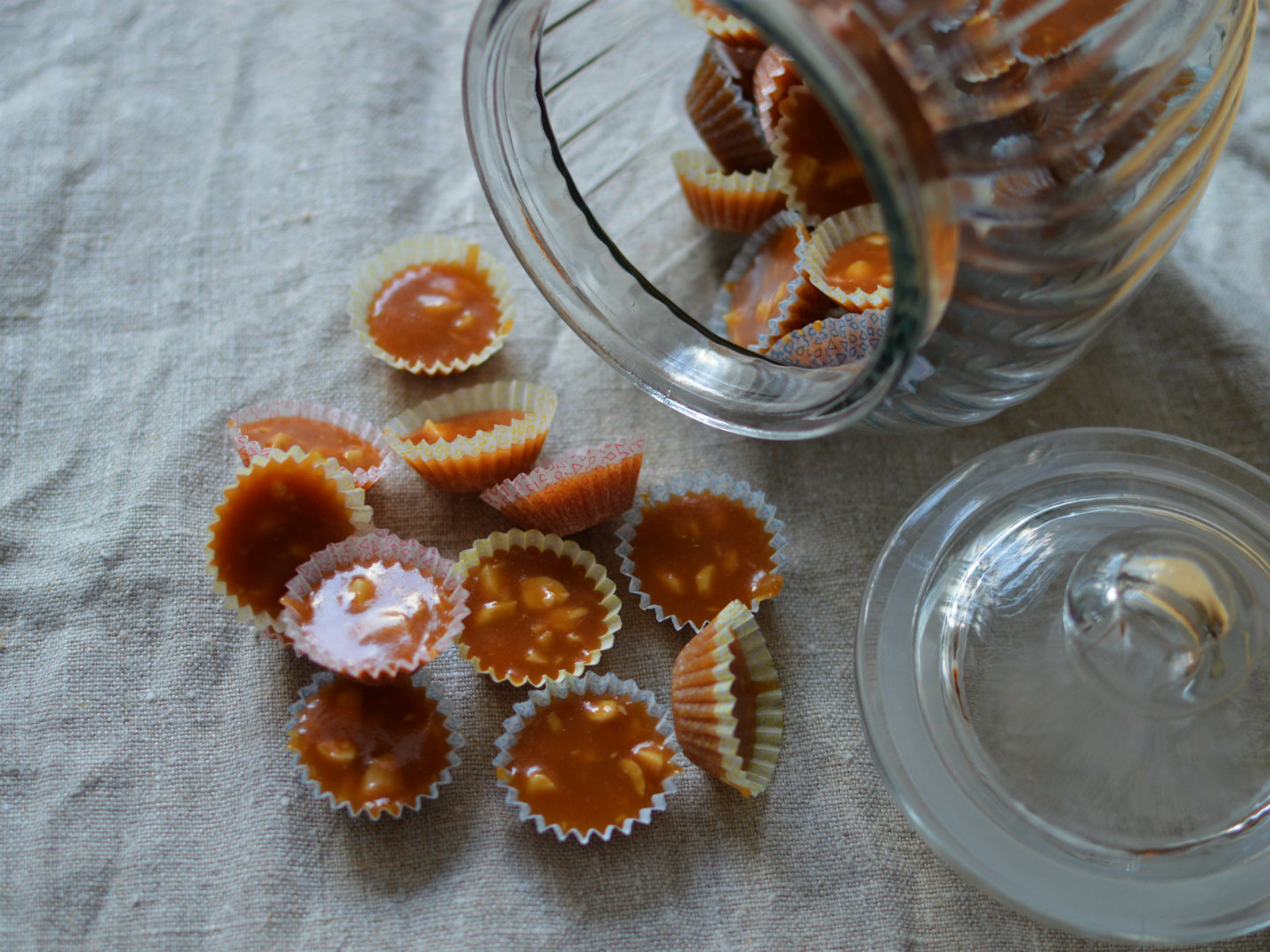 No Swedish Christmas is complete without Knäck! Together with ischoklad (ice chocolate) it is the most typical Christmas candy in Sweden. I don't know the correct translation for it, but I guess Swedish Christmas Toffee or Swedish Christmas caramel.
The texture varies depending on how high temperature the mixture reaches before you take it off the heat. This is the most traditional recipe and I believe also generates the best texture for this delicious Christmas candy. If you want there are a number of different ways to change the recipe depending on what you like. You can exchange the chopped almonds with:
Lakritsknäck: 2 tbsp licorice powder
Chokladknäck: 2 tbsp cocoa powder and an additional tbsp butter
Citronknäck: the zest of a lemon
Limeknäck: the zest of a lime
Apelsinknäck: the zest of an orange
Knäck med polkagriskross: 50 g of crushed candy canes
Saffransknäck: ½g saffron
Pepparkaksknäck: 1 tbsp of gingerbread spices
Knäck med Baileys: 1 tbsp Baileys
Kanelknäck: 1 tbsp cinnamon
Ingefärsknäck: 1 tbsp ginger
Here you can find this recipe in swedish.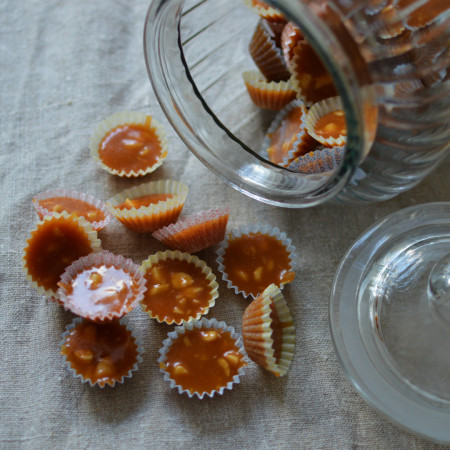 Recipe: Knäck - Swedish Christmas Toffee
You need a package of small paper cups (called knäckformar in Swedish)
Ingredients
300

ml

cream

200

g

sugar

200

ml

golden syrup

1

tsp

vanilla sugar

or equal amount of vanilla powder or extract

15

g

butter

1 tbsp

50

g

chopped almonds
Instructions
Mix cream, sugar and syrup into a pot and bring it to a boil.

Boil on medium heat for 30 min (stir once in a while). There should be a lot of bubbles. Please note that the time could change depending on the size of the pot and the heat of your stove.

Then start measuring the temperature of the mixture. It is ready when temperature is around 125-130°C (257-266°F). For me it took around 45 min.

While waiting for the mixture to be ready you can prepare a tray that you pack tiny paper cups tightly on. Also chop the almonds so it is ready and find a suitable metal container to pour from.

Take the mixture off the heat and stir in vanilla sugar, butter and almonds.

Carefully pour the mixture into the small paper cups trying to avoid them from flipping over, or getting yourself burnt.

Let it cool!
Tips for making the best knäck ever:
Use a thermometer so you can stop the cooking at 125-130°C (257-266°F). This ensures the perfect chewy consistency. Note that it might be difficult to remove from the paper cups if they are stored in hot room temperature.

Many recipes will say a certain time to boil it, but it is so dependant on the heat and the pot, so it is a rather useless advice.
Other recipes frequently mention the "ball test" which means that in order to find out if the mixture is at the right temperature you take a small spoon of the mixture and pour into a glass of cold water. If the caramel turns into a ball that you can touch and mold then it is ready. Even though this works, it is a lot easier to just using a thermometer every time you want to check if it is done!

Use a metal container that is easy to pour from, otherwise it is a mess trying to get the right amount of piping hot gooey mixture in to the small paper cups. I found that the best way is to combine with a small spoon to help guide the right amount of mixture down the paper cups.
Take a large tray and coat it thinly with oil. Place the paper cups (knäckformar) tightly on the tray
How to store knäck:
Knäck is to be stored dry and cool in an airtight container.
If you store them on top of each other and they are a bit more gooey then it could be a good idea to use parchment paper between so they don't stick to each other.
It will last for around 3 months.
If you need to make some quickly then you can try this way to make knäck in the microwave, haven't tried it myself though..
Don't miss these Swedish Christmas recipes, our list of traditional Christmas desserts from around the world or the how to build a gingerbread house
Here are some other typical Swedish Christmas Candy: Smörkola (Chewy caramel candy), Mjuk pepparkaka (Soft gingerbread cake), Pepparkaka (Gingerbread), Juliga kolasnittar (Saffron caramel cookies)