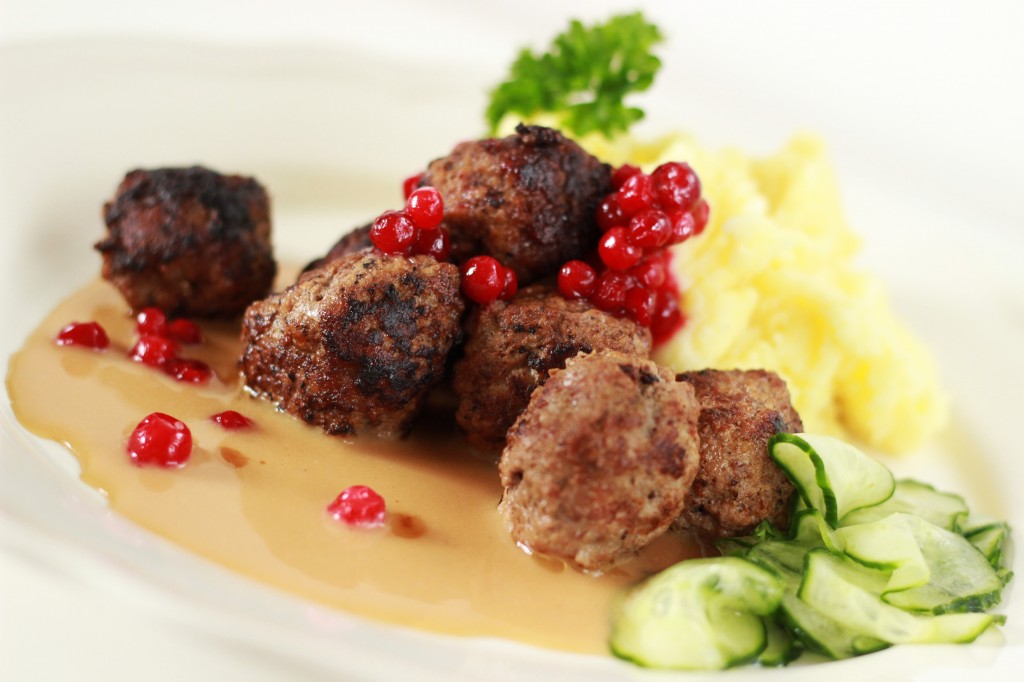 The 6th of June is the national day of Sweden and to celebrate it we would like to share with you the recipe of the national dish of Sweden… the famous Swedish meatballs!
Meatballs truly are a classic Swedish dish to serve either as an everyday meal or as a more fancy dinner option. Meatballs are served with different side dishes but the best way (according to Swedes!) is to serve them with mashed potatoes, lingonberry jam, gravy and pickled cucumbers.
Meatballs were introduced in Sweden in the 1700s but became worldwide famous as a Swedish favorite through the Swedish furniture company IKEA. This recipe was created by Frida and Lina behind ReceptSkaparna.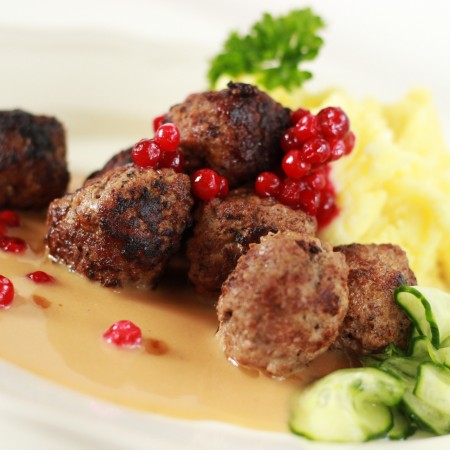 The national dish of Sweden - meatballs
The Swedish national dish consists of mashed potatoes, spicy meatballs, a creamy gravy and sourly taste from the cucumber and lingonberries. A perfect combination of flavors which is hard to resist to!
Ingredients
Meatballs
100

ml

cream

25

g

breadcrumbs

or Panko

500

g

mixed minced meat

pork + beef

1

small

onion

1

tsp

salt

1

pinch

ground nutmeg

1

pinch

allspice

1

pinch

black pepper

freshly ground

1

egg
Mashed potatoes
1

kg

potatoes

water

100

ml

milk

100

ml

cream

1

tsp

butter

2

pinches

white pepper
Gravy
2

tbsp

butter

2

tbsp

flour

1

cube

meat broth

250

ml

cream

2

tsp

soy sauce

1

pinch

black pepper
Pickled cucumber
1

cucumber

100

ml

vinegar

150

ml

water

3

tsp

sugar

1

pinch

salt
Raw-stirred lingonberries
200

g

lingonberries

100

g

sugar
Instructions
Meatballs
Mix the cream with the breadcrumbs and set aside for 10 minutes until the cream is absorbed. (time to start boiling the potatoes now)

Finely chop the onion

Mix the minced meat with salt, nutmeg, allspice and black pepper until it's evenly spread.

Add the egg and mix until the minced meat becomes solid again. Stir in the bread crumbs mixture and onion.

Pour cold water on your hands to form small fine meatballs. Fry a few at a time in a frying pan with butter. The difficult part is to keep the round shape and at the same time get a good sear around.
Mashed potatoes
Peel and wash the potatoes. Cut them in 1½ cm slices. Boil them in salted water until they are soft, about 15 minutes. Drain.

Mash the potatoes using a potato press or a hand mixer in the pot. Add milk, cream and butter. Season with salt and white pepper.

Stir the mashed potatoes until it's fluffy.
Gravy
Melt the butter in a saucepan. Stir in the flour.

Crumble the meat broth and add it to the saucepan. Add water. Let the sauce boil for 3-5 minutes, stirring occasionally.

Add the cream and season with salt, pepper and soy sauce.
Pickled cucumber
Slice cucumber thinly and squeeze out the water. Place in a bowl.

Pour over the vinegar, sugar, salt and water.

Mix and let soak for about 10 minutes.
Raw-stirred lingonberries
Stir together until sugar has dissolved
About the country chef: Frida Olsson and Lina Sandén run ReceptSkaparna. They create recipes for companies in the food industry in Sweden. They also work as consultants and manage all parts from preparation of recipes, testing (and tasting), styling, photographing and editing. Together, they possess a broad knowledge of meal structure, food culture and culinary recipes.
Read more about IngredientMatcher's Country Chefs in the Foodie section
Read more about national dishes and the ebook "National Dishes From Around The World"
Read more about other national dish recipes published on this blog
Spara
Spara
Spara
Spara