Friday evenings in Sweden are now tightly related to "Tacofredag" (Taco Friday) & "Fredagsmys" (Friday cosiness). Taco Friday isn't so hard to figure out what it means, right 🙂 Yeah, it is one of the more common Friday dinner meals in Sweden.
In Sweden, taco used to mean those hard-shell / crispy taco. But nowadays the soft tortilla are also quite common.
Even though you can vary your taco depending on the content it gets a bit boring to eat it every Friday 😉
I bet you haven't tried eating tacos in the form of a cake!? Try it out next Friday 🙂
Here you can find this recipe in swedish.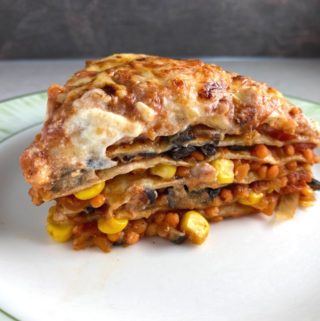 Taco cake
Ingredients
1

onion

200

ml

red lentils

1

bag

taco spices

500

g

crushed tomatoes

200

ml

water

8

tortillas

1 package

1

red bell pepper

1

can

corn

1

package

black beans

cheese

shredded

1

can

taco sauce

100

ml

crème fraiche
Instructions
Peel and chop the onion. Then fry for a couple of minutes

Add lentils and taco spices. Fry a few more minutes

Add crushed tomatoes and water. Let it simmer for 10 min. Heat up the oven to 225°C (437°F)

Cut the bell pepper in smaller pieces

Take a spring form and place a tortilla bread in the bottom.

Spread a thin layer of lentil mix, then some cheese and your choice between corn, beans or bell pepper

Continue with another tortilla, lentil mix, cheese and your choice between corn, beans or bell pepper. Continue until you end up with an empty tortilla bread on top.

Pour the taco sauce over it, then spoon up the crème fraiche and stir around. Finish with a layer of cheese before you bake the cake for 15 min