Hello there fellow food blogger!
You might ask yourself: How to get paid for blogging or How to make money writing a blog?
This blog post is for you who also have a food blog and want to get some inspiration on what to do to make some more money out of it. Many of the things in this blog post will still be relevant even if you are not blogging about food though.
Another blog post you definitely should read is The ultimate growth guide for food bloggers where I bring up several important areas you need to master in order to grow your revenue.
Most of this blog post consist of a list of 15 different ways you can monetize your food blog and it is then up to you to figure out which ones are most relevant and read more on those (I have usually included a link to a more comprehensive guide to each monetization idea)
When to start monetizing your food blog
When doing research for this blog post I naturally stumbled upon a couple of other blogs that have covered this topic before from different angles, but this blog post will of course cover the topic even better 😉 Anyway, Jessie from Life as a strawberry had a really good explanation to the question "when to start monetizing?".
The first thing I'll say about monetizing your blog is that it shouldn't be your first and only priority. No matter how long you've been blogging, your ABSOLUTE FIRST priority should always be generating great content that draws readers in and makes them want to come back. If you're just getting started, give your blog some time online before you jump into advertising. Work on your writing, photography, and social media presence. You should build an audience before you begin to add income-generating content. Basically, you want to build trust with your audience before you try to sell them anything.
– Jessie – Life as a strawberry
How to choose what way to monetize my blog?
Further down in this blog post I have listed most of the different ways you can monetize your food blog and I have explained some pros and cons for each. But ultimately what is best for you is of course difficult to answer in a generic way here. It depends on a bunch of things, like:
How much traffic you have
How many you have on your email list
How engaged your readers are
What niche you have picked
What skills you have
What you enjoy doing
How much time/money you are willing to spend on getting an income source working
How much revenue you aim for
But one thing that should be true for everyone is that you should aim for more than one income stream!
One of the benefits of spreading out your income across multiple channels is that you aren't completely dependent on one area to survive.
– Dustin – A sweet pea chef
Please also note that you do not need to do everything yourself. You could for example team up with another food blogger and create a course together or some other idea for a joint venture (Cookie and Kate have two such examples further down in the post).
Delphine at Del's cooking twist have written two really interesting blog posts that I highly recommend you read for a slightly different perspective:
15 examples on how you can make money as a food blogger

1) Display advertising
This is what most people think of when talking about monetizing your blog. Usually you have some space on your site where you let a display network like Google AdSense show ads automatically.
Quite easy to get going with this and you don't have to do anything once it is set up
Note that more and more use ad blockers
You really need serious traffic to make some decent money from ads
Read more here on reasons why display ads might not be something to aim for
If you are still interested then check out this comparison between ad networks to choose from as a food blogger
Another related way is to use Native advertising services like Taboola or Outbrain to show related posts of other people's content. Note that you need at least 1M pageviews every month.
Here's a guide that David Lebovitz recommended to me if you want to read more about monetizing your blog with ads
---
2) Video ads on YouTube
Could be an option if you have a big channel on YouTube. But similar to Display advertising you will only be making decent money if you have millions of views
Join their partner program and connect an AdSense account to enable ads to show up before or during your videos

Once a channel reaches 4,000 watch hours in the previous 12 months and 1,000 subscribers it will be reviewed to join the program.

But there are other ways to make money on YouTube than by ads. E.g sponsored videos, promoting your own products / services, sending traffic to affiliate links, paid channel subscription and of course sending traffic to your blog and from there monetizing the extra viewers.
---
3) Email advertising
First you need to build your list and segment it so you can target the right people with the right offer.
If you have a big list then you can work with brands who will pay you more money if they can be mentioned in an email to your fans instead of just a sponsored blog post
There are also possibilities to include ads into your emails. If you have more than 3 million monthly opens than you can use Live Intent
Best is of course to use your email list to convert your subscribers to a paying customer of something you have created yourself. Anything from 7) to 15) that you have decided to go for.

Read more on how to use your email list to nurture and prepare your list to buy from you, in this blog post on growth for food blogs
---
4) Affiliate programs
This is in my mind one of the best alternatives in case you don't have a product or service of your own. It is simple to get going with and you are not annoying your readers as you risk doing with ads
Set up a "shop" on your site
Recommend products in each blog post. E.g. a recipe you have created requires certain types of cooking utensils, mason jars or something else that can be bought online, then just link to those. Both helpful to your readers and you make som money from your recommendations!
Do separate blog posts listing your favorite cooking utensils
Include affiliate links in your emails to subscribers
You can also direct traffic to affiliate links on Youtube
Most common is of course the Amazon affiliate program
Note: If you are using affiliate links, you must disclose it!
Here's how Elizabeth over at Bowl of Delicious have written the disclosure:
This shop contains affiliate links, which is one of the ways I'm able to keep Bowl of Delicious running. If you buy something, I'll get a small commission at no extra cost to you. I appreciate your support!
---
5) Sponsored posts (but also video/podcast/social media and working with brands in general)
This is one of the most common ways beside ads that food blogger make money from. Sponsored blog posts / recipes is of course what you all are thinking of, but it could also be a sponsored video on youtube/facebook/instagram or sponsored social media shout-outs. Also product reviews or giveaways fall into this category.
Usually you need to have quite a lot of traffic/followers/engagement in order for brands to be interested in working with you
Create a media kit page if you want to work with brands
Check out networks that connects bloggers with brands around sponsored posts
Here's a great guide by Allison Boyer on sponsored blog post rates: A step-by-step guide to setting your prices

and she also have this highly relevant ebook: The ultimate guide to blog sponsorships (this is an affiliate link through SendOwl and if you buy I will get a commission for it)

I also like this guide by Meggan Hill: Ultimate guide to sponsored posts
If you prefer to listen then here's a podcast episode with Francesca Banducci from Sway group: How to connect with brands and find sponsored content
The Blog Village have a course on how to work with brands that looks interesting if you prefer taking a course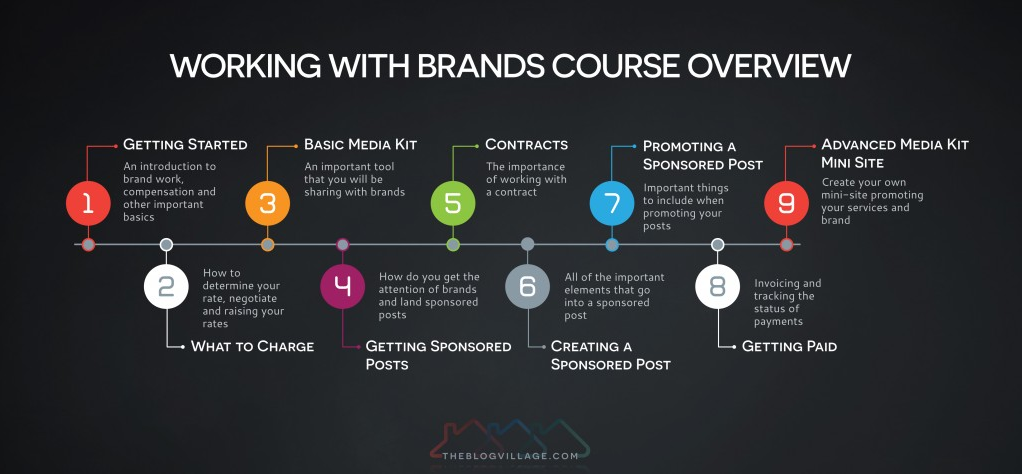 If there are companies that you want to work with, contact them. Tell them who you are, what you do, and what you can offer them. Send them a media kit which holds basic information about your blog, stats, press and any associations you have with brands, your contact information, and social medias. Kind of like a little resume.
– Sally from Sally's baking addition
If you choose to go this route or to create content to be published somewhere else, then the recommendation is to create a "Work with me" page
Here's a good example of a work with me page from Jenni over at The Gingered Whisk
---
6) Create content to be published somewhere else
You could continue doing what you do so well at your blog, but instead (also) do it as a paid service to be published somewhere else
Recipe development
Food styling and photography
Freelance writing jobs
This means writing content to be published for other websites, companies, magazines, and blogs.
– Sally from Sally's baking addition
---
7) Other consulting services
This below list is just a few examples I have seen other bloggers offer in their Work with me sections. But of course you have to think of your skills and what you like to do
Planning or attending company events
Represent companies at conferences
Social media marketing & digital marketing
Event speaker
Photographer
Personal chef
Cooking workshops
---
8) Courses
Creating an online course is quite easy nowadays with so many tools and platforms. But you don't even have to do it on some of these e-learning platforms, the simplest form is actually an email course where you set up a drip campaign sending out new "lessons" automatically.
Here are some ideas for online courses you as food blogger could create and sell:
Learn food photography
Basic knife skills
Essential cooking skills
How to make gnocchi (or basically anything else..)
How to food prep
10 amazing dishes to make in your new instant pot
Master the mother sauces
Most useful spice mixes
Have a look here for more inspiration on what others have done:
Skillshare food related courses
Udemy food and beverage
Beside these three platforms (Craftsy, Skillshare and Udemy) you should also look into Teachable which is slightly different since it does not offer a platform for users to search and find courses. Instead they make it easy for you to create and publish your own courses on your own blog.
If you are totally new to this with online courses I suggest you take a few of the most popular food courses yourself to see how it can be done.
There are more e-learning platforms out there, here's one list of 15 platforms
If you like to know more about making money on online courses then listen to this podcast episode from Food Blogger Pro with Randle Browning from Teachable.
---
9) eBooks
What first comes to mind is to create an eCookBook. There are a bunch of tools that help you create your cookbook, e.g.
These also have the print on demand possibility if that is interesting to you. There's of course also the possibility to create a simple pdf ecookbook using any tool you prefer to create a pdf.
Have a look at these comparison guides to find the best tool for you:
Comparison between CreateSpace, Blurb, Kindle, Lulu, Smashwords and Peecho
I had a look around when I wanted to create my own ecookbook "National dishes from around the world" but did not find a solution that helped me create a pdf ebook with row breaks at the end of each recipe. Instead I took the expensive route to create my own tool. But now I can easily create new ecookbooks by just inserting the url of the recipes and they will be imported in a nice looking format. I can rearrange them as I want, add chapters, etc.
So for food bloggers that decide to include their recipes in the IngredientMatcher database, they will also have the possibility to create eCookBooks for free!
You could also create other ebooks than just cookbooks:
How about selling an ebook on how to monetize your food blog to fellow food bloggers? This is one of the things that Pinch of Yum are doing (I have not read it but they say it contains a guide to Ads, affiliate programs, sponsored posts & work with brands, selling products and freelance work)
About food photography
Basically any idea you have for a course can also be done as an ebook
If you want inspiration on what recipe layout you want for your cookbook, then have a look at this Pinterest board with recipe layout ideas
Don't forget to create a nice looking cover! My go to source for any kind of design job is 99 designs where you create a design competition and get several designers to submit their ideas.
For distribution platform I can recommend Gumroad where you can upload and sell it. You can work with things like discounts, giving it away for free in exchange for email adresses, etc.
Many food bloggers also use E-junkie
---
10) Physical cookbooks
As you read in the previous section there are plenty of tools that also offer a print on demand service. So unless you find yourself with a very good deal with a publisher to do a cookbook, then self publishing is probably your best choice. It might even be better than a cookbook deal with regards to the revenue it can create for you.
Here's a great guide by David Lebovitz on how to write your own cookbook
Listen to this podcast episode: Generating income through self-publishing a cookbook
---
11) Services
The thing that first comes to my mind is a Meal planning service.
Check out CookSmarts, that seem to do a lot of things right with a meal planning service
If you don't want to do it by yourself then here are two different examples:
Another idea I just had is that you could offer a recipe discovery service. Lets say your niche is vegan weeknight dinners, then you can send weekly lists of vegan recipes you have found that looks promising and that you yourself would like to try. Not that much extra work if that is already part of what you do to get inspiration for new recipes to your own blog.
Perhaps you could partner up with someone who have a shoppable recipe service or meal kit service. Perhaps you can be one option the customers there could choose from.
If you have the interest and prerequisites then perhaps good old fashioned catering could be an option?
---
12) Membership site
An example is from Dashing Dish who have a membership subscription service with exclusive recipes, meal plan builder, grocery list builder, community, videos, etc
Another example once again from Pinch of Yum is the Food Blogger Pro membership.
The things mentioned in previous section with services are things you can offer through a membership site so it sort of blends together. However, a membership site is usually a mix of different services that you offer your paying members. Here are some ideas what it could include:
Exclusive recipes
Meal plans
Video tutorials
Cooking lessons
Courses
Recipe tips
Community
Coaching
Discounts offered through partners
Read more on how to create a membership site in this guide
---
13) Selling your own products
Except for Physical cookbooks, maybe you have an idea for your own kitchen items or actual food products.
Here are some ideas to get you started:
A nice looking chalkboard meal planner
Kitchen towels
Aprons
Mugs
Fridge magnets
or basically anything that your blog readers might want to buy from you. Perhaps you can be the go to source when fellow food bloggers want to buy food props for their photography?
Check out if you could drive traffic to your products on etsy or get inspiration from there on what you can make and sell.
---
14) Apps or plugins
Once again I have an example from Pinch of Yum who created WordPress plugins for food bloggers: Tasty recipes & Tasty pins, check them out at WP tasty
Another example is from Cookie and Kate who now got an app with the help of developers from Sidechef. Read more about it here.
When you consider building an app, then don't just build another recipe app with your recipes. Think how you can provide more value to your fans. Perhaps a meal planning app where paying subscribers can get your weekly meal plans straight to the app. Or an app that converts your US measurement recipes to Australian measurement, etc.
---
15) Joint ventures
What about a joint venture selling your recipes through an app?
This is the final and best idea 😉 I have an app called Ingredient Matcher and in that you as food blogger have the possibility to upload your recipe bundle(s) and sell them to users as an in app purchase.
The Ingredient Matcher app show the user recipes they can make with the ingredients that have at home. If your readers already like the recipes you create then this app will help them cook more of your recipes by filtering out which of your recipes they can cook right now with the ingredients they have at hand. The app will also help users add ingredients they are missing from your recipes to a smart shopping list.
The idea is to have all recipes searchable in the app and you can get a match with the ingredients you have at home, but the ones that you have not yet unlocked with the in app purchase will have a lock on the image and when you click it, it will send you to the page for that recipe collection. That page with have a short intro about you behind the recipes, how many recipes are included in the bundle and the cost.
You can also have a couple of recipes free so that a user can try them out before buying your whole recipe bundle
I have not yet decided on the suitable price, it will be something we learn when people start using the app and at what price point we get people to convert and what price you would be comfortable with.
The app itself is free to download and contain recipes I have created myself as well as free contributions from other food bloggers
You will of course also receive a list of all the people that have bought your kit so you can add them to your email list
---
Want more ideas?
When I finally had written the whole blog post I found this mindmap at problogger of different ways to make money from blogging. I think I managed to include all the important things. Here are the things that did not make it on my list of 15 things but could be relevant for a food blogger:
Donations
Podcast ads (if you have a podcast)
Hosting paid meetups
Paid webinars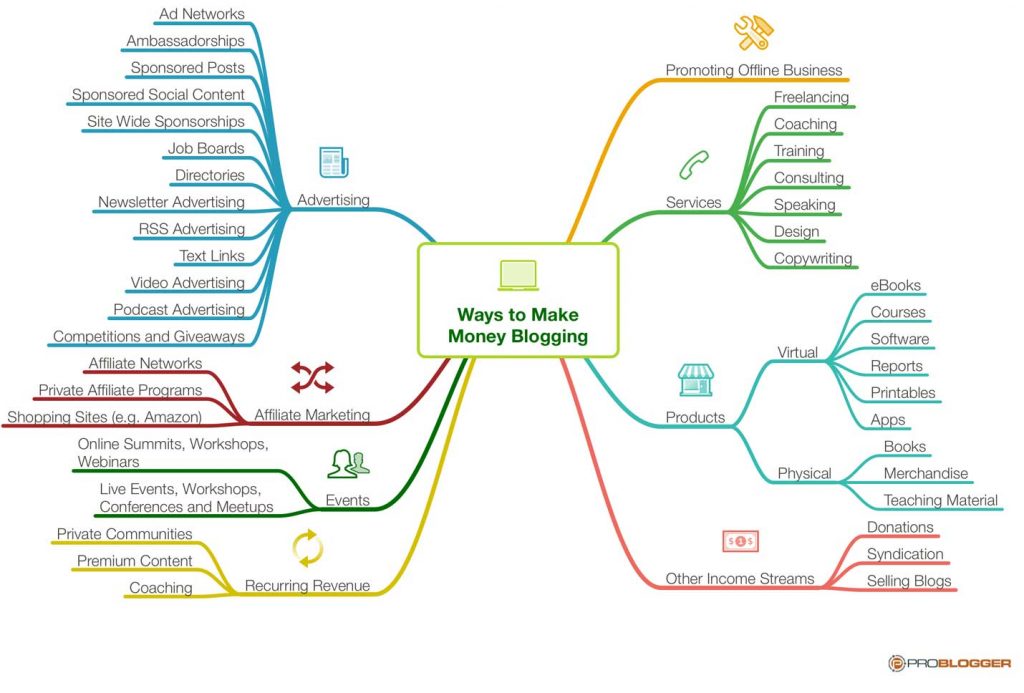 Or maybe you are wondering what revenue models that are most common for food bloggers? Then check out this great post by Marly over at Chopped Academy: Top three revenue models for food bloggers. She also have a very nice podcast aimed at food bloggers like you.
One of the guides I came by stood out with a lot of examples and tools/networks to use. Check out what Adam Bryan at Urbantastebud wrote: How to make money food blogging
Feeling energized or overwhelmed right now? Regardless, I recommend you read my blog post: The ultimate growth guide for food bloggers because it is from growth you are able to get more revenue!