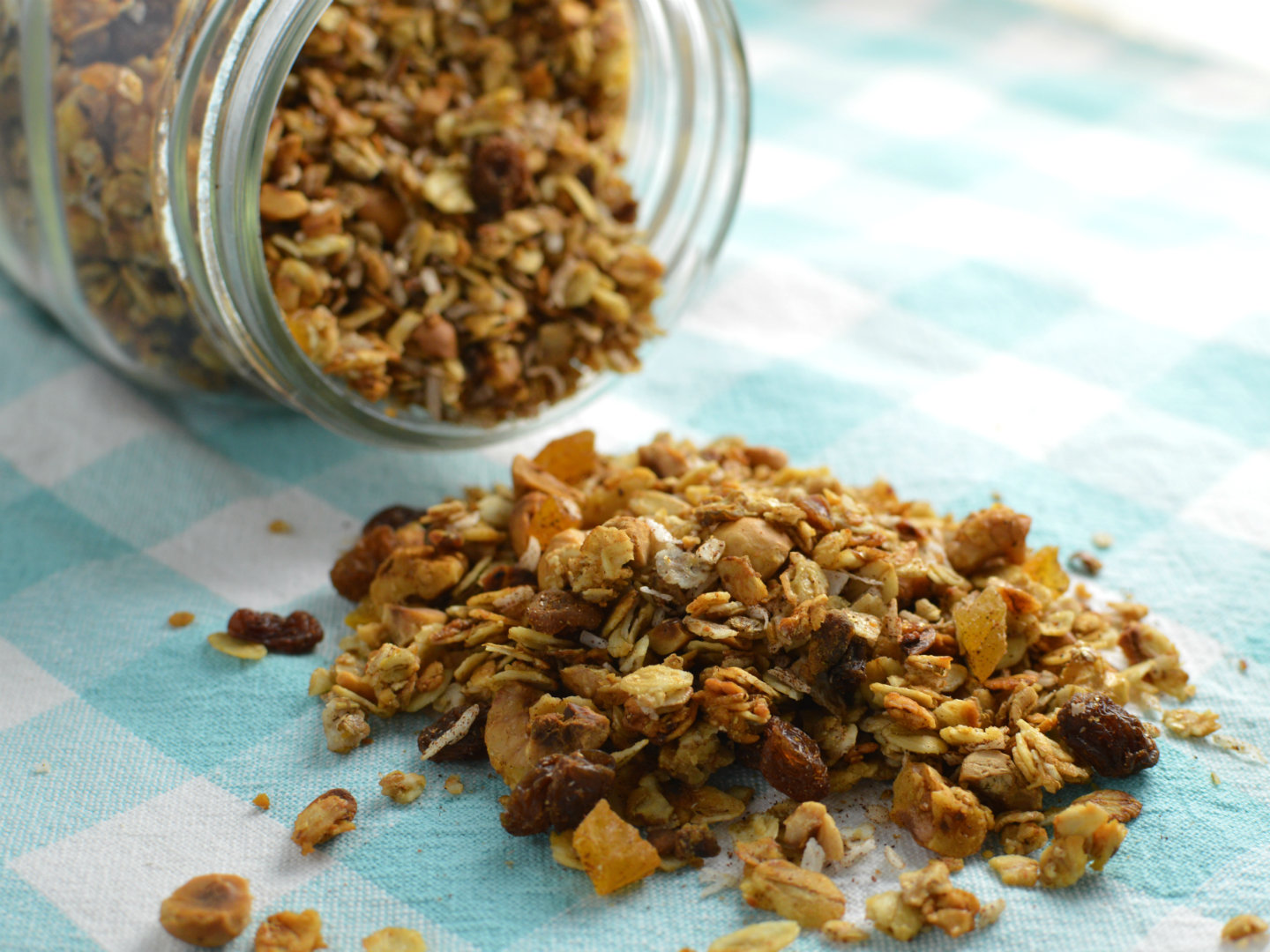 The breakfast in our family is a bowl of Swedish soured milk "filmjölk" (almost like yoghurt) with granola or müsli and then a cup of tea and a toast. This means that we consume quite a bit of granola.
Usually you have a large selection of granola and müsli in the grocery stores and you can probably find a couple of favorites to alternate between that are tasty, low on sugar and at a good price. But if you happens to have some nuts, oats and raisins in your pantry, why not try making some homemade granola?
I checked what we actually had hidden in our pantry and discovered that we had quite a lot of opened packages with different kinds of nuts. That was when I got the idea to make some homemade müsli / granola for the first time since childhood.
When writing this recipe I was not quite sure if it should be named granola or müsli / muesli so here's what I found out about the difference of granola and muesli:
Granola: Made up of grains, nuts, seeds, and dried fruits that are mixed with oil and a sweetener and then baked in the oven so that it binds together in small chunks
Muesli / müsli: Also made up of grains, nuts, seeds, and dried fruits but not baked together with oil and sweetener
Before creating any recipe I do a bit of research of what recipes that I can find online, then I discard recipes:
with ingredients that are not frequently used in other recipes because I don't want to fill up the pantry or fridge with half full packages
that take too long to make or include a lot of steps
The next steps in creating the recipe is to perhaps exchange some ingredients to more common ones, alter quantities to better suit the normal package sizes and perhaps combine parts of different recipes. This way I hope that you as reader will get recipes that are easy and quick to make and leave as little leftovers as possible.
You can follow the recipe below or you could use what you have at hand to make your own homemade granola.
If you made your own version that you really like, please let us know in the comments!
Here you can find this recipe in swedish.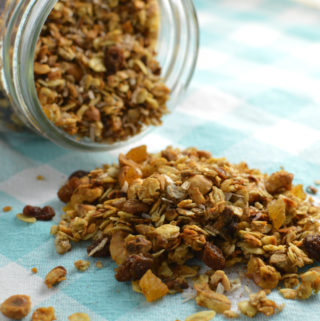 Easy homemade granola recipe
Ingredients
150

g

rolled oats

150

g

rolled rye flakes

50

g

walnuts

50

g

hazelnuts

100

g

raisins

50

g

coconut flakes

50

g

dried date pieces

75

g

dried apricot

2

tbsp

cinnamon

75

ml

honey

75

ml

rapeseed oil

75

ml

water
Instructions
Heat up the oven to 175°C (350°F)

Crush the walnuts and hazelnuts coarsely

Mix honey, oil and water together then stir it together with nuts, oats and rye

Distribute evenly on a baking sheet pan and bake for 20 min (stir once or twice to avoid that some parts get burnt)

Chop the apricots to smaller pieces then mix it and remaining ingredients with the granola from the oven