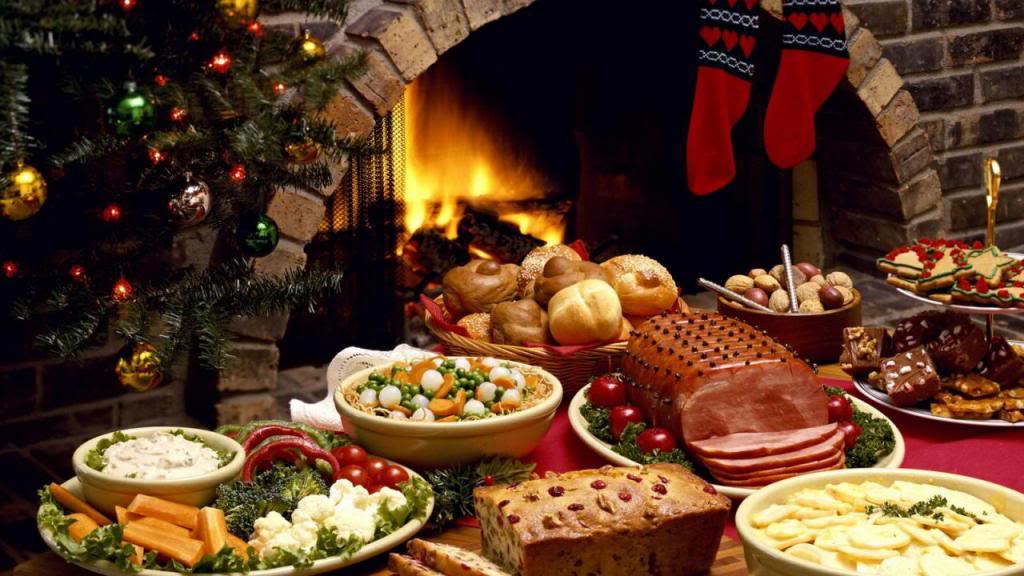 Christmas is coming and for many of us this means, wondering what dishes, desserts and drinks to serve to our family and friends.
IngredientMatcher has browsed the Internet for the best Christmas food traditions from around the world.
Argentina
Celebrated on the night of Christmas Eve, the traditional Argentinean Christmas meal differs slightly from that of its neighbors. Beef is very common, as is pork and turkey. A variety of mincemeat pies is usually served, with ingredients varying from household to household. Ninos envuettas, steak cut into large squares, stuffed with hard-boiled eggs, onions and spices and then baked, is a favorite in many areas. Champagne is popular with dinner, along with a beverage combining chunks of fruit, cider and fruit juice. Roasted peacock is a favorite for Christmas Day, but this is by no means universal. Panettone and sweet puddings are served for dessert.
Australia
For Australians, December is one of the hottest months of the year, and their idea of Christmas comfort food reflects this very well. Christmas barbecues are a common occurrence, with prawns, chicken, pork, lamb and beef all serving as popular menu items. Some households have a more traditional sit-down turkey dinner, though it's not uncommon to host it outdoors. Meat, such as ham, is sometimes served cold due to the hot weather. Pavlova, a meringue dessert filled with whipped cream and fresh fruit, is a popular dessert, as is the international Christmas favorite panettone.
France
Traditionally served after the midnight mass, the French Christmas meal is known as Le Reveillon. Though it varies from region to region, it's almost always served with champagne. Foie gras (goose or duck liver) is a common appetizer, as are oysters, smoked salmon and (in Brittany) buckwheat crepes. The main course often features roasted goose stuffed with chestnuts, although turkey is gaining popularity, and other roasted meats like beef and lamb are not uncommon. The traditional dessert of La Reveillon is a buche de noel (yule log), a rolled sponge cake filled with flavored buttercream and decorated to look like a fallen log, finished with powdered sugar (for snow) and meringue mushrooms.
Hungary
It's a church tradition not to eat meat before Christmas day, so at Christmas Eve most Hungarians eat a fish soup called Halászlé. The main dish is also something with fish. For dessert the most common dish is called mákos guba which is made out of bread soaked in warm milk, sugar and poppy seeds. Another treat during the Christmas season is a cake called Beigli. Almost every Hungarian family bakes their own beigli which comes with two different fillings; poppy seeds (mákos) or walnut (diós). The main discussion topic is how to avoid the cake to crack 🙂
India
Christmas cooking also starts early. Christmas sweets — mainly originating from Goa and adapted in the rest of the country — are traditionally called kuswar, and they range from deeply delicious dense Christmas fruitcakes to rose cookies and kidiyo (literally translating as worms, but these are deep-fried curly dough balls, dusted in icing sugar). They also make sweet dumplings called newrio, stuffed with palm sugar, sweet grated coconut, and sesame seeds. Savoury banana chips, crisp chaklis (a round, deep-fried savoury made with lentils), and cardamom and cashew macaroons round up a versatile collection of Christmas goodies.
There's a lot of cultural influences that go into these sweets. Fruitcakes, for example, are heavily influenced by British plum puddings, and indeed, are also occasionally called plum cakes in India. Rose cookies are a result of the Dutch occupation, and a lot of the other sweets are the result of Portuguese and French cuisines.
Lithuania
Originally stemming from the pagan tradition, the Lithuanian 12-course meal known as Kucios is nothing if not highly ritualized. The meal traditionally begins when the first star appears in the sky, prompting the mother of the household to break bread with each guest. A place at the table is always left empty (a custom shared in several other Baltic nations), and no meat or dairy is to be served. Fish such as carp, pike and herring are mainstays, as are various types of pickled vegetables. Dishes involving poppy seeds are common, with kuciukai — small, sweet, unleavened pastries soaked in poppy seed milk — being a favorite. There are many beliefs surrounding the meal, including that ill fortune will befall anyone who leaves the table before the meal is complete.
Peru
Beginning in early December, Peruvian churches hold Chocolatadas. Using money donated by townspeople, organizers bake panettone and make spiced hot chocolate in huge kettles. The pastry and chocolate is then served to the less fortunate as a celebration of the season. Peruvians hold the traditional Christmas feast around midnight on December 24, much the same as other predominantly Catholic nations. In Peru, however, the meal is not meatless. Turkey is the centerpiece here, sometimes garnished with fresh fruit, and served alongside applesauce, tamales and various salads. For dessert, flan, panettone and marzipan are all popular.
Philippines
A former Spanish colony, the Philippines is a predominantly Catholic country whose Christmas celebrations are known as some of the world's best. The celebration begins officially on December 16 with the first of nine consecutive dawn masses. Street vendors park themselves near the churches and offer a wide variety of Filipino staples, including tsokolate (drinking chocolate) and puto bumbong, a dish consisting of colored rice that's steamed and served in a bamboo tube and flavored with coconut and brown sugar. After midnight mass on Christmas Eve comes the main event, the Nocha Buena. The meal is served family style and usually consisting of a dozen or more dishes; the centerpiece of the meal is usually cured ham or roasted pig. Other popular dishes include queso de bolo (edam cheese) and oxtail stew. For dessert, flan is popular, as is kalamay, a dessert made from sticky rice, coconut, peanut butter, brown sugar and fried coconut milk curd.
Poland
After a day of fasting, the traditional Polish Christmas Eve dinner is a welcome respite. Traditionally meatless, the meal starts with the breaking of bread, and it's seen as good fortune to set an extra place at the table for any lonely traveler who might come to the door. Fish dishes such as herring in sour cream, fish au gratin, and pike served with hard-cooked eggs and boiled potatoes are common features. Christmas barshch (beet soup) is a staple, as are various types of compotes made from dried fruit, vaguely similar to American cranberry sauce. Dessert features honey and poppy seed cookies, as well as babka, a type of sweet bread.
Rwanda
Among the upper class that has been exposed to Christmas elsewhere, there will be gifts exchanged. But for most, this will be a day for relaxation, prayer, and brochettes. Grilled beef and goat, fried potatoes, and rice will be the centerpiece of most meals – for many families this will be one of the few days of the year when meat will be the part of the meal. There will also be isombe – mashed cassava leaves – and green bananas slowly cooked in tomato sauce. For a kick, brave family members will grab a bottle or tear dropper of Akabanga, an outrageously spicy piri-piri concoction of oil and birds' eye chile that has become a national condiment.
Spain
The Spanish tradition of eating a late dinner stays true during the holidays, with the traditional Christmas Eve dinner beginning between 10 p.m. and midnight. The meal usually begins with assorted small plates (tapas) consisting of various cheeses, pates and hams. Seafood soup is very popular, especially in coastal regions. White asparagus is generally served, as are a variety of seafood dishes including angulas (baby eels), langostinos (king prawns) and besugo (baked sea bream). For dessert, the Spanish often eat marzipan cookies, churros and turron, a brick-shaped confection made with honey, sugar, roasted almonds and egg whites.
Sweden
In Sweden, the festivities begin already on the fourth Sunday before Christmas Eve which is called "first Advent". This is when you should have decorated your house with candlesticks and glowing stars in the windows. Eating gingerbread cookies while sipping hot glögg adds to the cosy Christmas feeling. On December 13 it is the celebration of St. Lucia's Day. Traditionally, the eldest daughter of the family, dressed all in white and wearing a crown of lingonberry branches, serves her family St. Lucia Day buns (lussekatter) and warm mulled wine (glögg). The celebration continues for the next two weeks, culminating on Christmas Eve with the serving of the julbord (the Christmas equivalent of the smorgasbord). Served buffet style, the julbord typically includes a lot of different dishes (and we will not be able to mention everything here), including an assortment of cold fish dishes such as pickled herring, gravlax (salmon which has been cured in sugar, salt and dill) and smoked salmon. It also includes an assortment of cold meats, with the most important part, the traditional julskinka (Christmas ham), and warm dishes such as meatballs, sausage, red cabbage, boiled potatoes and lets not forget Jansson's frestelse (a potato casserole with anchovies). The traditional dessert is risgrynsgröt (rice porridge/pudding) served with a single almond hidden inside, the receiver of which is entitled to an extra gift. It can also be served as Ris à la Malta when cold and mixed with whipped cream a little sugar and orange pieces.
********
More on Christmas
Discover the food traditions of those not celebrating Christmas.
Find out how the Swedes celebrate the festive month of December making Swedish saffron buns (lussekatt or lussebulle), mulled wine with our special Swedish glögg recipe, sour milk bread and special Christmas meatballs.
And finally, see our favourite collection of gingerbread houses.
********
Have a lovely Christmas !