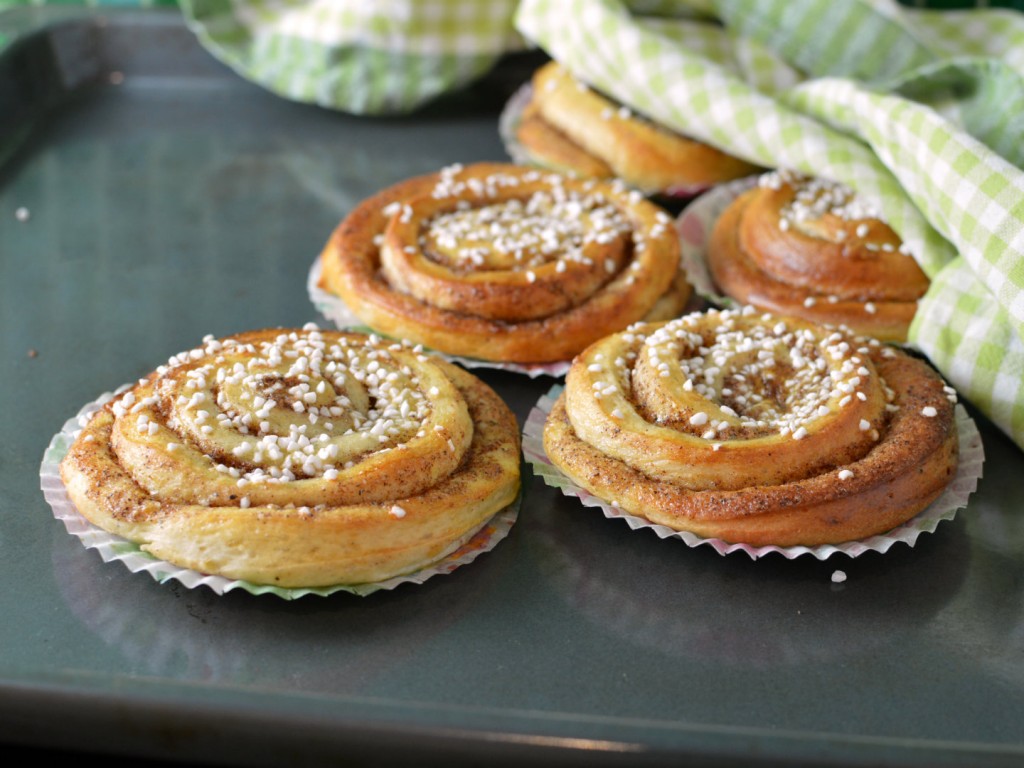 I have finally learned how to make kanelbullar (Swedish cinnamon rolls) the right way! Thanks to Le Petit Patisserie, where Therèse writes about how to make Swedish cinnamon buns like the professionals do, and inspired me to do this recipe. Kanelbullar (Swedish cinnamon buns) are the most common baked goods in Sweden, enter any café and they will for sure have kanelbullar so you can have your typical Swedish fika together with a coffee. Many cafés have really good cinnamon buns and it could be hard to replicate that delicious kanelbulle when baking at home, unless you use this recipe of course 🙂 Tips:
Use cold liquid with the yeast

the temperature of the dough rises when kneading and too high temp causes the yeast to die
another benefit is that you control when the rising process will start if you don't want to bake the buns right away

Measure in weight instead of volume

especially when measuring flour using a measuring cup and scooping up the flour will pack it denser, by using weight you will get the same amount every time

Roll out the dough when it is cold and has not yet started to rise

it is MUCH easier to handle the dough
the buns will have better shape
enable you to freeze the buns before they have started the rising process

Freezing ready cut buns before they start to rise

really great to have a couple of cinnamon buns ready in the freezer when you have guests. Just move them over to the fridge to thaw the evening before then let them rise a few hours before you need to bake them. Nice to get some fresh kanelbullar straight from the oven and get that amazing smell in your house 🙂

Tips for knowing when they are just perfectly ready: when the center has reached 98°C (208°F)
Here you can find this recipe in swedish.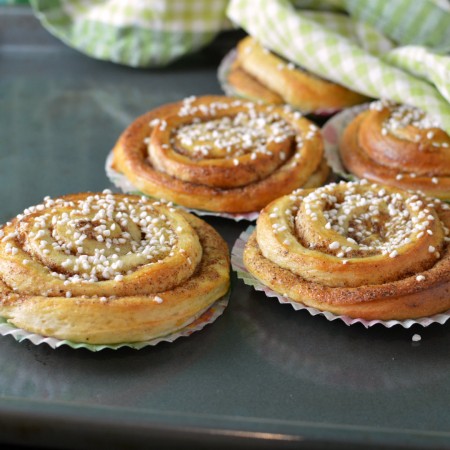 Recipe: Kanelbullar - Swedish cinnamon buns / rolls
Ingredients
Dough
500

ml

milk

1000

g

wheat flour

200

g

sugar

200

g

butter

softened but not runny

50

g

fresh yeast

2

tbsp

cardamom

1

tsp

salt
Filling
200

g

butter

softened but not runny

200

g

sugar

2

tbsp

cinnamon

1

tbsp

vanilla sugar

1

tbsp

cardamom
Topping
1

egg

2

tbsp

water or milk

pearl sugar
Instructions
Dough
Mix all dry ingredients in the kitchen aid or similar (this recipe requires one).

Add all remaining ingredients and turn the machine on the lowest speed with dough hook for 10 min

Turn up the speed to high speed and mix for another 5 min. By now the dough should be free from the walls of the bowl and attached to the dough hook

Take a pan that fits in your fridge and place parhment paper in it

Place the dough on the parchment paper and spread it across the pan before putting it in the fridge to cool a bit (preventing it from rising and making it easier to roll out)
Filling
Mix all ingredients together in a bowl while waiting for the dough to chill
Assembly
Split the dough in half and roll it out on a floured surface. Try to make it as thin as possible and as rectangular shape as possible

Spread the filling out all the way to the edges

Roll it together then take a sharp big knife (and add some flour on to prevent it from sticking) and start slicing the roll to discs around 1-2 cm wide

Place in baking cups / paper molds on a baking pan and either freeze them for later or cover with a kitchen towel and let it rise for 2-3 hours right away (you know when they are ready for the oven by pressing on the dough and it bounces back)
Baking
Heat the oven to 180°C (355°F)

Beat an egg, mix it with a little water or milk and brush it on the buns, then sprinkle pearl sugar on top

Bake for around 8-12 min or until the buns have gotten their golden color

Let them cool on a rack under a kitchen towel for a couple of minutes before eating them with a glass of cold milk
Check out some of our other sweet recipes More Swedish recipes from IngredientMatcher here