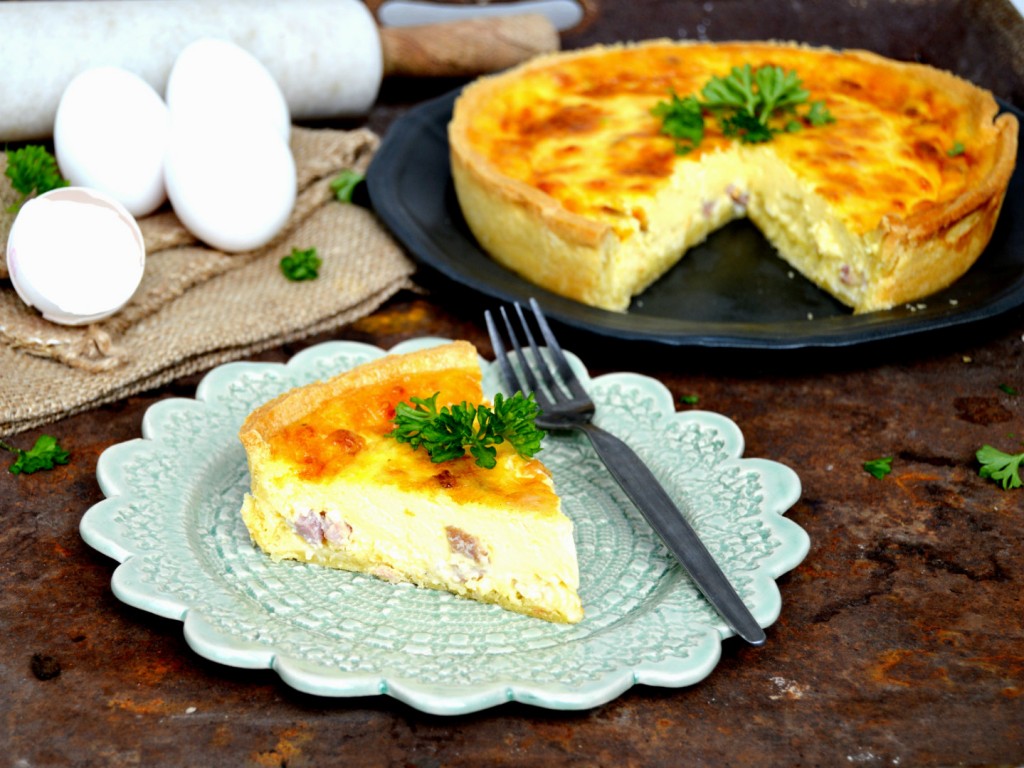 July 14 is the national day of France (Bastille Day) and if there's one dish that should be named the national dish of France it should be Quiche Lorraine. This savoury pie with cheese, bacon, eggs and cream is made all over France (and also around the world) but many might think it is too simple to be called a national dish of France when there are so many more advanced French recipes like Boeuf Bourguignon, Ratatouille, Cassoulet, Bouillabaisse, Coq au vin, etc. This recipe for Quiche Lorraine was created by Delphine over at Del's cooking twist. She is now the Country chef for France and I encourage you to visit her fantastic blog! For those of you that have been reading about IngredientMatcher know that there is an ebook with "National Dishes From Around The World" and this recipe has been included in the recently released second edition.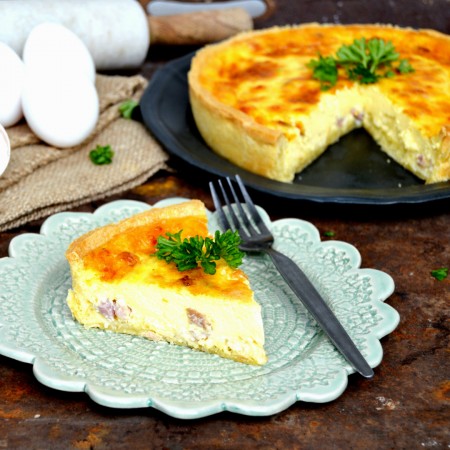 Recipe: The national dish of France - Quiche Lorraine
Ingredients
Pie crust
300

ml

flour

180 g

½

tsp

salt

125

g

butter

1

large

egg
Filling:
200

g

bacon

cubed or chopped

150

g

Emmental cheese

grated Swiss cheese

½

onion

1

tbsp

butter

4

large

eggs

300

ml

cream

100

ml

milk

salt

black pepper

fresh parsley
Instructions
Pie crust
Sift the flour together with a pinch of salt in a large bowl. Rub in the butter until you have a soft breadcrumb texture.

Add the egg to make the ingredients stick together and form a firm dough, then rest in the refrigerator for 30 minutes.

Roll a large disk on a light floured surface and line a 27 cm/ 8.6 inch spring form. Prick with a fork and prebake the pie crust at 180°C (350°F) for 10-15 minutes.

Peel and finely chop the onion, then fry it with one tablespoon of butter on low heat until the onion has softened, about 5-8 minutes.
Filling
Fry the diced bacon in a frying pan for about 3 minutes.

Whisk together the eggs, milk and cream. Add the grated Emmental cheese. Season with salt and pepper.

Place the caramelized onions onto the pie crust and add the diced bacon. Pour the filling over and bake for 25 minutes at 180°C (350°F) in the lower part of the oven. The pie is done when the pie is golden and the filling has solidified.

Garnish with fresh parsley and serve the pie warm.
About the Country Chef
Del is a happy French woman living in Sweden and the blogger behind Del's cooking twist. Passionate about food, food styling and photography, and other food issues (foodie trends, food education…), Del also work as a marketing & communication consultant within the food industry. You are welcome to discover her French, Swedish, and American recipes with a twist!   Read more about IngredientMatcher's Country Chefs in the Foodie section Read more about national dishes and the ebook "National Dishes From Around The World" Read more about other national dish recipes published on this blog