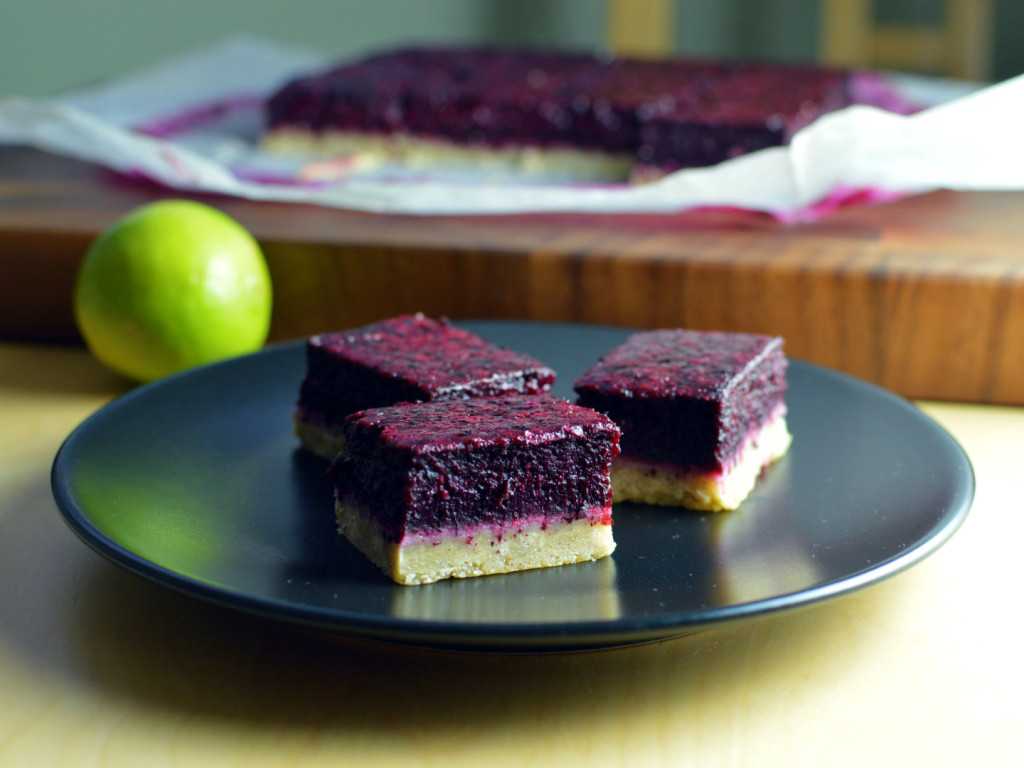 Once in a while you end up with leftover ingredients you want to use before they spoil but have no idea what to make with it. This time I had 3 egg whites and the dishes I normally use them in did not seem tempting enough
Frittata & omelette
Pies & Casseroles (whisk with milk or cream and pour over the pie)
Meringue and soft meringue dessert topping (here are some nice tips on whipping egg whites)
Coconut cookies / Macarons
Amaretti cookies
So I started searching and found this recipe for Blackberry lime bars that I thought could easily be adjusted for blueberries. I later learned that you can actually freeze your egg whites but I definitely don't regret doing these blueberry lime bars!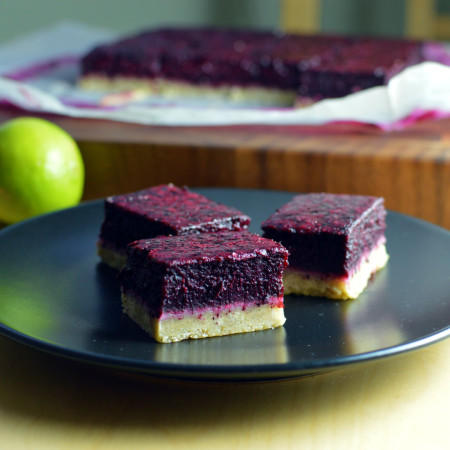 Recipe: Blueberry lime bars
Ingredients
Crust
150

g

butter

softened

75

g

sugar

150

g

flour

½

vanilla bean

or vanilla extract

1

pinch

salt
Filling
500

ml

frozen blueberries

heaping 2 cups

170

g

sugar

3/4 cup

4

limes

around 150 ml juice and 2 tbsp zest

3

egg whites

1

egg

85

g

flour

2/3 cup

1

pinch

salt
Instructions
Crust
Preheat oven to 175°C (350°F). Line a 18*24cm baking dish (7*10 in) with parchment paper

Whisk butter and sugar with a hand mixer, then add vanilla and salt. Add flour while whisking until all is incorporated.

Put dough in the baking dish and press it out evenly.

Bake for 25 min until slighlty golden
Filling
Heat the blueberries in the microwave then mix in a blender until liquidy then transfer to a bigger bowl.

Zest the limes and squeeze out the lime juice.

Add all remaining ingredients and stir to combine.

Pour the mixture over the crust and bake for 25 min

Let it cool down then place in fridge to cool completely (around 4 hours) or use the freezer if you are in a hurry.

Once it is completely cool you are able to cut it into squares without making a mess
Next time I will try some other combinations like:
Strawberry & lime
Cherries & lime
Plum & lime
Apple & lime
Peach & lemon
Blueberries & lemon
Could also be fun to experiment with raw sugar instead of granulated sugar. Check out some of our other sweet recipes.
Here are other recipes of sweet bars: