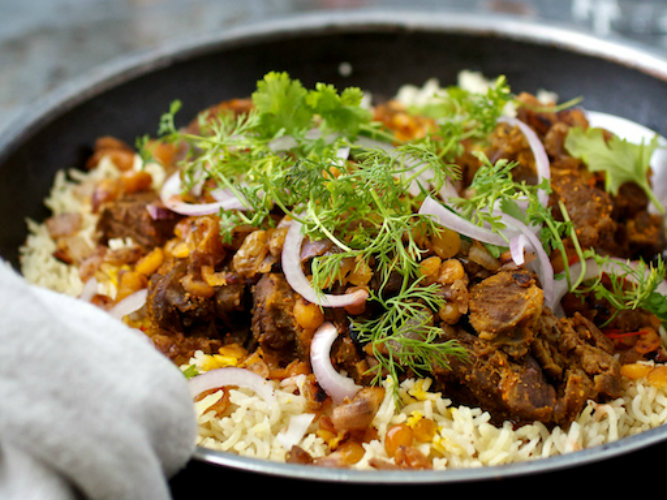 February 25th is the national day of Kuwait and we would like to share a recipe of the national dish of Kuwait – "Machboos Laham" with you.
Machboos consists of three parts; the meat (traditionally made with either lamb or chicken) well cooked and tender, the rice which is cooked with the meat's stock, and stuffing which is ironically not stuffed into anything and consists of split beans, raisins and onion.
This recipe is made by our country chef from Kuwait: Fatemah who runs her own foodblog; Saffron pudding. Read more about her below the recipe.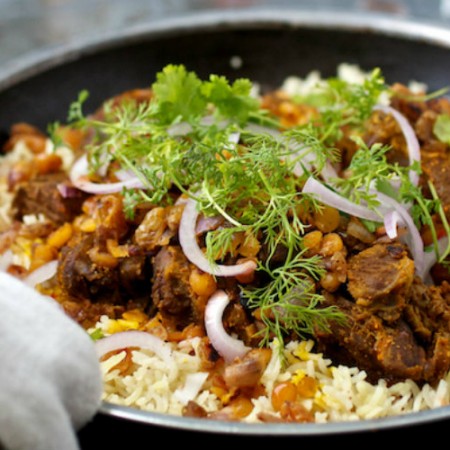 Recipe: The national dish of Kuwait - Machboos Laham
Ingredients
The meat
1

kg

lamb

2½

l

water

1

small

onion

1

stick cinnamon

1

tsp

peppercorns

½

tsp

cloves

5

pieces

cardamom

2

bay leaves

1

tbsp

salt

¼

tsp

ground cinnamon

¼

tsp

ground turmeric

1

pinch

ground ginger

¼

tsp

ground cumin

salt

pepper

¼

tsp

saffron threads

2

tbsp

lemon juice

1

tbsp

oil
The rice
1

kg

rice

basmati

2

onions

75

g

yellow split peas

75

g

raisins

1

tbsp

oil

1

pinch

ground cinnamon

½

tsp

salt

½

tsp

sugar

ground cloves

black pepper
Instructions
Soak the raisins

Preheat oven to 200°C (392°F). Cut the lamb into cubes. In a large pot, combine meat cubes with the water, all whole spices, salt and a small onion, quartered.

Bring to boil. Once water has come to boil remove the froth that has come on top with a spoon. Cover and let cook over medium-low heat for 90 minutes. Meanwhile, make the stuffing.

In a small saucepan put split peas, cover with water and add 1 tsp of salt. Over medium-high heat bring to boil. Cover, reduce heat to medium-low and cook for 20 minutes, until peas are tender. Drain and set aside.

Chop the remaining onions and sauté them in oil, until tender and golden brown.

Reduce heat to medium-low. Add the cooked split peas and drained raisins. Add cinnamon, gloves, salt, sugar and black pepper. Continue to cook for a few more minutes until everything is well combined. Take off from heat and set aside.

After 90 minutes drain the lamb cubes in a colander that is set over a large bowl. Save the stock and discard of the spices.

Mix all the ground spices. (Taste the meat to see if it needs more salt.) Rub the dry in-gredients over the meat cubes. Arrange meat on an oven pan.

Mix 1 tbsp of saffron water with 2 tbsp lemon juice, 1 tbsp oil and 1 tbsp of the meat stock. Drizzle over meat, cover pan with aluminum foil and enter oven for 15 minutes while you prepare the rice.

Wash and drain the rice several times, until water runs clear from the rice, cover with water and mix with 1 tsp salt.

Drain rice from water. In a medium non-stick saucepan put rice, pour enough meat stock to cover the rice by 2 cm. Bring to boil over high heat, cover and reduce to medium-low. Cook until rice absorbs all the liquid and is cooked and fluffy – about 15-20 minutes.

When it is time to serve, fold meat with stuffing and serve over rice. Drizzle with remain-ing saffron water.
About the Country Chef
Fatemah is a mom and housewife. She grew up in Kuwait. Fatemah is a foodie: she loves delicious and high quality food, and enjoys cooking, baking, trying new recipes from different countries and cuisines. She also loves food photography and aspires to be a food photographer one day. As part of that ambition she took an online photography course and then found herself taking pictures of the food that she makes and sharing those pictures with friends on Facebook along with the recipes. She reckoned she would start a food blog and that's how her blog Saffron Pudding came to be.
Read more about IngredientMatcher's Country Chefs in the Foodie section
Read more about national dishes and the ebook "National Dishes From Around The World"
Read more about other national dish recipes published on this blog