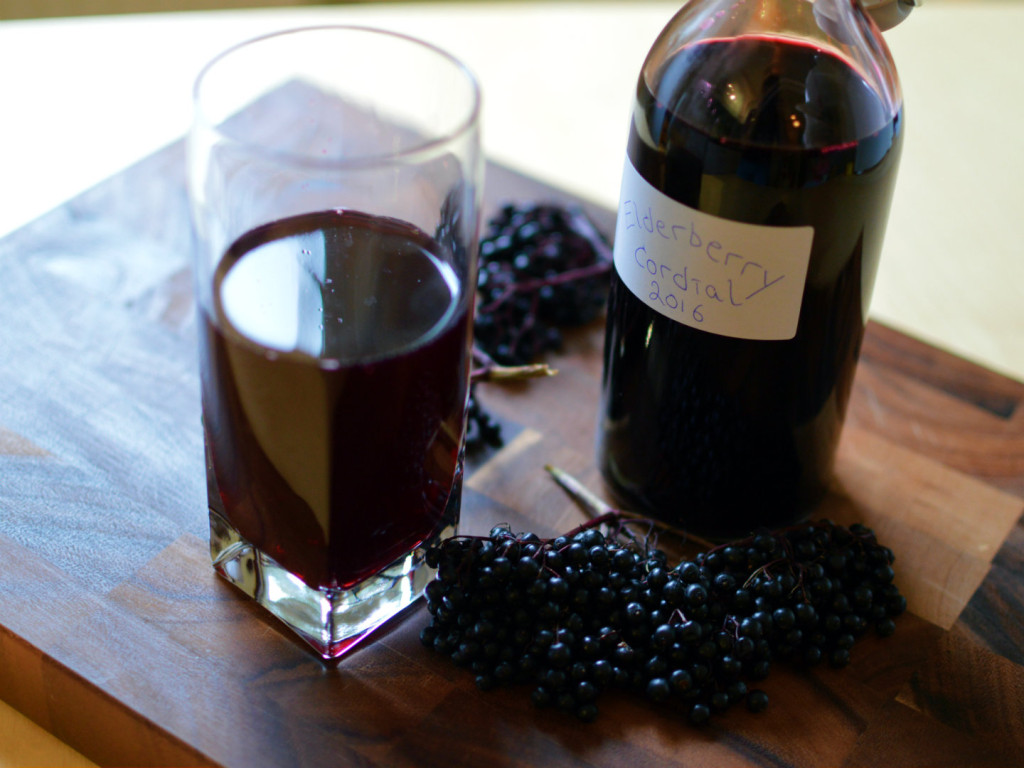 My last post was on how to make red currant cordial and this one is similar but using elderberries. The season to go out and pick those nice bunches of ripe elderberries are in September and October. Luckily most people are unaware that you can use the berries or think the berries are toxic, so it is usually quite easy to find lots of berries. Here's what wikipedia says about that:
The ripe, cooked berries (pulp and skin) of most species of Sambucus are edible. However, most uncooked berries and other parts of plants from this genus are poisonous. Sambucus nigra is the only variety considered to be non-toxic, but it is still recommended that its berries be cooked slightly for culinary purposes.
Of course this recipe is using berries from the Sambucus nigra and so should you!
You can also get this recipe in swedish!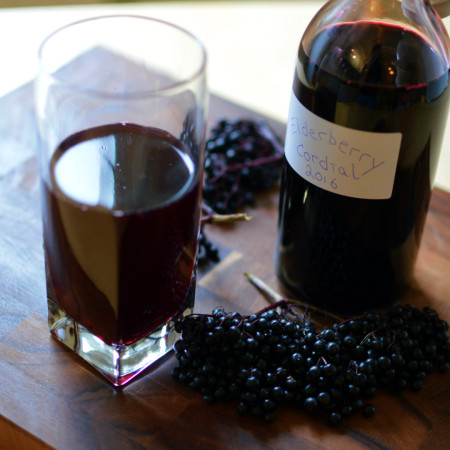 Recipe: Swedish elderberry cordial or syrup
Ingredients
2

kg

elderberries

~4,4 lbs

1

l

water

4

apples

1

kg

sugar

~2,2 lbs
Instructions
When you have harvested around 2/3 of a bucket (around 2 kg of elderberries) then remove the bigger stems and any bad or unripe berries (unripe berries can be toxic to eat raw)

Freeze the berries in a bag over night

Sterilize the bottles (bottles to hold around 2 litres). Boil the bottles in a big pot for 10 min.

Rinse berries, then place in a big pot with the water and bring to a boil

Slice the apple and add to the pot, boil for 30 min

Use a ladle to mash the berries

Strain through a muslin, coffee filter, cheesecloth or similar fine mesh sieve. Let it strain through for around 30 min

Measure the liquid and add 500 g sugar to every litre in a pot

Bring to a boil while stirring to dissolve the sugar (around 5 min) then remove the froth.

Fill upp the bottles and place in fridge once it has cooled

To make a refreshing juice you need to add 4 parts of cold water for every part of elderberry cordial
If you cook it longer after having added the sugar then you will get delicious elderberry syrup instead. In early summer you can pick the flowers and make some nice elderflower syrup or cordial Check out our other Swedish recipes here