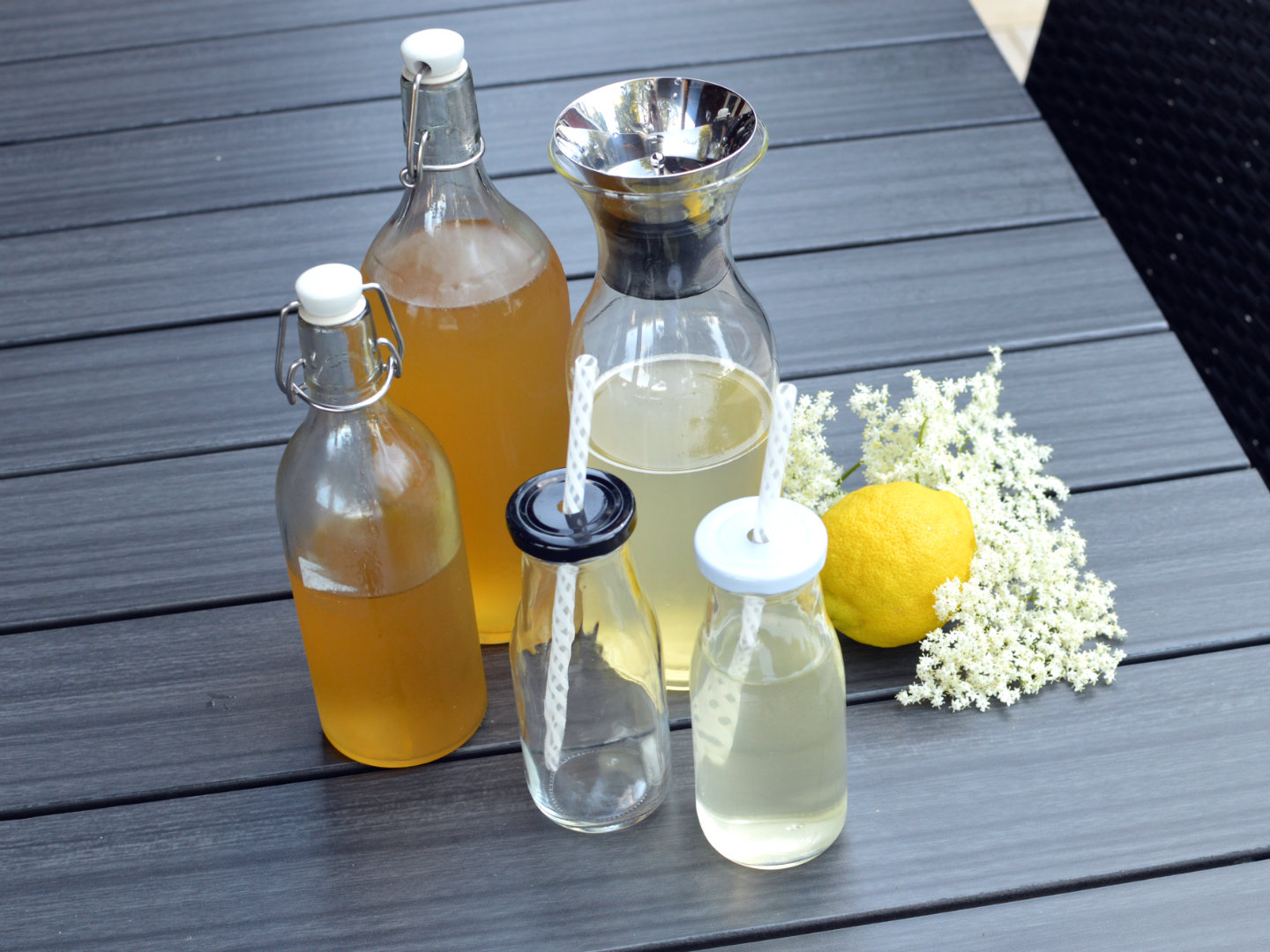 I am not sure what to properly call it in English, in Swedish it is simply "flädersaft" but in English it seems to be called either Elderflower syrup, Elderflower cordial or Elderflower lemonade. Anyway, if you haven't tried it before you are seriously missing out on the most refreshing summer drink ever! And when you have made this Elderflower lemonade I can highly recommend the Rhubarb lemonade recipe if you still have some rhubarbs left.
If you don't have elderflowers growing in your own garden you can just pick from a park or in the wild (they are growing like weeds here in Sweden). Please note that there is also a poisonous elderflower (Red Elderflower – Sambucus racemosa), so please pick the right one 🙂 Some differences between them:
The flower of the red elderflower is actually not red, but green-yellowish (compared to white-yellow for the edible one)
Red elderflowers does not smell as heavenly as the European elderflower (Sambucus nigra).
The red elderflower blooms before the Sambucus nigra
Red elderberry flowers are arranged like grapes (instead of flat)
You can read more in detail here.
The use of citric acid is preferred if you want it to last, but if you will use it directly you can actually skip it.
If you cannot make something out of the elderflowers right away, then I suggest you freeze it in bags. The recipe works just as well with frozen flowers.
You will probably see several other recipes where you start with dissolving the sugar in boiling water and then pour it over the elderflowers. That works just as well, but then you need to stir the mixture from time to time to ensure that the sugar melts properly. Most other recipes are using a larger sugar ratio but I have found that this ratio still makes it sweet and refreshing without making it to sugary.
Elderflower Myths?
While doing the research for this blog post I came across a few tips that were not consistent everywhere. However I have not found evidence to debunk these either:
Pick early in the day to keep the insects and bees from taking the flavorful parts
Avoid rinsing in water to keep more flavor
Cut away all stems (while many other sources says it will suffice to cut away the thickest stems)
Here you can find this recipe in swedish.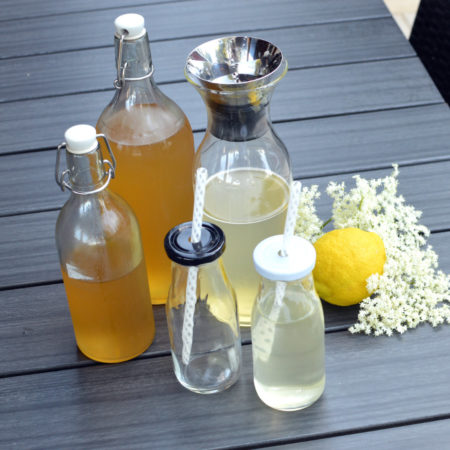 Swedish Elderflower syrup or cordial (flädersaft)
Ingredients
20

heads

elderflower

around 170 g fresh or frozen

2

lemons

1,2

liter

water

32

g

citric acid

usually the amount of 1 bag

800

g

sugar
Instructions
Bring water to a boil

Shake the elderflowers one by one to remove any bugs

Remove the bigger stems of the elderflower heads

Wash then slice the lemons

Place lemons and elderflowers in a large pot or bucket then sprinkle the citric acid over it

Pour the boiling water over the elderflower mix then stir

Put a lid over and let it stand for 2 days, giving it an occasional stir now and then

Use a fine sieve to separate the liquid from the parts you don't want stuck between your teeth. If you want the liquid clear then you should probably use a cheesecloth or similar

Add sugar to the liquid and bring to a boil while stirring to dissolve the sugar. Try to remove as much of the foam as possible to a separate glas (mix the foam with cold water and you can take your first sip of summer in a glas)

Pour the liquid into sterilized bottles and you can store it in the fridge for several weeks. If you don't think you will use it as quickly then I recommend you freeze it instead

Mix with around 4 parts cold water to get a delicious lemonade or cordial!
Notes
You can adjust the amount of sugar if you like it sweeter or with less sugar. I have tried with 1 kg sugar which was too sweet for my taste, but my wife liked it the best. I liked it best when I made one batch with 600 g sugar but my wife did not enjoy it as much as with 1 kg sugar. Hence the compromise of 800 g sugar 🙂
Some tips on what to do with the finished Elderflower syrup:
Mix with water to get that refreshing summer cordial / lemonade
Freeze it for later use
Mix with Prosecco or some other sparkling wine
Use it for desserts, like ice cream or cheesecake