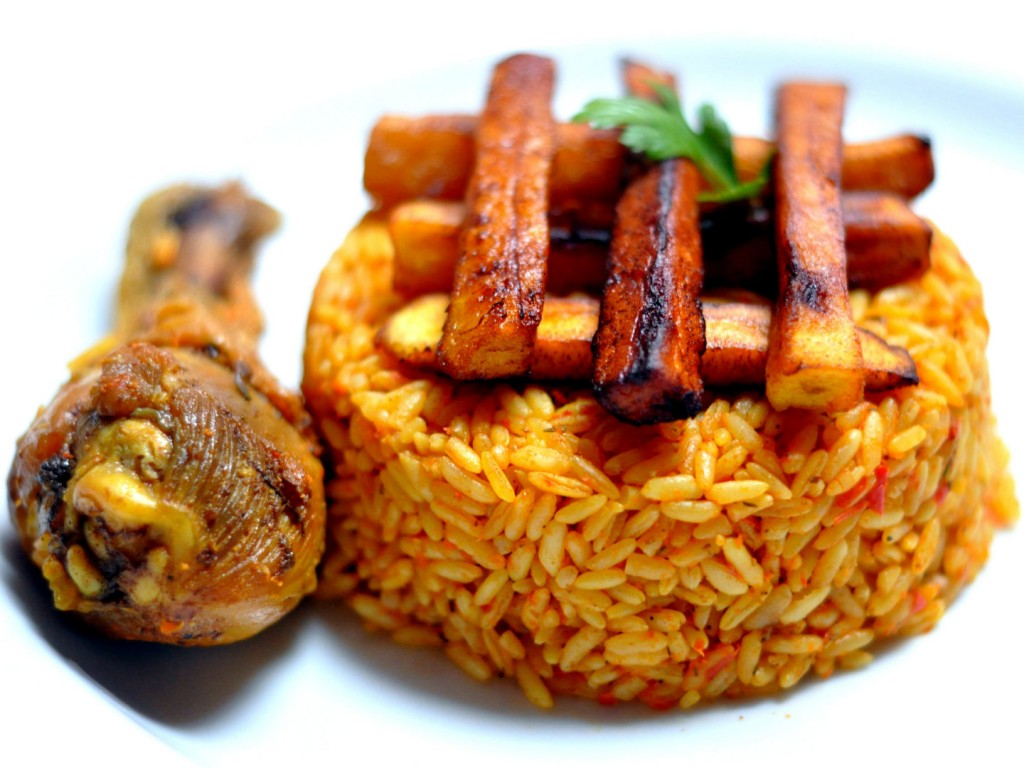 This is the most common meal that is eaten all around Nigeria. A one-pot spicy rice dish cooked in tomato and broth. This dish will leave you wonder why you've ever eaten plain rice. Why not cook some Jollof rice right away? The national dish of Nigeria deserves to be eaten at least on the national day of Nigeria (May 29th).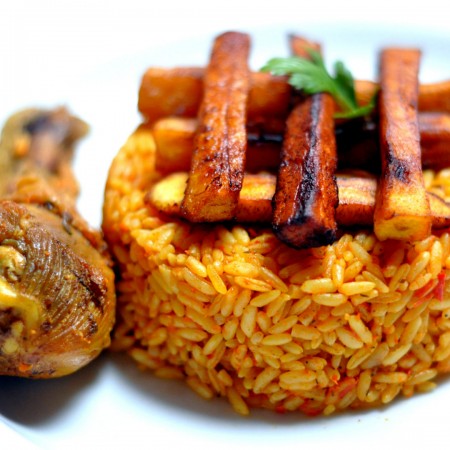 Recipe: The national dish of Nigeria - Jollof rice
Ingredients
600

g

rice

4

large

tomatoes

2

large

red bell peppers

2

onions

3

habaneros

275

ml

vegetable oil

2

cubes beef stock

1

tsp

curry

½

tsp

thyme

3

bay leaves

½

tsp

allspice

60

g

butter

4 tbsp

salt

chicken

plantains
Instructions
In a blender mix one onion, tomatoes, red pepper and habaneros into a smooth puree.

Fry the remaining onion in the oil until cooked through. Add the puree and fry for 7-10 minutes or until the oil is on top of the tomato sauce.

Season the tomato sauce with salt, stock cubes, curry, thyme, all spice and bay leaves. Cook for 3-5 minutes.

Add the rice and stir into the sauce. Reduce the heat to the minimum.

Place the butter on the rice and cover the pot with a foil paper and a lid.

Cook for about 40-60 minutes or until the rice is cooked. The steam plus the tomato sauce should be enough to cook the rice. If however it is not cooked enough, add some stock a little at a time and cook until the rice is done.

While the rice cooks it could be good to prepare the chicken and fry the plantains.

Serve the jollof rice with chicken and fried plantains.
About the Country Chef
Lohi Ogolo is a food blogger and caterer in Toronto, Canada. She currently works as a private chef and caterer (lohiscreations.com). For her, cooking is the greatest way to show her love to someone. That is why she loves making Jollof rice for her family; not only is it relatively easy, the taste is very unique and it reminds her of growing up in Nigeria and eating Jollof rice for lunch almost every Sunday!
Read more about IngredientMatcher's Country Chefs in the Foodie section
Read more about national dishes and the ebook "National Dishes From Around The World"
Read more about other national dish recipes published on this blog