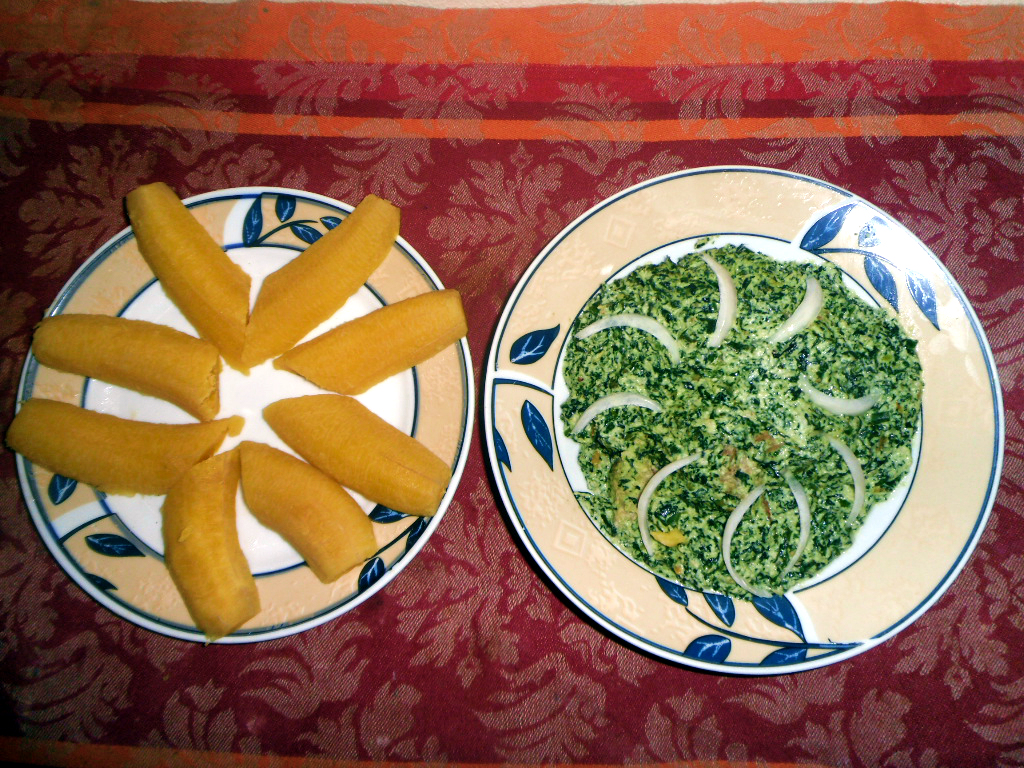 The main food crop found in all the ten regions of Cameroon are maize and groundnut. Ndole, which is always present at parties, and when cooked properly flies off the table. Ndole is considered as the national dish of Cameroon and is a bitter leaf casserole. The national day of Cameroon is May 20, a perfect day to make this dish 🙂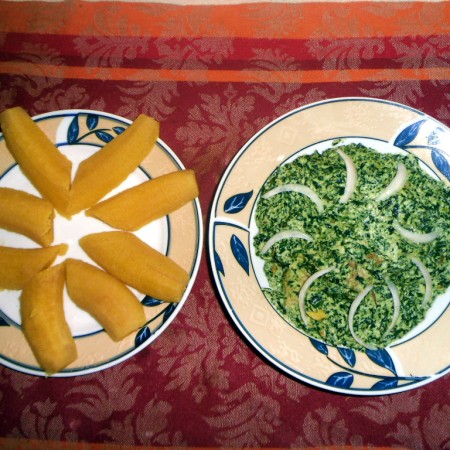 Recipe: The national dish of Cameroon - Ndole with plantains
Ingredients
230

g

beef

salt

beef stock

230

g

stockfish

230

g

peanuts

4

garlic cloves

3

onions

divided!

120

g

crayfish

450

g

spinach

700

ml

oil

230

g

shrimps

plantains
Instructions
In a large pan, season meat with salt and cover with beef stock. Boil until tender, depending on the choice of meat.

Meanwhile, boil stockfish with salt and water; add it to the boiled meat. You should have about 700 ml of stock from the meat and stockfish. Reserve the rest or freeze it.

In a saucepan, boil the peanuts for about 10 minutes. Leave to cool, then mix in a food processor or blender into a fine consistency. Use water to facilitate the blending. Add to the beef and fish.

Mix one onion and garlic cloves into a fine paste and add to the peanuts and meat.

Pour in the crayfish and let it simmer for 10 minutes stirring frequently to prevent from getting burnt. Season with salt.

Add the bitter leaves or spinach to the pot. Stir and simmer for several minutes.

While the pot of ndole is simmering, heat oil in a frying pan or, a cast iron. Add the shrimp, stirring constantly until they turn pink. Slice and add the remaining onions, stir for a few more minutes.

Finally, incorporate the mixture of shrimp, onions and oil into the pot of ndole. Stir for a few minutes and serve hot with fresh or fried plantains.
About the Country Chef
Carole Leuwe lives in Cameroon where she works as an editor in chief at a private radio station in Douala. One of Carole's favourite hobbies is cooking. She loves to cook for her family and friends, because around a good meal people seem happier. Carole cooks different recipes from all over the world, but says that no one should miss out on the delicious food served in Cameroon.
Read more about IngredientMatcher's Country Chefs in the Foodie section
Read more about national dishes and the ebook "National Dishes From Around The World"
Read more about other national dish recipes published on this blog