Good to see you here!
You are probably also running a food blog and have probably already realized the potential of improving your SEO (Search Engine Optimization) to increase traffic.
SEO is usually one of the most important sources you have for traffic if you have had your food blog for a while. It is also an area most food bloggers can improve on and gain great results.
In this blog post we will go through all the things you need to be doing to increase your ranking on Google (and other search engines). It will be just enough so you understand why, but more focus will be on showing you WHAT you need to do. The examples will be for wordpress, but much will be relevant even if you are not running your blog on wordpress.
In my job as a management consultant in all things digital and as responsible for the company blog (not to mention this blog) I have learned the basics of SEO and keyword research. Here I am adjusting it to what is relevant for a food blogger!
Another blog post you definitely should read is The ultimate growth guide for food bloggers where I bring up several important areas you need to master in order to grow your revenue. And also the guide on how to make money as a food blogger should be an interesting read for you!
---
What is SEO and why you need it
SEO stands for Search Engine Optimization, and as you might be able to infer from the name, it is the act of optimizing a website so its content appears high in search engines.
Anne Dorko – SEOPrompts.com
The most common page view you will get as food blogger will originate from the user making a search on a search engine such as google or pinterest, or if you are big on video it could come from YouTube. SEO can help your food blog show up as high as possible when your potential visitor does that initial search on relevant search terms.
And since most visitors come for a specific recipe then you need to optimize each recipe/page you have on your food blog, not just the main landing page.
Most of you probably promote a recent blog post by adding photos of it to Pinterest, sharing it on your other social channels such as facebook, instagram and twitter. Perhaps you have a routine to also submit it to various food porn sites such as foodgawker. So you are probably already spending a little time to promote the content you have worked hard to create.
But are the efforts you do in proportion to the effect it has? Of course it is more gratifying to see the quick results of those activities, but you should aim to spend at least as much time to SEO your every post for the long term effects of traffic it will give you.
SEO changes quite quickly and old SEO guides might be seriously outdated with tips that don't work anymore. Jeff from #jeff said it well:
SEO is no longer about temporary tactics and strategies to "game" the system and manipulate search results in order to rank on the first page. Google has gotten really smart and they continue to get even smarter. Because of that you can press forward trusting that if you do everything you possibly can to provide a great user experience to your readers and creating the best content out there then you will find success with SEO. There's some other things in there of course, but you get the idea.
So in this SEO guide for food bloggers we will go through what you can (& should) do:
Setting up your food blog to optimize for search (SEO)
Using keyword research to find what to write about next
How to optimize a blog post for SEO
Link building – how to get backlinks
---
Setting up your food blog to optimize for search (SEO)
In order to do this you need to know what factors that affect the search results. There are a lot of factors that will/might affect how your blog post rank in the search results. Remember that there's no completely accurate answer out there since Google does not reveal the algorithm that their RankBrain uses to rank each site.
However, there are ton of professionals who make a living on trying to understand and adapt to the changes in the Google algorithm in order to rank as high as possible. Since the essence of their work is about SEO, they naturally have produced a lot of free content on SEO in order to rank highly themselves.
A study by SEMRush (a tool for SEO) found how 17 of the most prominent ranking factors compared to each other in importance: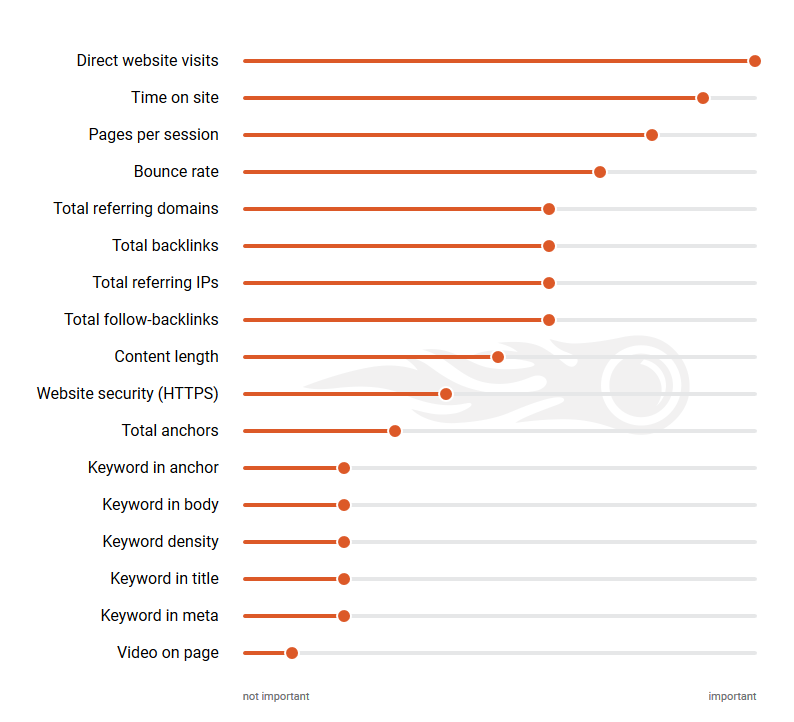 I have done my research of the most comprehensive guides out there and distilled it down to the following 4 sections and their respective SEO factors that you as a food blogger should work on:
1) On-site factors
Submit a sitemap of your food blog to google (it will help them crawl and index your site faster)
Make sure there are no broken links
Use Https (having a secure website)

You need to procure and implement an SSL certificate from your web hosting provider
Please be aware that all your URL's will change so you need to do some work to redirect old URL into the new one to avoid losing a lot of SEO benefits
Here's a guide about moving to Https

Use a responsive design and optimize for mobile first

New wordpress themes are already built for this
If your website design is not using a fairly new theme or if you don't know, then you can check how good your site is with

this tool from Google




Internal links – make sure to link as much as is relevant

If you are using a recipe plugin like ultimate recipe you will get internal links by using categories, tags, cuisine, etc that each sends a link to a page for that

Don't forget to optimize those category pages since they have the potential to rank quite high

Also by using a plugin to show related posts in the bottom you will gain more internal links
Then in each post you should try to add internal links whenever possible. E.g. if you have written a recipe for a pizza, you might already have a recipe for the perfect pizza dough and the perfect pizza sauce that you can link to.

Website speed

Here's a free speed test and website analyzer from Google you can use that will come with recommendations on what you can improve on
Another speed test you can do is Byte Check that measure the time from click to the first result start to show (useful to see if your hosting might be the issue)
Change the size of your images so they aren't bigger than necessary.

Change the size of images to 680 width (the size for full width in the popular Foodie Pro theme). You can use a free online tool like Pixlr Express where you can also compress the images.
You can also compress images and videos afterwards directly in WordPress, there's a wordpress plugin you can use called

WP Smush

or TinyPNG
Aim for images smaller than 150kb, it should be doable without losing visible quality for the majority of your readers
Read more in this on page SEO guide from Brian Dean at Backlinko
2) Off site factors
Quality backlinks

Read more on Link building further down in this blog post
Beside just the number of backlinks Google also check what anchor text have been used to link to your site
If almost all your links come from one domain it will not be as effective as a case where the links are coming from multiple domains

Social shares/links
Domain authority

Get rid of bad links to you
Gain good links to you

CTR (Click through rate)

The amount of people clicking on your link after having seen your link in the search results
This is an obvious signal to Google if your page was relevant or not to the search

Traffic

Catch 22.. but as a food blogger you can utilize Pinterest to build traffic before the SEO powers start to kick in.
3) Optimize for user experience
All the below mentioned factors are signals if the content you have is interesting or not to the visitor
Time on site

Many food blogger have quite long blog posts for each recipe that makes the visitors spend more time reading and scrolling which gives a signal to Google that this is good content

Pages per session

The most common solution is to have really good related posts at the end and perhaps other content in the sidebar that is irresistible to click. This goes also for lowering the bounce rate (the amount of visitors that only reads that one post and then goes back)

Bounce rate

Even though the visitor got exactly what they were looking for, you should aim to get them to view at least one more page so that Google get that as a signal that your site is interesting

Clicks

Make sure to include interesting things to click on 🙂

Comments

Encourage visitors to comment by ending with a question or ask them to make a statement between two options (preferably if it is controversial topics where many feels strongly for one or the other side)
4) Optimize content
If you are using the Yoast plugin then you'll get help to optimize your blog posts after you have entered your main keyword phrase. If you are not, then install it right now!
Read more on the specific tactics further down in this blog post where we go through how to optimize a single blog post.
WordPress plugins for SEO
We have already listed a few, but let's do it again in this list of plugins you definitely should have!
---
Using keyword research to find what to write about next
I am using a tool called Serpstat (got a Lifetime deal on it from Appsumo), but you can do most of this in other free tools as well.
You probably aren't totally blank on what to write about next. Hopefully you have a few ideas but don't really know which ones will work the best to drive more traffic to your site.
Lets go through an example of mine with the steps I take (I don't do this for every blog post though)
I have a food blog that I want to gear towards easy and quick weeknight dinners since that is what is most interesting to my likely users of the Ingmar app (not yet available outside of the Nordics). Furthermore I want to populate the database in the app with fresh recipes. Another niche for me is Swedish foods since I am from Sweden, and also vegetarian meals, but lets not take those ones as examples now.
Step 1: Brainstorm a few starting search phrases
To gain traffic from people interested in finding quick recipes so they can prepare something new for their weeknight dinners.
quick recipes
fast recipes
weeknight meals
easy dinners
veggie recipes
Step 2: Enter phrases in keyword research tool
To get search volume, competition and other related search phrases.
I now enter the phrases into my SEO tool Serpstat (Keyword research -> Keyword selection), but you can also use Google keyword planner which is free to use if you have started a paid campaign (you can start one and pause it to get access). The reason I am not that fond of Google keyword planner anymore is because their search volume numbers are given in spans that are not very precise for lower volumes. 1K-10K, 10K-100K and so on.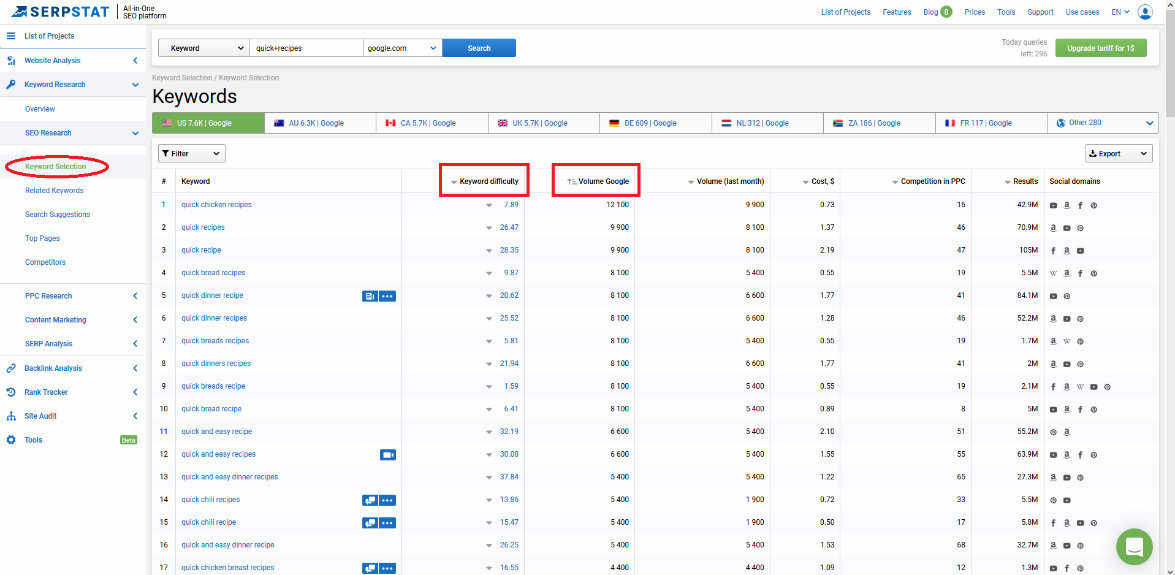 I get the following results on search volume per month:
"quick recipes"  have 9 900

Serpstat recommends me to go with "quick chicken recipes" since it has higher search volume but lower competition (low Keyword difficulty), another more niche alternative with low competition but still plenty of searches are "quick breads recipes"

"fast recipes" have 1 600, so I have now learned that most people actually prefer to search using "quick" rather than fast. That is helpful to know when combining new phrases later on.

Also here the recommendation if I want lower competition is to go with "fast chicken recipe"

"weeknight meals" have 1 900

But I see that a better option would be "easy weeknight meals" that have 4 400 and lower competition

"easy dinners" have 14 800

But the competition is quite high compared to "easy healthy dinner recipes" that have 12 100 searches and further down I actually find a better alternative for "easy weeknight meals" that is "easy weeknight dinners" with 6 600 searches and a low competition

"veggie recipes" have 165 000

Competition for that phrase is rather high though, but the variation "easy veggie recipes" gets 27 100 searches a month and with low competition
A bonus search I did was "vegan recipes" where one recommended keyword phrase shows an interesting phenomenon to potentially utilize, incorrect spellings. "Vegan chile recipes" gets the same amount of search volume as "vegan chili recipes" but there's no competition for it. So here's an opportunity to easily rank highest for all the searches where people have spelled it incorrectly (seems like it is only Brand new vegan who currently rank for it).
However, it is worth noting that Google usually shows the search results of the correct spelling anyway, so even though there are plenty of searches for an incorrect spelling, it does not mean that the user will actually see the search result page for it.
So just by doing this short exercise I found the following ideas for roundup blog posts that I have some chance to rank on the first page, please don't steal them now 😉
quick chicken recipes
easy weeknight dinners
easy healthy dinner recipes
easy veggie recipes
To verify that they actually are low competition, I suggest you use the incognito mode on your Chrome web browser and search for the most promising phrases you have come up with. Install the Mozbar browser extension for Chrome to see how difficult competition you are up against for each search result. You want to find a few pages with low score on all factors that you hopefully can outrank to get on the first page of google. For each page you will see:
Page authority (PA)
Number of backlinks
Domain authority (DA)
But don't trust the scores blindly, you can still rank higher than a page with higher authority and better domain authority. One example would be where you have optimized the headline and content around the search phrase but other pages have not and only happens to rank for that since it is somehow included in their post. As an example you can google "National dish of Sweden".
My blog shows up in the middle of the page even though my PA and DA are significanly lower than the others, but my blog post is the only one that actually says national dish of Sweden in the title and my content is the answer to the question people are searching for, so my page would probably get more clicks than the other pages and thus give google a strong signal that this is a good result.
Step 3: gather list of long tail keyword phrases
This method is best described in Brian Deans guide but I'll make a short version here.
Pick your "seed keyword" (let's say you want to write a recipe with sweet potato, then "Sweet potato" is your seed keyword where you will generate a lot of different phrases around)
You then insert that seed keyword to smart tools like Scrapebox, Keyword tool.io and AnswerThePublic to get you a huge list of different variations and related keyword phrases.
Once you have that big list you can paste it or upload a csv file to google keyword planner to get search volumes.
You can then easily sort on volume to find the most interesting phrases
Use the incognito mode on your Chrome web browser and search for the most promising phrases you have come up with. Install the Mozbar browser extension for Chrome to see how difficult competition you are up against for each search result. You want to find a page with low score on all factors (preferably as low as below 10). For each page you will see:

Page authority
Number of backlinks
Domain authority

In case your planned blog post is something more than a recipe, then it could of course also be worth actually checking out the top results and see if your content will actually be substantially better
Repeat the process with another seed keyword. Here you can use Google correlate to find other words that correlate but does not actually include that word. E.g. "mashed potatoes" is a highly correlated phrase to "sweet potato"
---
Improve on pages you currently rank just outside of page one on google
Once again Brian Dean says it best:
If you're like most people, you have a handful of pages sitting on the 2nd, 3rd or 4th page of Google.

Sometimes you'll find that you're even ranking on Google's inner pages for long tail keywords that you're not even optimizing for.

And when you give these pages some TLC, they'll usually hit the first page within weeks.

You can easily find these 2nd and 3rd page keywords in the Google Search Console (GSC).
Here you can find the google search console / webmaster tools
Don't use the new Search console (or at least I haven't found how to do it properly in there)
Here's what you should do:
Click on Search Traffic, then Search queries
Check the boxes

Clicks
Impressions
CTR
Position

Sort by Position
Scroll down to the results that are between 10-15, the pages you have related to those search queries are the pages you have the best potential to increase traffic to by improving on them so they reach page one on google.
Copy the search phrases and paste them into your keyword planner to see which ones have the highest search volume and thus makes most sense to start with
Click on the search query and then mark "Pages" to see which page it is you should work on
Work on optimizing that page for the search query
---
How to optimize a blog post for SEO
If you prefer the video format and that goes into more detail about step 1 and 2 below, then check out this 12 min from Rand Fishkin from Moz:
1) Determine the goal of the blog post
Why are you writing this blog post?
Is it to gain a new audience / target group?
Do you want to get a specific influential person to read it?
Is it because your current readers have requested it?
Is it because you want it to go viral?
Do you want it to be a corner stone piece at your site?
Do you want it to convert readers to buy something from you?
Do you intend to use it mainly on some other place such as answering a Quora question, In Reddit or just for Pinterest or a new channel you want to?
In my case with this blog post, my goals are:
to reach other food bloggers with this guide and getting them to feel "Wow, this was really helpful, thanks!"

and why do that, you might ask yourself. Well, my not so evil plan is to provide food bloggers with great resources so that they are more likely to consider my business proposal where they can make money from their existing recipes by selling recipe bundles in my app IngredientMatcher (that show users recipes they can make with the ingredients they have at home).
If you are interested to know you can contact me at kalle ingredientmatcher.com

and also because I wanted to fill the gap that I left out in my previous post: The ultimate growth guide for food bloggers
Because of my goals the blog post should be super helpful, not leaving out anything valuable (something you can expect if the goal would be to sell you an ebook or a course to know more on SEO)
2) Determine the audience
Do you want it to be for new visitors or for your existing readers?
Do you have a special segment of your readers in mind?
Do you want to reach influencers as a first step?
3) Do keyword research
Follow the same process as I have described earlier in this blog post
Determine the main phrase you want to rank for and include that in your title
Also list 2-4 secondary phrases that you also want the post to rank for (note: should be the same search intent for all the phrases)
4) Optimize content
Title

Here you should include the keyword phrase you have found is the best. You can also include some other words before and after the keyword phrase to make it more reader friendly.

Url

Should also include the keyword phrase

Meta description

This is the short text that shows up below the title in search results and almost as important as the title to convince google visitors to click on your link
Try to optimize the text to get someone interested in clicking to read more rather than stuffing it with relevant keyword phrases

Headers

Mainly H2 titles which you should try to include your keyword phrases in as well

Content

Just write your content as you would normally do, and then go through it again to see if it makes sense to include keyword phrases you want to rank for. Don't stuff it so it becomes unnatural to read, but a few extra keyword phrases could be beneficial for SEO

Alt text for images

Make it a habit to enter a good title/description in the Alt text field right after you have uploaded a new image
This is one of the most important fields that google looks for when deciding how to rank your image in image search

Readability

Yoast gives you a readability score.
Don't write long sentences and long blocks of text
Use bullet lists
Also think that it should be readable from a small mobile screen

Word count

Longer content seems to be favored by google (or perhaps it is the dwell time/time on site that is the factor in play here)

Unique content

Yoast does a check to see that you don't already have a blog post trying to optimize for the same keyword

Structured content

Mainly using recipe schema.org and preferably with JSON-LD
Using a good recipe plugin will do this for you!

Links

Include internal links out from the new blog post
Updating previous blog posts and pages to link to your new content
A healthy number of outbound links could also help. Preferably to high authority pages but don't link to pages that compete with your main keyword phrase

Video

LSI keywords

Words or phrases that are semantically related to each other. They are not limited to synonyms or keywords with similar meanings.
5) Making it shareworthy
This is where most food bloggers get it right, by taking awesome photos!
If your blog post is not just a recipe, then it could be worth considering these factors
Factors that increase chance of post going viral:
Lists and using numbers in the title
Have short urls
Write long blog posts (preferably more than 2000)
Include nice graphics and videos
Make it easy to read (even from a mobile)
Mention influencers
Encourage sharing
Contagious STEPPS model
The book Contagious by Jonah Berger had such an awesome method to use if you want to optimize something to be spread like wildire! Therefore it deserved a separate chapter here. The factors that are included in the book are abbreviated as STEPPS and stand for:
S: Social currency
T: Triggers
E: Emotion
P: Public
P: Practical value
S: Stories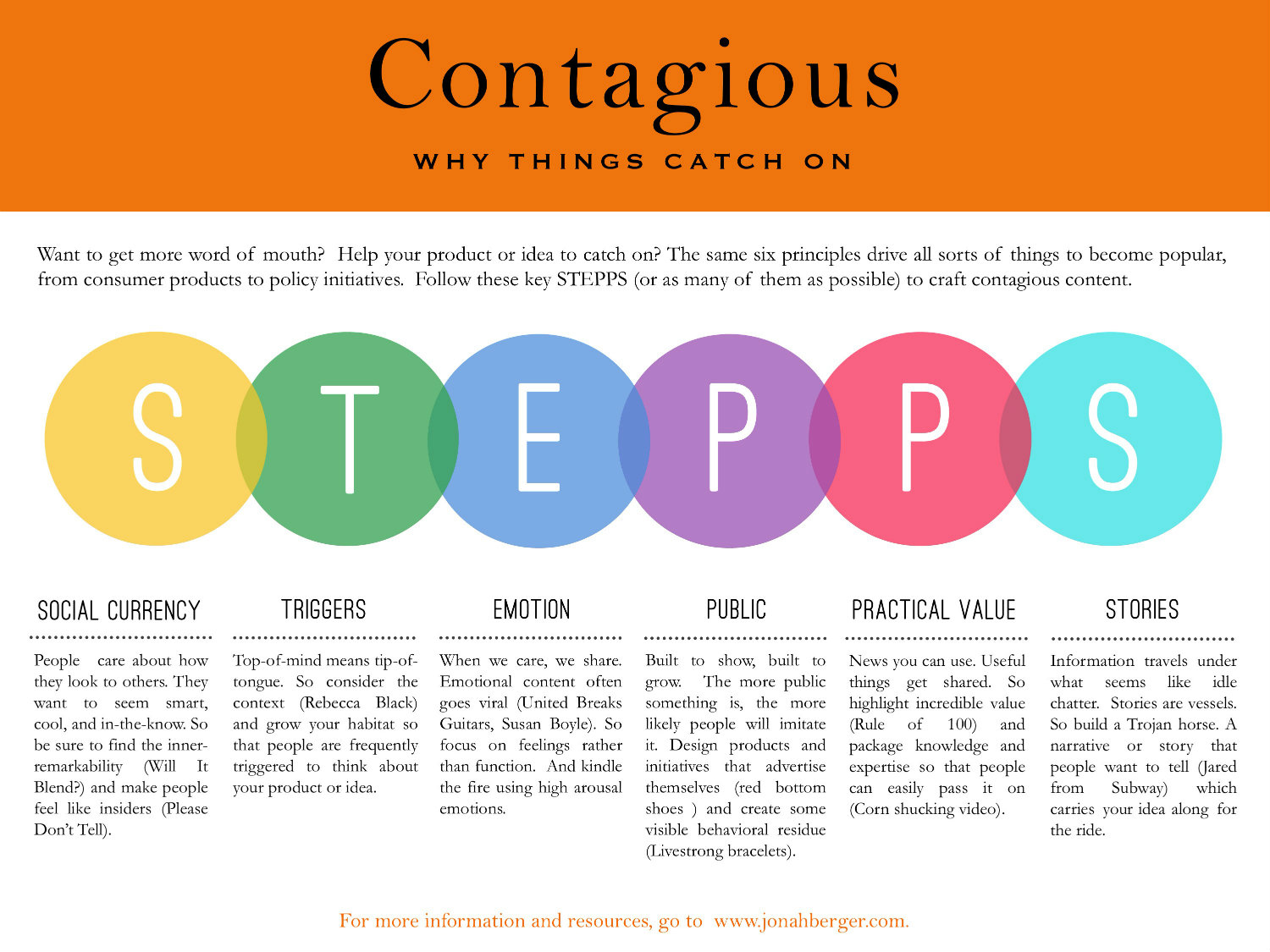 ---
Link building – how to get backlinks
I think we have already talked about this, but it's worth mentioning again. Links back to your blog posts are one of the most important factors to rank well on google. And it is something you can actually influence, hence the terminology "Link building". It's worth noting that it is not just any links, it need to be high quality backlinks, so no old school black hat stuff please.
https://backlinko.com/link-building
What is a high quality backlink?
Using email outreach to get backlinks
Find the people who previously have linked to similar content
Make a search for your chosen keyword phrase you want to rank for and copy the url of a competing page you want to outrank and that you believe you have created a superior content for.
Paste the url into a link analysis tool such as The MOZ open site explorer (you will only get a few backlinks unless you pay), other paid tools are SEMrush and Ahrefs.

A free alternative where you can analyze three links and get up to 20 backlinks for each is Webmeup

Filter out those that does not fulfill the criteria for a high quality backlink (according to above list)
Note down the contact information of the page owner who earlier linked to your competing page
Email them letting them know that you have created a new post that is better than the one they are currently linking to

If you are going to do this properly without spending all your day emailing and following up then I recommend a tool where you can set up automatic email follow ups if your email has not been opened within 3 days, then another after say 5 days, etc. I can recommend Mailshake for this.
Check out this short guide on how you can write your email
If you can't find their email, you can try sending them a tweet or perhaps use a contact form on their page
Here is a guide with some more examples on outreach emails to get becklinks
---
Want to know more?