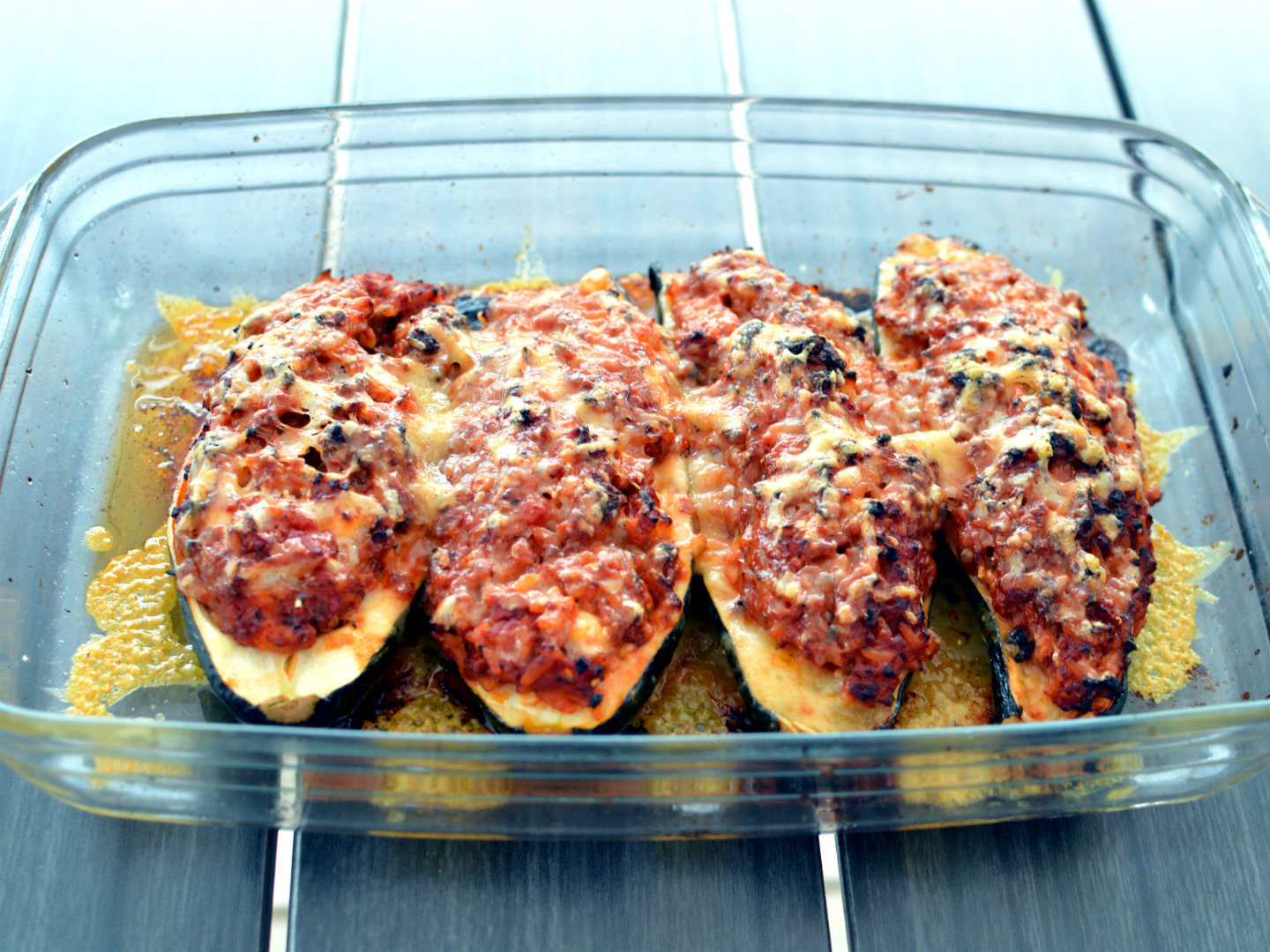 There are a few recipes around for filled zucchini with ground beef but I thought the vegan ground beef (not sure exactly what it is called but a vegetarian substitute for ground meat, perhaps soy crumble?) I usually have in the freezer would do the trick. And it sure delivered! Even though this might not be a weeknight dinner it sure was delicious and we will be doing it again for sure!
Västerbottenost worked amazingly well in this recipe, but feel free to experiment with other strong flavored cheese.
If you are using small to medium sized zucchinis then the filling will be heaping over like in the picture. When using quite large ones so they cover a complete oven sheet pan then the filling will be around level with the zucchini.
Here you can find this recipe in swedish.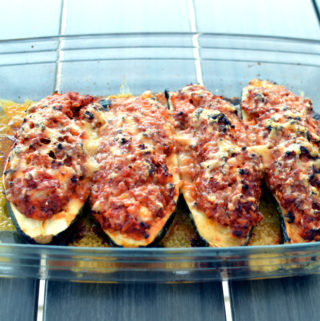 Filled zucchini with rice, tomatoes and vegan ground beef
Ingredients
4

zucchini

medium sized

2

tbsp

olive oil

300

g

vegan ground beef

or any substitute you have for ground meat

2

garlic cloves

4

tbsp

tomato paste

1

tsp

oregano

1

tsp

basil

1

tsp

rosemary

chipotle chili powder

adjust amount to your liking

salt

black pepper

500

g

crushed tomatoes

50

ml

rice

or 150 ml cooked rice

200

ml

cheese

shredded. Best is if you choose a strong flavored cheese!

50

ml

parmesan

shredded
Instructions
Boil the rice

Heat up the oven to 225°C (437°F)

Use some of the oil on a big oven form or sheet pan

Fry the vegan ground beef until browned in the remaining oil

Add finely chopped garlic, tomato paste and the spices. Stir while frying for a few minutes

Add crushed tomatoes and the boiled rice and mix together

Wash the zucchinis, cut them in half lengthwise and scoop out so that it is around 1 cm left of the zucchini. Keep the zucchini content to be fried with an onion and then use a mixer to blend with mint, black pepper and a few drops of lemon, use as a spread on bread.

Place the zucchini halves on the oven form or pan and fill generously with the fake ground beef mixture. Bake in the oven for 20 min

Add the shredded cheese and parmesan evenly over then bake for another 10 min