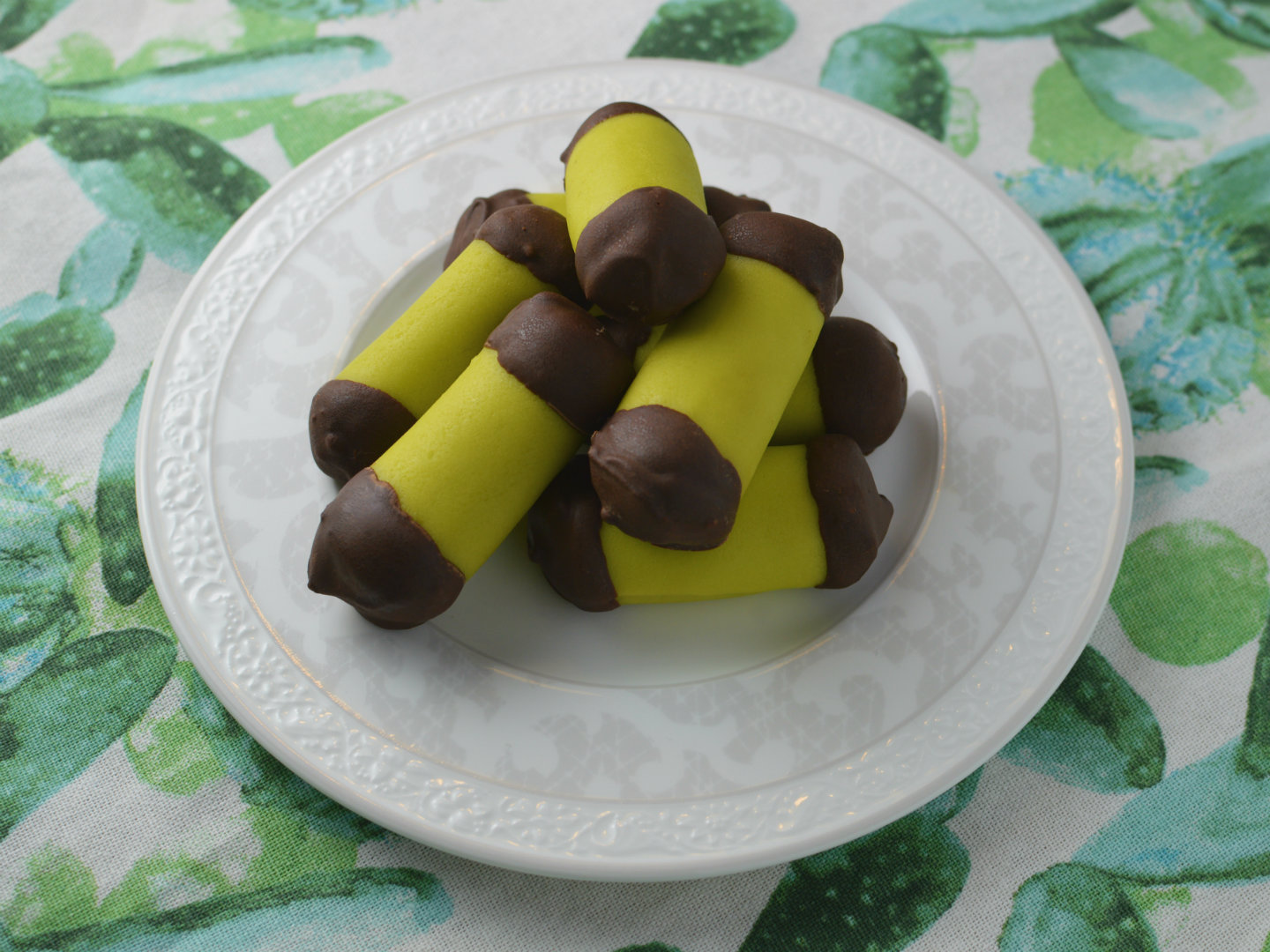 I had some major issues trying to come up with a good title for this recipe in English to explain what it is. In Sweden there is a pastry roll everybody knows that usually is called "dammsugare" (vacuum cleaner) or "punschrulle"(punsch-roll). You can buy them in all grocery stores in Sweden or in any confectionary shop or café.
The explanation from wikipedia for what it is:
a Swedish small cylindrical pastry covered with green marzipan with the ends dipped in chocolate, with an interior consisting of a mix of crushed cookies, butter, and cacao, flavoured with punsch liqueur.
The reason it is called dammsugare (vacuum cleaner) is partly due to how it looks, referring to the cylindrical form that was very common for vacuum cleaners from 1920 and several decades forward. But also to the supposed practice of the pastry baker collecting crumbs from yesterday's cookies for filling. Here's a recipe for making a traditional swedish punsch-roll. If you want to try it before you bake it, then head over to any IKEA store!
I was inspired by a Swedish baking blog that had made a version fit for Christmas using gingerbread dough as filling and using red marzipan and white chocolate. Since I had already made some gingerbread dough and found a marzipan cake lid (to use when making the Swedish traditional Princesstårta), I just had to try it myself!
Here you can find this recipe in swedish.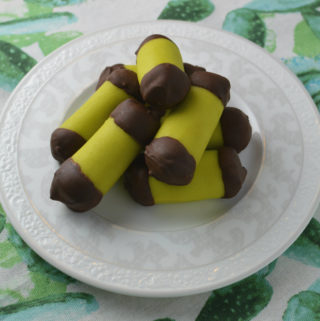 Recipe: Swedish no-bake pastry roll with gingerbread dough (dammsugare med pepparkaksdeg)
Ingredients
250

g

gingerbread dough

link to the recipe can be found in the text above

32

cm

marzipan cake lid

around 200 g

100

g

chocolate
Instructions
Divide the dough into 25 pieces and roll them to small cylinders of equal size

The marzipan lid should be enough for 6 rows of the gingerbread rolls, in case you decide to just roll it around the dough without folding over the edges. So cut strips out of the marzipan with the same width as the rolls are long

Roll each dough cylinder in marzipan and cut so that it just cover it all the way around

Heat up a bigger pot with water then melt the chocolate in a smaller container in the boiling water

Transfer melted chocolate to a small container (to make it easier to dip the rolls)

Dip both ends of the roll in the chocolate and let it solidify on a parchment paper before serving
These are perfect for Christmas with the gingerbread taste. I also love that you can take one with your fingers without getting sticky.
Here's the recipe for gingerbread
And here are some other traditional Swedish Christmas candy
I can also recommend these cinnamon date rolls as a new alternative for christmas candy