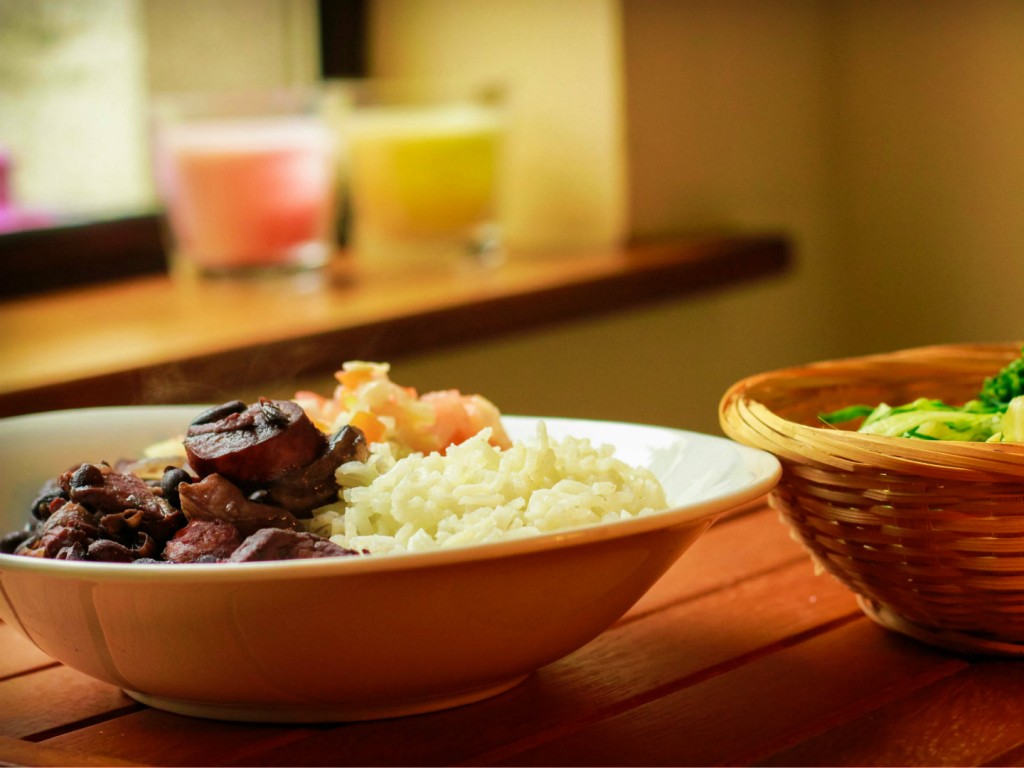 The national dish of Brazil is Feijoada. Why not make this pork and black bean stew on September 7 when Brazil celebrates their independence day. Here's what our country chef Débora says about the national dish of Brazil:
This pork and black beans stew is usually served with basmati rice, cabbage, sliced orange, vinaigrette and toasted manioc flour, depending on the location. Feijoada is originally a Portuguese name for bean stew, but it is said that the origin of the Brazilian Feijoada is from the times when slaves were brought from Africa to work in the Brazilian farms. Slaves needed to be kept strong and full of energy to be able work hard and there was no better protein rich ingredient to do this than beans and meat. Slaves were not given the best pieces of meat, despite this it must have been a very savoury dish because of the cook's multicultural influence.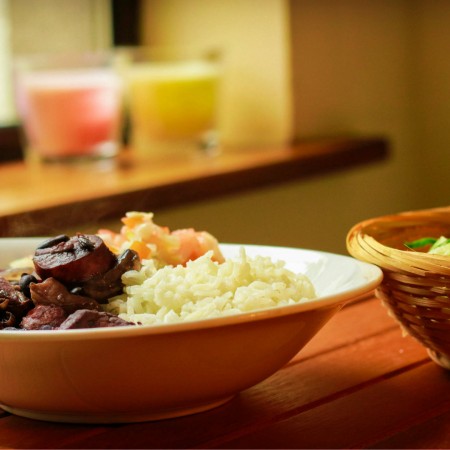 Recipe: The national dish of Brazil - Feijoada
Ingredients
500

g

black beans

use canned that have been rinsed and drained

200

g

pork meat

200

g

lightly smoked pork loin

or bacon

100

g

chorizo

linguiça calabresa is the traditional choice

100

g

smoked sausage

paio is the traditional choice

2

onions

5

garlic cloves

2

bay leaves

juice from 1 lemon

100

g

pancetta

in cubes

rice

preferably basmati
Couve-mateiga
2

garlic cloves

2

tbsp

olive oil

1

cabbage

salt
Vinaigrette
1

onion

3

tomatoes

salt

3

tbsp

vinegar

3

tbsp

olive oil
Instructions
Chop all the pork parts, sausages, onion and garlic. Keep separately. Use the garlic and lemon juice to marinate the fresh parts such as steak or ribs.

Fry the onion with the pancetta until both are golden. Add the pork, stir until cooked, and then add the smoked pork, the smoked sausage and the chorizo. By adding each ingredient one by one they keep their own flavours.

Finely chop the garlic and the cabbage.

Fry the chopped garlic in olive oil. Add the cabbage and a pinch of salt. Cook while stirring for 2 minutes.

Add the beans, the bay leaves and hot water until all the ingredients are completely covered. Cook uncovered for at least 25 min, but the longer the better. Stir often and add hot water if needed.

Start cooking the rice

For the vinaigrette, finely chop the onion and tomatoes and mix with a pinch of salt, vinegar and olive oil.

Serve the dish with freshly cooked basmati rice.
About the Country Chef
Débora Locatelli has, despite her Italian name, Brazilian origins. Her passion for cooking increased when she moved to Dublin, Ireland. She describes Dublin as beautiful city, full of new flavours and tastes. Preparing familiar Brazilian food is her way of avoiding homesickness.
Read more about IngredientMatcher's Country Chefs in the Foodie section
Read more about national dishes and the ebook "National Dishes From Around The World"
Read more about other national dish recipes published on this blog